Flotilla

Beez Neez now Chy Whella
Big Bear and Pepe Millard
Tue 6 Dec 2011 13:58
A Week in Beaufort NC, Flotilla and Christmas Coming
Bear off down the road to the marina shower block
Wonderful, Wonderful News from Adam and Jenny, we are due our sixth grandchild – Congratulations to you both. Any chance the baby could share my birthday, that would be so amazing, or if you miss by a couple of days on Alex and Kate's ???
Somehow we feel they may not be the only ones to add to the team in 2012. NO PRESSURE BUT WILL ONE OF YOU KINDLY GIVE US A LITTLE BUNDLE IN PINK...........................................
We cannot believe a week has gone by. As soon as we arrived a lady called Barbara came down with her Cavalier King Charles spaniel called Molly. As we were chatting Heather bounced down for a huge hug (Heather was just setting up her nail business in the hairdressers when we were here in June). Later we met her and her smashing chap for a beer on our marina tokens. Steve and Maggie (Old Shoe) joined us and we went for tortillas in the bar opposite. An hour or so later who sat at the table across from us Nimue (Ann and Michael) with Scott Free (Steve and Chris). It was amazing to bump in to them as we thought they were further south. I had a fit of the "naughties" and polished off Nimue's wine. "It was the deevil in me mon".
Christmas is coming to Beaufort. Never seen a blow-up crib before
We had a day of chores, laundry, odds and ends to do; as ever when you carry your home-car-shed-hobbies cum all-in-one there is always a list of 'bits' to do. One morning we went for a stroll with Steve, Maggie and Trooper, it was nice to wander in and out of the 'grockle' shops. We met two shop owners with dogs called Lucy which gave added interest to Trooper. I had a techy over to unblock the Deltaville techy's blocks and got down to some serious blogging.... as I am months behind no mean feat. One afternoon we all piled in the marina station wagon and went off to find an enormous West Marine, boys in a sweet shop came to mind.
It was time for Old Shoe to leave. They popped in to see us and Maggie showed us her design for when they change the girls name to Luff Bug. We heartily approve. Maggie has personalised her army jumper just so she "can tell it apart from Steve's". Nimue and Scott Free left and we waved as they set off.
I had a lovely surprise from Steve and Maggie – a huge bee cushion. Every time I have seen this very cushion I have hugged, squeezed and stroked this mass of soft fluff. In the UK, the Caribbean (St Thomas), Annapolis, New York and Kilmarnock (the one in Virginia), I could never justify buying it for myself, and here it was for my Christmas gift. Wow. Bear got a funky strap purse stuffed full of sweets and how lucky are we – Andy and Barbara (Ptarmigan) popped over with a box of tiny Bobbles. They will go straight up on the nav pod to jiggle their way to Christmas. Thank you all so very much, it means such a lot. xx xx
We wish Maggie, Steve and Trooper all the very best. Old Shoe, all thirty feet of her has crossed the Atlantic five times, so we know what she's hardy enough to manage whatever is thrown at her. It will be nice though when she has her new name. Safe winds and following seas to the newest recruits we have met; joining this madcap but wonderful life of cruising. We waved Ptarmigan off and as our mate Mike on Drifter always says "See y'all down the road". We had an email from Karen and Mike just arrived in Bonaire who think they will still be there when we pull in. Looking forward to a couple of sherbets with them. Hunda (Duncan and Dorothy) are in Cape Canaveral with a poorly gear box – good luck with that.
Saturday night. Lights all along the anchorage and a crowd gathering to watch a flotilla with a difference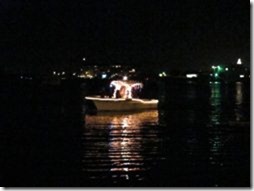 Lots of little ladies in their Christmas finery paraded past. Even Tow Boat US (we still hope not to call the AA of the waters)
One big lady went past with an octopus complete with flashing hat
Well here we are, it's Tuesday morning. The man has just arrived to give our temperamental fridge a once over, yet again it has decided to go in to unpredictable mode. Beez Neez is looking fine and enjoying her daily dose of sun. All being well we will head out in the next day or two and spend a week getting to Charleston to do touristy things.
ALL IN ALL HAVING A GREAT TIME
---