Burt Munro

Beez Neez now Chy Whella
Big Bear and Pepe Millard
Sun 3 Aug 2014 22:57
Burt Munro and the World's Fastest Indian
Invercargill welcomes you with a sign that says 'Dreams are possible'. A lifelong ambition to be the best and the fastest drove Burt Munro all through his life, leading to a fifty seven year relationship with his beloved Indian.
Herbert James "Burt" Munro was born on the 25th March 1899 at Edendale, a country town 30km north of Invercargill. He
bought his Indian motorbike new in 1920 as a standard model Indian Scout which had a side valve engine of 600cc capacity. The price was ₤120 with acetylene lighting although he could have bought an electric lighting model but it was quite a bit more expensive at the time. The engine number was 50R627.
The Indian Scout was very advanced for it's time as it had a helical gear transmission and a mechanical oil pump working on a total loss system. The top speed was in the region of 60mph.
In the 1920′s Burt started tuning the bike for speed and ultimately he had it exceeding 90mph in side valve form. In the mid 1930's Burt made patterns for an overhead valve engine conversion but initially he was quite disappointed as it was no faster than the original side valve.
Burt had four children - John, June, Margaret, and Gwen - with his wife Florence Beryl Martyn, whom he married in 1927. They were divorced in 1947.
However, with Burt's determination he persisted with the tuning and in 1940 he gained the New Zealand Motorcycle speed record at a speed of 120.8mph. At this stage Burt found the original con-rods would not stand up to the strain and he started manufacturing his own out of old Ford truck axles. Burt had very little equipment as far as machining was concerned and there was a lot of handwork associated with the manufacturing.
After overcoming the con-rod failures Burt then experienced engine big-end failure. As the lubrication was achieved by a total loss system, which had no direct feed to the big-ends and crank pin, with the result that the rollers often came out blued and fused to the big-end cage. Eventually Burt made new fly wheels and increased the diameter of the crank pin which was bored to feed oil direct to the big-ends. He also fitted an Indian Chief oil pump and in doing so changed it to a dry sump lubrication system. Over the years Burt gradually increased the bore and stroke which enlarged the engine to just on 1000cc capacity.
Oops
Burt cast his own pistons using a large kerosene blow lamp and casting dies he made himself. Another modification was to the primary transmission. He made sprockets for this and fitted a triplex chain on the primary drive in place of helical gears as this was more efficient. The clutch is basically standard with extra springs fitted to cope with the extra power the engine was developing. In order to get closer ratios in the gear box Burt cut the layshaft and welded two pinions from an Indian Chief onto this Scout layshaft in order to get closer ratios on the three speed gear box.
Originally the Indian Scouts had only two cams and this limited the valve timing so Burt changed this to a four cam system which allowed him to alter the valve timing on both the inlet and exhaust valves. Burt built four different streamline shells for the Indian Scout over the years.
On his first trip to Bonneville with the Indian on 20th August 1962 Burt achieved a speed of 179mph, a speed that people attending "Speed Week" found absolutely unbelievable considering the age of both the bike and the rider.
On the 26th August 1967 Burt claimed the World Record Class S-A 1000cc – with an average speed of 183.586mph (one way 190.07mph). This record still stands to this very day.
Norman and Neville Hayes bought Burt's bikes on the 19th of September 1977 along with his trailer and contents of his shed. We saw them today as part of the E Hayes and Sons amazing collection of cars, bikes and other interesting machines.
As we saw the very bike today.
The other of Burt's bikes which should have received a lot more publicity than it did was a 1936 Velocette MSS 500cc, known as the 'Five Pound Velo' because Burt bought it for $10. It was lightened and lowered in true Munro style to be under two hundred pounds in weight.
Burt increased the capacity to 650cc.In 1962 it was recorded a 12.2 second standing quarter of a mile and timed at 138.8mph which would make it one of the fastest Velocettes in the world; if not the fastest. Had Burt's health not failed when he was 75 years of age he intended taking the motor and gear box to America and fitting it to the streamlined shell and possibly it should have exceeded 160mph providing he had two good runs.

The reason he sold his two bikes was after suffering a partial stroke in 1977 he found, after getting out of hospital, he had a lack of co-ordination and concentration when trying to work on the machines. This left Burt very frustrated, so he sold the Munro Special and the Velocette plus parts and trailer as he wanted them to remain in Southland. The story of Burt Munro himself typifies the Southland 'spirit to succeed' and continues to draw crowds of fascinated admirers from all over the world.
On the 9th of July 2004 Roger Donaldson and Noel Atley agreed to make replica bikes for the film that immortalised Burt – The World's Fastest Indian. Wayne Alexander and his team in Christchurch built two Indian replicas powered by Indian engines. These two bikes were used in the New Zealand part of the filming. Noel Atley built three in Invercargill; two of these replicas had Ducati 750cc engines out of Cagiva Elefant. These two bikes were used in the American part of the filming. The fifth bike was constructed without an engine for Sir Anthony Hopkins to use in the movie scenes.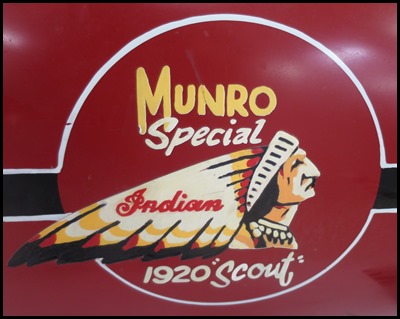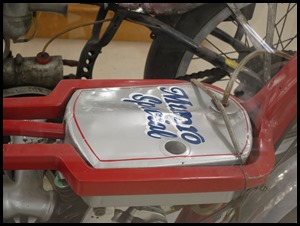 The replica bike above was used in the filming at Bonneville Salt Flats, powered by Ducati. Invercargill Council owns the other Ducati replica and also one of the others as well as many other film associated items.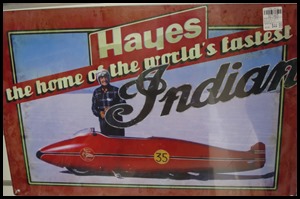 The shop sells some wonderful memorabilia, books, videos, a wonderful life scrap book in which Sir Anthony is seen at the end pictured with Burt's children. Sadly, no room on Beez, but we did buy a little certificate card to say we had seen the World's Fastest Indian.

We drove by Burt's last address and the next road on the left – Munro Street.
After Burt 'retired' he lived at 105 Bainfield Road and apparently loved people dropping by as he enjoyed reminiscing. Burt died on 6th January 1978 – aged 78 – of natural causes.
There is no doubt at all that this was the most successful combination of man and the same machine during fifty seven years of passionate development. To achieve 60mph to 200mph was the most remarkable achievement that motorcycling has ever seen, hence The Legend who said "You live more in five minutes flat-out on a bike like this than most people do in a lifetime."
ALL IN ALL AN INCREDIBLE DUO
EXTRAORDINARY WHAT HE DID AT NOT A YOUNG AGE
---