Huyen Khong Cave

Beez Neez now Chy Whella
Big Bear and Pepe Millard
Sun 7 Jan 2018 23:47
Huyen Khong Cave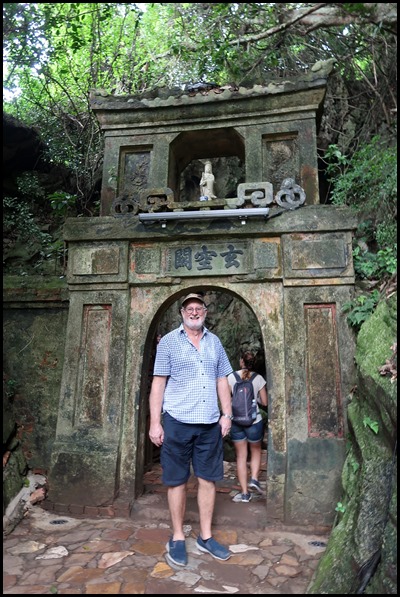 More than underwhelmed at scrambling through the last cave to take pictures of a building site, our guide promised us something special in the Huyen Khong Cave. I did like the entrance arch and the lantern at the gateway.
In to the dark, we looked up at the
Goddess of Mercy, (Bodhisattva Avalokiteśvara, Guanyinor or sometimes simply Lady Buddha), if you looked up quickly she could so easily be the Virgin Mary. Flash on really showed up the various colours of the marble she is hewn from.
Around the next corner we stood and looked down. Wow, a couple of steep steps down and we could see Buddha high on the opposite wall.
Guardians on the way down the steps.
Shrines in the far left and far right corners.
Middle far wall, a small shrine.
Above, Buddha in the highest place of honour.
To our right a little temple............
..........the three altars inside.
Above the little temple a man's face in the rock....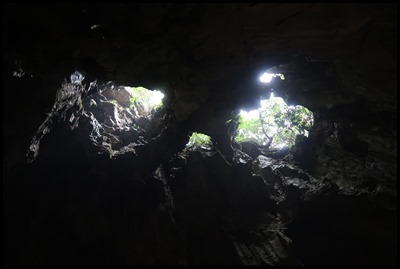 High above us natural light through the ceiling. Just a few kilometres from here was the Da Nang American Airbase. The Vietcong used this cave as a hospital and would have easily heard the air assaults from here. All the shrines were built around 1825 but we saw a sandstone artifact dating from the late ninth century showing worship has happened in the cave for a very long time.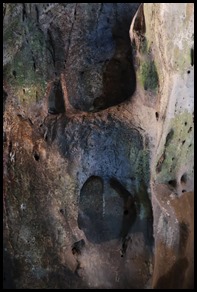 One final look at the cave walls, up the steps,Mercy and off down the mountain.
ALL IN ALL TRULY IMPRESSIVE
VERY SPECTACULAR, VERY BEAUTIFUL
---