Machu Picchu Concerns

Beez Neez
Skipper and First Mate Millard (Big Bear and Pepe)
Sun 12 Sep 2010 22:59
The Intihuatana stone: was damaged in September 2000 when a thousand pound crane fell onto it, breaking off a piece of stone the size of a ballpoint pen. The crane was being used by a crew hired by J. Walter Thompson advertising agency to film an advertisement for a beer brand. "Machu Picchu is the heart of our archaeological heritage and the Intihuatana is the heart of Machu Picchu. They've struck at our most sacred inheritance," said Federico Kaufmann Doig, a Peruvian archaeologist. Hopefully this will not be allowed to happen again.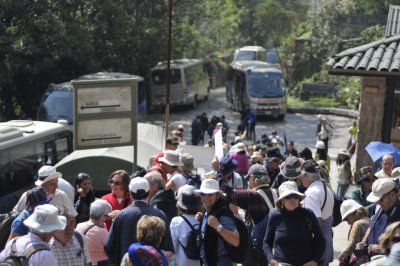 The buses begin from town at five thirty in the morning and we saw about thirty running up and down all the time, they return when full. The crowds at the entrance and this is low season.
Concerns over tourism: As Peru's most visited tourist attraction and major revenue generator - a days pass costs about thirty two pounds. Machu Picchu is continually threatened by economic and commercial forces. In the late 1990's, the Peruvian government granted concessions to allow the construction of a cable car and bridge to the site (both now firmly put on hold).
VSOE - Venice Simplon Orient Express - developed a luxury hotel, Sanctuary Lodge (front building), there are two suites with views of the ruins at exquisite prices, the rest really expensive. The hotel restaurant offers all inclusive lunch and soft drinks at thirty three US dollars. There is a tourist complex with a boutique (angled building) and snack restaurant (building on right). The other buildings seen are restrooms, baggage store and main gate. The plans for these were met with protests from scientists, academics and the Peruvian public - all worried that the greater numbers of visitors would pose tremendous physical burdens on the ruins. In reality they are below the main site and quite contained, but no more should be added.
UNESCO has warned that five hundred visitors per day is sustainable for the site a number dwarfed by current numbers - 400,000 in 2003 - grown hugely since then to approximately three thousand per day. For this reason, there were protests against the plan to build a bridge to the site. UNESCO is considering putting Machu Picchu on its List of World Heritage Sites in Danger. During the 1980's a large rock from Machu Picchu's central plaza was moved out of its alignment to a different location in order to create a helicopter landing zone. Helicopter landings were forbidden in the 1990's. In 2006 a Cusco-based company, Helicusco, sought to have tourist flights over Machu Picchu, but the decision was quickly overturned. A no-fly zone exists above the area.
Trekkers: Five hundred people including guides and helpers are allowed to go on the Inca Trail at any one time. The Inca Trail is a legendary "Rite of Passage" for many and is South America's most famous trek. It's by far the most impressive and challenging way to travel to Machu Picchu. The trek normally takes three nights, though there is an alternative "Mini Inca Trail" for those that just want one night camping. The Inca Trail trek usually starts from km 88, which is just West of Ollantaytambo, though many tour operators choose to begin the trek at km 82, which is at Pisacucho. The hike is so highly memorable due to a wonderful mix of amazing mountain views and Inca ruins. The dawn views of Machu Picchu on the final morning must be quite spectacular - trekkers aim to arrive as early as possible to avoid the tourist hordes that descend during the day. The Classic Inca Trail trek can be arranged by numerous Cuzco tour operators, and generally costs about $300 per person, booking is essential. Camping in designated campsites each night, porters are there to help with baggage but cannot legally be overwhelmed. Many shops sell any equipment lacking that is not provided - depending on the tour operator. It's absolutely crucial that trekkers allow time to acclimatise to the altitude in Cuzco before attempting the Inca Trail. Two nights in Cuzco or the Sacred Valley is the absolute minimum, though three is highly preferable. Trekkers should not attempt the trek after just spending one night in Cuzco - or they will almost certainly have an extremely painful time on the trek and the travel highlight to Peru would be ruined. Altitude sickness is indiscriminate - physical fitness and age have no bearing on who can be affected.
Sun Gate: We walked up late morning to get photos above the ruins and to get the best views. It felt busy with six others, one of those was an idiot who climbed to the top of the gate knocking off a large stone that could have seriously hurt someone, Anne says "probably been in situ for hundreds of years". No guards or guides are stationed here and maybe they should be. Felix said most mornings at dawn there are two or three hundred people are there.
The area is so vast that the crowds soon seem to disappear.
For locals the number one issue is the private monopoly on the railway between Cusco and Aguas Calientes. Periodic protests have shut down the trains for days at a time. However, the Peruvian Government's response was to point out that anyone can apply for permits to operate other trains along the Machu Picchu Line, but no one has done so yet. The buses that go up and down every day are excellent and cost about ten pounds for a return journey to town.
Controversy with Yale University: In 1912 and 1914 - 15, Bingham excavated treasures from Machu Picchu - ceramic vessels, silver statues, jewelry and human bones - and took them from Peru to Yale University for further study. Yale has retained the artifacts until now. Much controversy surrounds what was "taken", "loaned' etc, the number is between four and forty thousand. In September 2007, Peru and Yale University reached an agreement regarding the return of artifacts. The National Geographic Society, which co-sponsored Bingham's explorations, has acknowledged that the artifacts were taken on loan and is committed to seeing them returned to Peru. How can anyone know exactly what was "borrowed" or "taken".
In media: Secret of the Incas was filmed by Paramount Pictures on location at Cusco and Machu Picchu, the first time that a major Hollywood studio filmed on site. Five hundred natives were used as extras in the film. The film also featured the Peruvian singer Yma Sumac as Kori-Tica. The film caused a surge in tourism to Peru in 1954.
ALL IN ALL THIS SITE MUST NEVER BE SPOILT OR DAMAGED ANY FURTHER
---