Cape Town Bits and Bobs

Beez Neez now Chy Whella
Big Bear and Pepe Millard
Sat 25 Jan 2020 23:57
Cape Town Bits and Bobs
Monday the 13th of January. Sometimes the smell of the seals can get a bit much, but I came out this morning to find a chap (next pontoon to our left) had got himself a sunbed – a storage box and yes, I could get a whiff....
Sunday the 19th. Huge disappointment when we got up to howling winds and a mixture of heavy rain and and lighter showers that seemed endless. And today of all days. We had so looked forward to our picnic at Kirstenbosch Botanic Garden, with Patricia and Allen, to enjoy a concert given by the Cape Town Symphony orchestra. After lunch Allen came up with a cunning plan to give us all a break from the constant wind noise. The Mall has two cinema complexes so we wrapped up, moved as one through the gale along the pontoon and were blown to the shelter of the shops. We went to the downstairs but the choices we fancied were all at the wrong times onward and upward. It was the first time we had been to the top level, to be able to take in the architecture (looking right and left), but Allen was on a mission. He had help from a lady when it came to buying our tickets from a swanky machine. That done we bimbled for an hour, enjoyed a drink and a sit down in the cinema bar and thoroughly enjoyed Midway, despite the few inaccuracies. Afterward we queued to eat in a wonderful fish restaurant and bimbled home. Not the day we had planned but a very good, filled one.
Tuesday the 21st. Patricia and I left the boys to 'blue jobs' and took an Uber to Sun City Mall, the biggest in Cape Town. We passed the railway line with Table Mountain as a backdrop and after half an hour arrived at the massive shopping centre.
Inside, we found a huge shoppers delight. Patricia bought a leather bag after we tried on two sexy tops and fell about laughing. We passed a men's hairdressers and saw a man who looked like he was going to space. He had two 'breathing' straws sticking out of each nose hole held in place with what seemed to be blue plasticine, same for his ears. Of course I went to ask him about it..... He told us it was a monthly ritual, after twenty minutes the four accoutrements were ripped out along with errant hairs.....Later I told Bear. You've got to be joking, I'll suffer the whizzer I hate.... I needed just two shops, bought curtain rods and fixings, small venetian blinds and little bits before moving on to the bedding shop. We spent a couple of hours choosing quilts, pillows, covers, quilt cover, towels, picture frames and so much more, all for Sleeping Indian, poor Beez. Two full shopping carts we stopped at a mirror and framing shop for Patty to get ideas for their big parrot print (the theme of Nauti Nauti). There, we chatted to a lady who, after we told her that getting 'this lot' into a small taxi, kindly offered us a lift if we would wait until she had been to the supermarket. Off we went for a coffee and cake. By random chance the lady had loaned her car to her son and she was using her husbands. Relief when we saw a massive Land Rover, which we filled. She told us that she had gone to the mirror shop as her huge bedroom one had flown off the wall and smashed in 'the big blow' we had had. We know from friends in the Royal Cape Marina that they had seen winds to fifty knots. The lady also told us that a heavy lounger from the flat above hers had taken flight and damaged the corner of her balcony on its way to the ground. Wow. We thanked our host hugely for her kindness.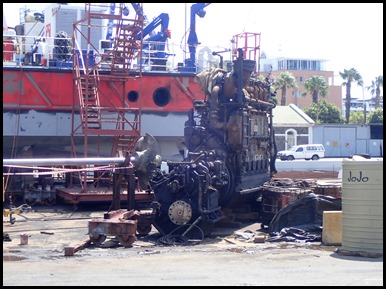 Wednesday the 22nd. Trevor is away doing his Yachtmaster practical so we teamed up with Kimi for the day. Our mission – to brave the wind and find the duty-free shop which meant that we headed out to the main road (instead of our usual crossing to the Mall over the bascule bridge) and passed one of the smaller boatyards. Victoria Mxenge, a Fisheries Protection Vessel was in for a major refit and respray (we saw her a few days later when we came this way to check out and she looked amazing). Bimbling down the road I said that if I got lost "I'll be this way" as the wind lifted my shopping bag and I flew backward a bit.
In the duty-free shop Kimi and I posed with Johnny Walker in ridiculously expensive shades (US$ 400 mark.....). Prices written down, we braved the wind once more. On stepping out from the shop the wind had done a complete one-eighty and I was heard to say, "If I get lost I'll be going this way." Amazing how fast the direction can change. Over the pedestrian bridge (our second when we leave) we headed for the Italian for a late lunch.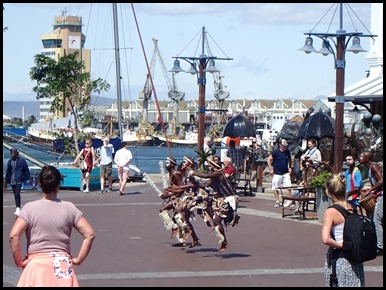 Such a lovely place to wander, always new corners to explore.......
.......AND I was rather chuffed to get two dancers mid-air with the point and shoot.
Getting this pair in that frame was a bit of a mission.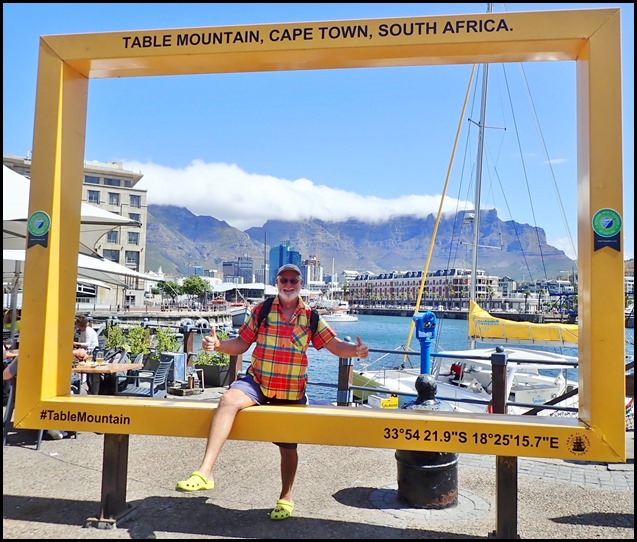 Getting Bear on his own (as Kimi insisted) proved no easier.......
Saturday the 25th. A trip out to buy some bits for the grandbabies saw us watching this big chap trying his best to look cute. "If I stand here long enough.....Please......".
ALL IN ALL A SMASHING PLACE TO BIMBLE
SUCH AN ENJOYABLE PLACE, ALWAYS SOMETHING TO SEE
---