Ramsland 2018

Beez Neez now Chy Whella
Big Bear and Pepe Millard
Mon 9 Jul 2018 22:57
Ramsland 2018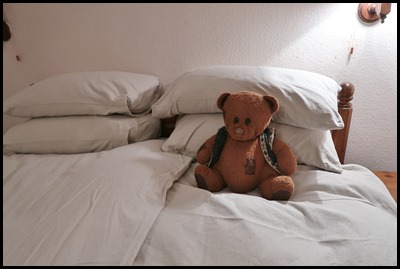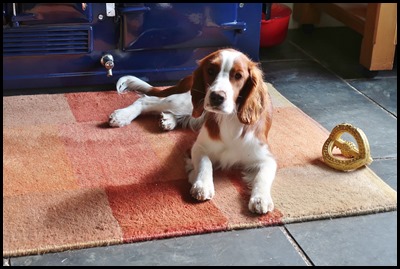 We leapt up this morning, packed the car and set off for an overnight stay at Ramsland. Sabby welcomed us and in minutes Beds was settled and the kettle was on, time to fully meet Topsy, the beautiful Welsh Springer Spaniel. So cute, a stunning red colour and perfectly 'tuck under your arm and run away' with.
Hector, the house guest. Sabby is looking after Hex, been here ages but going to his new house this week (daughter Philippa and family house move). Now I have never much cared for labradors but then I have only known the cream colour ones. Hex is very well behaved and one look into those eyes and I was putty in his hands when it came to ball throwing and playing in the sun. We sat in the garden and chatted, two minutes later it was lunch time, back in the garden to chat and three minutes later it was supper time. In the lounge and the very next minute it was bedtime........... unbelievable just how fast this day flew by.
The roses had 'gone over a bit' but the scent on the air was divine, the bees still very happy to be seen working hard amongst the petals. A perfect place for me to do my stomps – Topsy and Hector did wonder why I kept walking around the garden but were delighted to trot with me, so long as I threw a stick, ball or string toy as went. Now completely in love with black labradors, especially the shorter, chunkier working shape.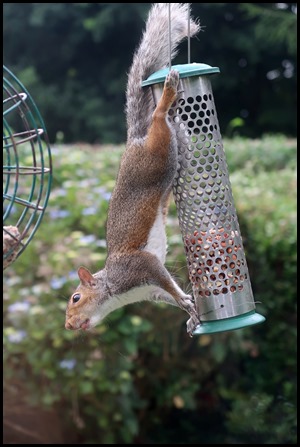 Through the window a squirrel on the bird feeder, I snuck a picture in case he skittered and then shuffled forward. Happily eating and then scrunched up ready to leap, not frightened of me but a huge raven.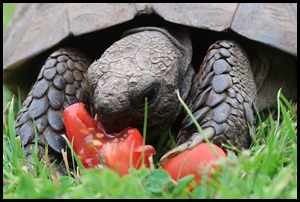 I so enjoyed giving Bipperty-Bob a juicy tomato watching him attack it with gusto.
ALL IN ALL A WONDERFUL CATCH-UP WITH A SPECIAL FRIEND
A BRILLIANT DAY
---