War Remnant Photographers

Beez Neez
Skipper and First Mate Millard (Big Bear and Pepe)
Sat 30 Dec 2017 23:17
War Remnant Museum – Photographers Collection
This morning we began our Ho Chi Minh City tour at the War Remnants Museum. The man in the picture came up to us wanting to sell his books or gather charity, he had nothing below the elbows. Stark start. Gritty and sickening images later in the blog, not for some..............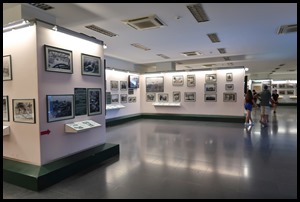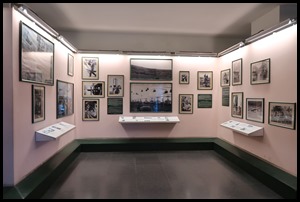 We went to the top floor of three with the idea of working our way down, this meant we began in the Agent Orange exhibit and photo gallery. Horrific and graphic pictures that told of human suffering that carries on to this day. Then we moved to an exhibition of photographers from the UK, France, USA and Viet Nam covering various events and battles.
Man's inhumanity to man has been going on since the beginning of time. Every country has events in the past not to be proud of. Things happened here in Viet Nam (on all sides) and the photographers were just doing their job.
We read a comment when we visited the East Wing Museum in Hiroshima, a photographer battled with himself as to whether he should record what was happening. Was it too personal, private, intrusive or did he need to be there so the world would know. I stood in front of the first picture that had caused his twenty minute hiatus, could I snap, of course I could, and many more of his scenes just like it. Pictures are powerful not only in War Crime Courts but visually they are far more memorable than words. Imagine having pictures of Biblical events...... Nowadays my personal concern is image interference. Thank heavens there was no Photoshop in the past or any of the following.
Excerpts from the introduction to the book 'Requiem' by David Halberstam, written in 1996 were used as the introduction to the exhibition.
Introduction
The title says that is it a requiem for a war, but as much as anything else, this is a form of homage on the part of those who made it back from Vietnam to the memory of those who did not. The photos evoke dual images, not just those of a terrible and violent time and of all the casualties of that war, both civilian and military, but images as well for many of us, of the faces of the men and women who were there, who were our friends, and who took these very photos. We are reminded of their bravery, of the terrible risks they took, and, of course, constantly, of our own good fortune.
......War correspondents always know who is real and who is not. A war zone is not a good setting for the inauthentic of spirit and heart.
We, who were print people, and who dealt only in words and not images, always knew that the photographers were the brave ones, and they held in that war, which began in an era of still photography and ended with color film and videotape beamed by satellite to television stations all over the world, a special place in our esteem. We deferred to them, reporter to photographer, as we did in few other venues.
.....These photographers have given us something special, a remarkable record of that distant war, many of their photos taken when few people cared about what was happening there. They have given us images that have had the power to endure long after the war was over. Now that the war is past, consigned to the normal negligence accorded to history in America, those images remain powerful, a critical part of what constitutes modern memory. We are grateful to those who took the photos, now as then, forever in their debt.
Everette Dixie Reese, Central Highlands, Vietnam, 1950's. The tribes people of Vietnam's central highlands played an important role in the guerrilla warfare in Vietnam's mountain jungles between 1946 and 1975.
Jean Peraud, Tonkin, Vietnam, Dec. 01, 1952. A Vietnamese prisoner during the battle of Na San stares at his French Captors. French paratroopers were gathering Viet Minh wounded and dead following a victorious counterattack to regain control of a position lost the previous night. (SIRPA-ECPA)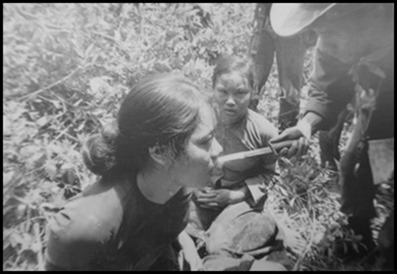 Huynh Thanh My, Mekong Delta, Vietnam, 1965. The woman had her hands tied was submerged repeatedly as soldier interrogated her. They sought information about the local guerrilla forces. She was later imprisoned.
Dana Stone, Con Tien, Vietnam, 1967. An U.S. tank carrying the bodies of fallen Marines moves out of Con Tien, south of the DMZ, following hand-to-hand combat with North Vietnamese troops. Tanks were sent in to recover the dead and wounded but had to withdraw under North Vietnamese counterattacks. (United Press International)
Bui Dinh Tuy, Ho Chi Minh Trail, 1966. A woman soldier of the North Vietnamese Army carrying an ammunition crate wades through a river along the Ho Chi Minh supply trail. The markings on the crate are in English. (Vietnam News Agency)
Sean Flynn, Duc Phong, Vietnam, 1966. A young Viet Cong suspect cries after hearing a rifle shot. His captors, Chinese Nung tribesman in the service of the U.S. Special Forces, pretended to shoot his father, a ruse designed to make the boy reveal information about Communist guerrillas. (United Press International)
Sean Flynn, Duc Phong, Vietnam, 1966. A Viet Cong suspect is hung up and questioned by mercenaries of the Chinese Nung tribe. The Nungs formed a Special Forces unit organized and commanded by U.S. Special Forces. After 15 minutes in this position the suspect admitted being the sniper who earlier had fired on refugees sheltered in a church. (United Press International)
Kyoichi Sawada, Tan Binh, Vietnam, 1966. The body of a Viet Cong soldier is dragged behind an armoured vehicle at Tan Binh en route to a burial site after fierce fighting February 24, 1966. (United Press International)
Kyoichi Sawada, Bong Son, Binh Dinh, Vietnam, 1966. An injured North Vietnamese soldier is led from his bunker by soldiers of the U.S. First Cavalry Division. This soldier held up the U.S. advance for one hour with machine-gun fire from his position. He was wounded and captured. "If he was in the American army", said U.S. Army Colonel John Moore at the time, "I would recommend him for a medal". (United Press International)
Kyoichi Sawada, Hue, Vietnam, 1968. Two Vietnamese bodies and a crumpled cart lie in the path of a tank. Another one lies behind the wreckage of a jeep in the military camp adjacent to the Imperial City of Hue, during the height of the Tet offensive battle (United Press International)
Kyoichi Sawada, Quy Nhon, Vietnam, 1965. 1966 Pulitzer Prize-winning photograph. A Vietnamese mother and her children wade across a river to escape bombs from the U.S. air strike. (United Press International)
The camera of Taizo Ichinose, Kyushu, Japan, 1996. The camera is a relic, preserved as part of a family shrine in Kyushu, Japan. Ichinose escaped injury when he lost this camera in an ambush. (Photo by Rikio Imajo). Some photographers were not so lucky.
Robert Capa, last roll of film, May 25, 1954. Military cemetery for French and Vietnamese French Union soldiers in Nam Dinh, south of Ha Noi (Magnum Photos)
Associated Press wire photo. On May 25, 1954 Robert Capa, photographer for LIFE Magazine, was killed when he stepped on a land mine in the Thai Binh region of Northern Indochina.
The Death of Robert Capa
He said; "this is going to be a beautiful story"
....On his delta tour Capa had got the idea of a picture story to be entitled "Bitter Rice." His plan was to dramatize the contrast of tanks next to peasants working in the paddies, of men dying in the struggle for the rice harvest.
The sun beat down fiercely...
Capa was exquisitely bored and climbed up on the road, saying, "I am going up the road a little bit..." This was about 2:50 p.m.
At 2:55 the earth shook from a heavy explosion.
...I was making notes on this when a helmeted soldier arrived...
Without a trace of emotion the lieutenant said, "Le photographer est mort" ("The photographer is dead"). I understood the words but it didn't register.
...I jumped up and ran with the soldier down the ditch.
...At the foot of the dike across the V formed by the bending road Capa lay on his back...
One camera was clutched in his left hand. I began calling his name. The second or third time his lips moved slightly like those of a man disturbed in sleep. That was his last movement. It was 3:10 p.m.
(John Mecklin, Time– LIFE correspondent who accompanied Robert Capa on his last assignment).
Charlie Chellappah, Cu Chi, Vietnam, 1966. A soldier holds the face of a seriously wounded comrade by a Viet Cong claymore mine. Charlie Chellappah stood upright taking this picture when a second mine blast hit him and the soldiers shown. This is his last picture. (Associated Press)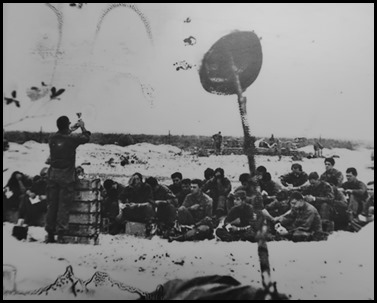 Hiromichi Mine, Ha Phan, Vietnam, 1967. A twin-engined transport Caribou crashes after being accidentally hit by American artillery. The ammunition-laden plane crossed a firing zone while trying to land at the Special Forces camp in Ha Phan, near Duc Pho, August 3, 1967. All three crewmen died in the crash. (United Press International).
Hiromichi Mine, near Hue, Vietnam, 1968. The fire-and-water-damaged last roll from Mine shows an army chaplain celebrating mass for soldiers of the 1st Cavalry Division. Mine, a Japanese photographer working for United Press International, died two days later on March 6, 1968, when an armoured personnel carrier on which he was riding hit a 500-pound bomb. He had severe burns. (United Press International)
Robert J. Ellison, Khe Sanh, Vietnam, 1968. An ammunition dump struck by a shell fired from a North Vietnamese position explodes in front of U.S. Marines at Khe Sanh. The picture was on the cover of Newsweek on March 18, 1968, a few days after Robert Ellison was killed. (Black Star)
Robert J. Ellison, Khe Sanh, Vietnam, 1968. U.S. Marines were under siege by the North Vietnamese Army units during several months. This portrait of a Marine at Khe Sanh was published in Newsweek after Robert Ellison was killed. (Black Star)
Tran Binh Khuol, Dam Doi outpost, Ca Mau province, Vietnam, 1963. Soldiers of a regular Viet Cong battalion mill about in a swamp as they group to attack Dam Doi outpost in the night of September 09, 1963. Some are dragging heavy equipment. The post fell at 3:00 AM.
U Minh forest, Vietnam, 1963. Photographer Tran Binh Khuol accompanied Viet Cong soldiers on daring nighttime raids against South Vietnamese outposts in the Ca Mau Province. Tran Binh Khuol was born in 1904 and became chief of the photography and cinematography division in the communist 9th military region. He was killed in Minh Hai (U Minh forest) 1969. (Photographer unidentified, Liberation News Agency – VNA)
LIFE magazine from January 25, 1963. "The vicious fighting in Vietnam" by Larry Burrows, pages 30 and 31.
Larry Burrows, South of the DMZ, Vietnam, 1966. Marine gunner, John Wilson, shouldering a rocket launcher across a stream, was part of a US. Marines reconnaissance force set up to counterattack North Vietnamese infiltration just below the DMZ. He was killed in action twelve days later. (LIFE magazine)
Jacket cover. The cover photo was taken near Khe Sanh by the famous photographer Larry Burrows of Life magazine, (Larry Burrows' Collection)
LIFE magazine from January 25, 1963. Page 5: Editor's note about photographer Larry Burrows and his essay 'The Vicious Fighting in Vietnam'.
Larry Burrows, near Da Nang, Vietnam, 1965. The cover photo of LIFE magazine from April 16, 1965: Larry Burrows's photo essay and story of a single bloody mission by U.S. Marine helicopter, "One ride with Yankee Papa 13", and of what it did to young crew chief James Farley, with his gun jammed and with two wounded comrades aboard shouts to his gunner. is one of the most vivid pictures narratives of any war (LIFE magazine)
Larry Burrows, Vietnam, 1965. "One ride with Yankee Papa 13", In a supply shack, the tragic and frustrating mission over, Crew Chief James Farley weeps. (LIFE magazine)
Larry Burrows at the Laotian border, 1971. Larry Burrows, on his last story "The Edge of Laos", three days before his helicopter crashed in Laos (Photo by Roger Mattingly)
Henri Huet, War Zone C, Vietnam, 1965. Soldiers of the U.S. 173rd Airborne Brigade hold their automatic rifles high as they cross a river during a monsoon downpour. Their twelve-day patrol in the jungles near Ben Cat failed to raise any contact with the Viet Cong. (Associated Press)
Henri Huet, Lai Khe, Vietnam, 1965. A memorial service for seven men of the U.S. 101st Airborne Brigade is held in a clearing near a former French rubber plantation, north of Sai Gon. Their boots, helmets and M16 rifles are set up with a field altar. (Associated Press)
Henri Huet, Chu Lai, Vietnam, 1965. U.S. Marine Corps chaplain John Monamara of Boston, Mass., administers the last rites to dying war-correspondent Dickey Chapelle. She died in the helicopter on the way to hospital. (Associated Press)
Henri Huet, An Thi, Vietnam, 1966. Wounded and weary Americans lie in the grit of a sandy ditch during an airstrike on North Vietnamese positions nearby. Two companies of the First Air Cavalry Division and Viet Cong – North Vietnamese force had battled for over 24 hours across paddies and coastal villages (Associated Press)
A medic – calm and dedicated. (Pictures by photographer Henri Huet appeared in many newspapers around the world and in LIFE magazine of February 11, 1966 and have become part of an unforgettable sequence of one man's dedication).
Although his own wound was so completely bandaged that he could barely peer out of one eye, Private First Class Thomas Cole, a young medic of the 1st Cavalry Division, spent hours tending fellow soldiers worse off than he. One was Staff Sergeant Harrison Pell, whose bandaged head Cole cradled on his knee and fed C-rations to him, then carefully wiped his face.
Cole's luck ran out on June 20, 1966 after he had taken part in every major battle the 1st Cavalry had been in since arriving in Vietnam. He was severely wounded while on operation near the hamlet of Dong Tre, 255 miles north of Sai Gon. (From Associated Press newswire reports)
Henri Huet, War Zone D, Vietnam, 1967. Specialist 4 James E. Callahan applied mouth-to-mouth resuscitation in an effort to keep the soldier alive. The effort failed. (Associated Press)
Henri Huet, War Zone D, Vietnam, 1967. Specialist 4 James E. Callahan, a medic from Pittsfield, Massachusetts, ducks sniper fire to tend the wounds of an infantryman with a serious headwound during an ambush near Sai Gon. (Associated Press)
Henri Huet, War Zone D, Vietnam, 1967. Half-submerged in slimy mud two infantrymen crawl forward firing and take cover behind the poncho-wrapped bodies of three dead soldiers. They fought in dense jungle between muddy bomb craters (AP)
Henri Huet. Bernard B. Fall in Vietnam, 1967. (Associated Press) Bernard B. Fall, France, Born: November 19, 1926, in Vienna, Austria. Died: February 21, 1967, on the 'Street without Joy', northwest of Hue. Bernard B. Fall was photographed by Henri Huet in Vietnam, 1967. Henri Huet died in 1971.
Henri Huet, War Zone C, Vietnam, 1966. Silhouette of death:the body of an American paratrooper killed in action in the jungle near the Cambodian border is lifted up to an evacuation helicopter. (Associated Press)
Henri Huet, near Sai Gon, Vietnam, 1968. Bomb craters from B-52 strikes mark the rice paddies and orchards west of Sai Gon. Most of the area had been abandoned by the peasants who used to farm them (Associated Press)
Henri Huet, Mekong delta, 1968. A rope keeps a U.S. machine-gunner from going under as he crosses a muddy stream. (Associated Press)
Sergio Or Tiz, Ham Nghi, Vietnam, 1971. The last picture of photographers Larry Burrows (Life Magazine), center, Henri Huet (Associated Press), left, Kent Potter (United Press International), right, and Keisaburo Shimamoto (Newsweek), background, boarding their helicopter before it crashed in Laos on February 10, 1971. (USMC/AP).
The next three pictures posed a question for us......The song tells us "the average age of the soldiers in Viet Nam was 19". Had the soldiers all been in their forties would these events and many like it have happened – or do we all get battle weary, desensitised, gain a 'kill or be killed' mentality, or simply not give a damn ???
A GI from the 25th Infantry Division, holding a part of a corpse of a Liberation soldier killed by a grenade launcher. Tay Ninh Province. 1967. Photo: Ishikawa Bunyo. GI's tie up prisoners to their tank and drag them to death. An American soldier with the skull of a Vietnamese patriot.
We couldn't leave this exhibition without taking a moment or two in front of the very iconic image.
On June 6 1972, US troops dropped napalm bombs down to Trang Bang district, Tay Ninh province, destroying houses, farms and civilians. This attack also caused a 9-year-old girl named Phan Thi Kim Phuc to get burned desperately.
The photo of "Napalm Girl" taken by reporter Huynh Cong Ut (Nick Ut) received a number of international awards, including World Press Photo (the largest European press photography award) and Pulitzer Prize (an academy press award) in 1972. This photo was ranked 41 over 100 most influential photos of the 20th century voted by Columbia University.
On March 29, 2013, Nick Ut presented this photo to War Remnants Museum.
ALL IN ALL FACTUAL, MOVING – AS IT SHOULD BE
QUITE REMARKABLE
---