Hoi An Bimble

Beez Neez now Chy Whella
Big Bear and Pepe Millard
Fri 5 Jan 2018 23:47
Hoi An Bimble
After our very late arrival and not settling until well after midnight, we had a slack start and late breakfast. A rainy looking morning, we went back to our room to do some admin, read and plan the next few towns. After lunch we were ready to bimble Old Town, Hoi An. The hotel pond gave a nice, wet lily and the fruit ladies were poised for action.
Still enjoy taking in all that motorbikes carry, this one has new lampshades for a hotel down the street. Just opposite our digs is the Thu Bon River and across the other side is the landmark Japanese covered Bridge, our first target.
Cau An Hoi is our way across the river, a throbbing bridge covered in people with very long selfie sticks, posing groups and unsteady tourists on equally rickety push bikes.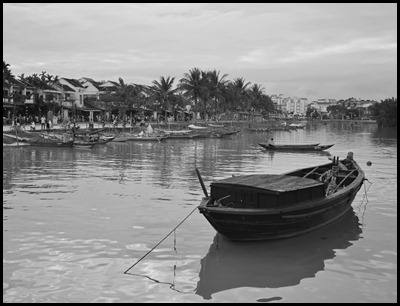 Half way across the bridge we had fun watching this group of ladies sort themselves out for a picture. Nearly at the end of the challenging, avoiding and wits-about perambulate, we liked a traditional riverboat.
We stood on the Cau di Bo (Walkers' Bridge) and did the tourist thing with the Japanese Covered Bridge behind us.
The iconic Japanese Covered Bridge is a beautiful example of the Japanese architecture of the period. Connecting Tran Phu Street with Nguyen Thi Minh Khai Street, the bridge was constructed in the 1590's by the Japanese community of Hoi An, in order to create a link with the Chinese quarters across the stream. Over the centuries the ornamentation of the bridge has remained relatively faithful to the original Japanese design. Its simplicity contrasts greatly with the Vietnamese and Chinese penchant for wild decoration. The French flattened out the roadway to make it more suitable for their motor vehicles, but the original arched shape was restored during major renovation work carried out in 1986. We spent the next few hours bimbling up and down the little streets full of souvenir and lantern shops, eateries and jewellers and of course tailors. Here you can have a suit whipped up overnight in banana or chilli print through to the finest silk. In 1999, the old town was declared a World Heritage Site by UNESCO as a "well-preserved example of a south-east Asian trading port of the 15th to 19th centuries, with buildings that display a unique blend of local and foreign influences".
A three and a half ton Chalcedony found in Dak Lake was a bit unusual outside a gem shop but it all added to the enjoyment of the street.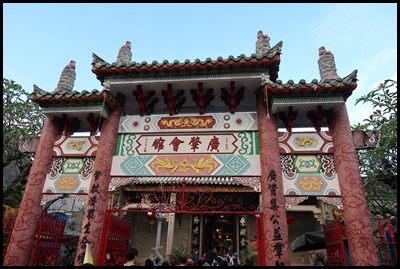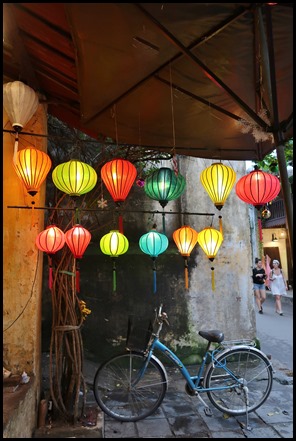 ALL IN ALL A VERY PHOTOGENIC AND LOVELY OLD TOWN
A HAPPY TOWN BUSTLING WITH TOURISTS
---