Southport

Beez Neez
Skipper and First Mate Millard (Big Bear and Pepe)
Thu 28 Apr 2016 22:57
A Drive Through Southport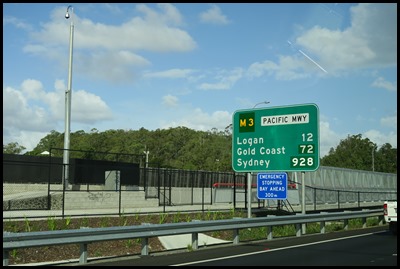 After our Brisbane visit Oscar continued our road trip to Southport, along the motorway we saw a sign telling us how far we were from Sydney. A rainbow over the trees was a happy sight.
Originally known as Nerang Creek Heads, it was named Southport because it was the southernmost port of the colony of Queensland. Southport is recognised as the central business district of the City of Gold Coast. It has the city's largest area of office space at 103,818 square metres. In the past, Southport was the central entertainment location of the Gold Coast. In current times it is set apart from the normal tourist hub of the Gold Coast. However, it has still experienced tourist-driven development and extraordinary growth. Southport has 18 high-rise towers either completed, under construction or awaiting commencement.
On the way in Oscar kindly stopped at some chandleries for Bear to tick off some bits for Beez – is there never a list ????
I 'borrowed' these images of Southport to show more than we could see.
Our first stop was for a 'cold one' at the Southport Marina – recently celebrated its seventieth anniversary.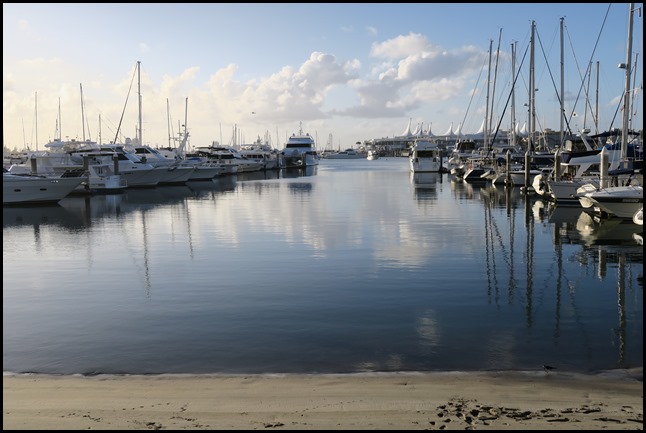 Oscar and Peta keep a berth here, five down on the left.
A lovely, fresh, light club. We watched a cheeky bird settle for crumb seeking. Not too sure about the red baize.
Next stop was Main Beach to take a look, further to the right is Surfers Beach.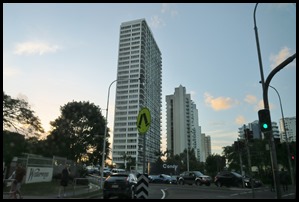 Some random shots from the back of the car to give Richard a flavour (this blog is for you xx xx). Then it was time to head home where Peta had cooked a delicious lamb roast, invited two friends and the six of us enjoyed a lovely evening. Thank you both for another fantastic day.
ALL IN ALL A SMASHING DAY
TOURISTY BUT GREAT TO SEE
---