PG Bimble

Beez Neez
Skipper and First Mate Millard (Big Bear and Pepe)
Tue 27 Nov 2012 22:28
A Bimble Around Punta Gorda
PG is OK with us. Opposite our hotel was a black bug, sadly the first we've seen with an O ooo
Beds safely settled in bed after his lumpy ride amongst the crisps on the ferry, Charles (our landlord) pointed out where we should go for a late lunch, Gloria's. Bear opted for the local speciality on the menu as stew beef with rice and beans. I chose chicken and chips. Bear's arrived, I told him not to wait for me – just as well as it came after the chicken had been caught, must have given up only after quite a fight, but hey, we're retired and it was well worth waiting for.
At the kerb outside our favourite sort of bike. Later we saw it in action, Grand Gromit.
Off we went on our bimble which began at Pal's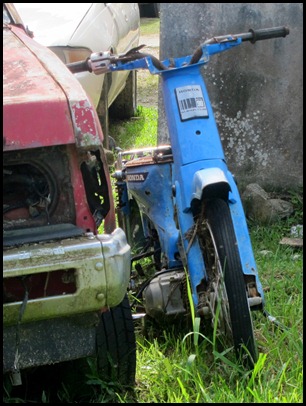 Over the road in the Police Station Compound were a couple of beauties
The Town Square
Punta Gorda
, (locally PG), is a sizeable town in

Toledo District

in southern

Belize

, fifteen feet above sea level. Historically it was a small fishing village before being settled by Garifuna emigrants from

Honduras

in 1823. The population now, is about 6,000 and although the town bears a

Spanish

name, its inhabitants are mostly

Kriol

/

English

-speaking, primarily of

Garifuna

,

East Indian

and

Kriol

descent.
PG is a

seaport

and

fishing

town on the

Caribbean Sea

that used to be home to British soldiers at a camp nearby. The impact on the barracks closing has taken a toll on the local economy. We walked to the town square and found the taxi rank, after shaking hands with Rasta all was organised for the morning, Rasta would pick us up at the hotel at 11:00.
A great night spot called Chillers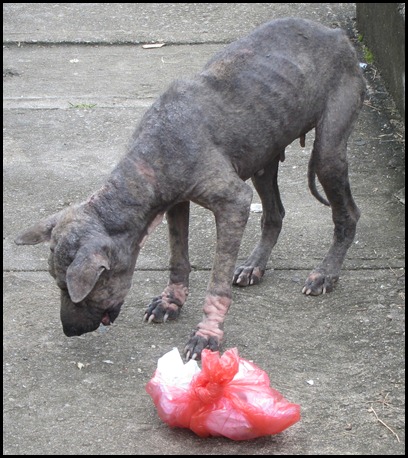 The dogs we saw here were in a truly pitiful state. Far worse, barring the ticks, than we see in Guatemala. The one on the left was slow on his feet, but the one on the right was bobbing up and down in an almost mechanical way, unable to stop even when it feasted on scraps and we saw blood coming from its eyes. So very sad. Grim indeed.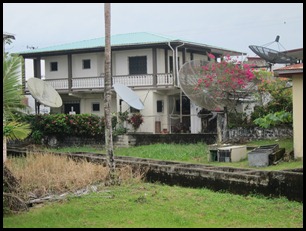 The houses here are all in very similar condition. The deep water drains indicate just how heavy the rainfall can be. After our walk we headed back to the St Charles Inn.
A lovely house opposite our hotel – one for the One Careful Owner finals I reckon.
We so enjoyed Gloria's we went back for breakfast this morning. Bear's frijoles, bacon and sunny-side-ups came with a local side dish called Jacks. These light, hollow, savoury turnovers were soon dipping in the skippers beans and very much enjoyed. I had a delicious cheese omelet and all too soon it was time to get on our way.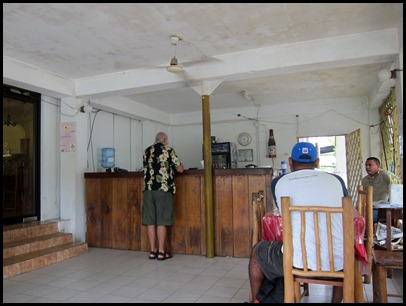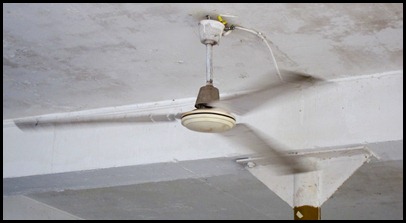 The fan above Bear's head was there on a wing and a prayer, the single screw was doing a sterling job. The whole thing wiggled alarmingly but we feel sure we will be back en route back to Beez. We bid the lovely waitress 'farewell' and as promised Rasta was there on time for the short taxi ride to the airport.
ALL IN ALL SUCH HAPPY PEOPLE
A GENTLE BACKWATER
---