Day Four

Beez Neez now Chy Whella
Big Bear and Pepe Millard
Tue 14 Apr 2009 22:30
Final Day with Car - South Basse Terre
Weather clear, picnic packed and off we went on our last day in the car.
Before too long we had used the traverse route that cuts the island in half soon arriving at Plage de Malendure. We stood and watched a busy pelican then a little further on saw Pigeon Island.
A couple of coaches filled the one and a half hour - glass bottomed Nautilus and as Bear would like to take the trip it has gone on our list to anchor off for a few days next season. I still think it must be a bit strange to be diving, minding your own business and coming across an underwater statue of Jacques Cousteau who adored this area. I cannot wait to have a photo next to him.
Next stop Bouillante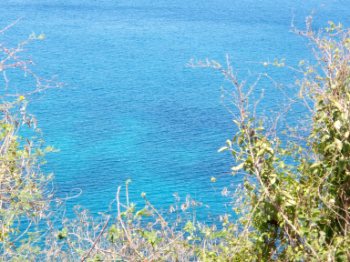 Pointe a Lezard with a crane growing next to the tea shop, still the water here was beautiful.
Anse a la Barque is a busy small boat fishing area, complete with its own lighthouse that the locals pay no mind to as a local said "works one day in about six". Next stop Coffee Museum (own blog).
I was not going to put a full graveyard of "one careful owners" for the risk of people thinking I'm mad My lips are sealed, until you know who saw an ambulance and said Dead Ambulance Loses Patience. I despair. Still I liked the name of the village Vieux Habitants.
The run up to the town of Basse Terre gave no feeling of entering the capital city - but we found the roundabout with reared horses quite special, the Cathedral
Although it is the administrative capital of Guadeloupe, Basse-Terre is only the second-largest city in Guadeloupe behind Pointe-a-Pitre, with 44,864 inhabitants in its urban area in 1999 (12,400 of whom lived in the city of Basse-Terre proper). The city was founded in 1643, in the mountainous section of Basse-Terre. The town has been destroyed many times as a consequence of the Anglo-French wars. Today the town is quiet with its French provincial atmosphere and colourful port life. In town is the Cathedral of Saint-Pierre-et-Saint-Paul, a 19th century building which has a notable grey stone highlighted by white statues. In the early stages of the French occupation of Basse Terra, a Roman Catholic Church was erected in the town by the Jesuits and dedicated to Our Lady. Notre Dame was burnt to the ground in 1706 during the Anglo-French War by English soldiers who were billeted there. The Church was re-built by 1710 and re-named St. George's. From the 1720's, it became a place of worship for the Anglicans. After the take-over of the island by the English in 1713, Roman Catholics were forbidden by law to worship in public. They also suffered certain civil and military disabilities. For example, Roman Catholics were required to take and subscribe certain oaths and declarations, such as the declaration against Transubstantiation, before they would quality for civil or military office or for sitting and voting in the island's legislature. An Act passed in 1829 finally to remove all disabilities. As a consequence, there was a revival of Roman Catholicism. The steady influx of Portuguese migrants from the island of Madeira from 1835 onwards strengthened the growth of the Roman Catholic community. A church was built in or about 1856; it was called the Church of the Immaculate Conception. In 1927, it was demolished and replaced by a modern edifice on the same site on East Square Street. Father Claeys who was an architect of repute designed the church. It was dedicated on the 6th of December 1928.
Next stop the marina a long walk from the town. As we drove around the back it looked just like any other, about 300 boats, but, no feeling of bustle or business. On driving round we saw the pitiful sight of the visitors pontoon in bits, a couple of sunken boats and most shops around the edge closed. This charter boat arrived and tied to the fuel dock. His friends arrived shortly after and dinghied around to find a space. No capitainerie, no harbourmaster, eventually someone in the sad little fish stall told them they should stay the night on the fuel jetty. The damage here was done by Hurricane Lenny and no one has done anything about it since. All very sad and pathetic for the capital city - one for us to miss next season.
Vieux Fort
I really liked this pretty house, with its lovely butterfly gates. You rarely see a well kept house with a well kept garden, most here have been one or the other.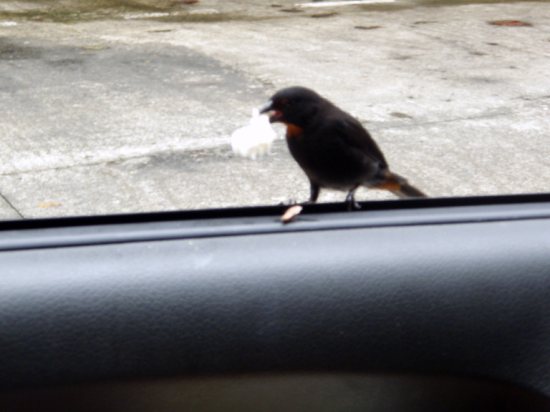 Next was a car picnic at the Chutes du Carbet. I had the female to feed while this male red throated bullfinch was happy to eat from Bears hand, too quick for me to photo.
Next up was this little chap, who didn't like bread, with these eyes looking up imploring - I found myself sharing my cheese triangles which he loved
Next was a half hour walk to see the tallest waterfall in The Antilles. I had said I was waterfalled out unless it was Angel or Niagara, but, it was a good stroll along very well laid paths. I crossed the bridge and happily watched the local fauna taking a bath. I thought you was watching an otter or something - get going. "Bully".
That is it, no more waterfalls, it looked just the same as Dominica. The rain clouds were forming, just time to feed this little girl and wend our way.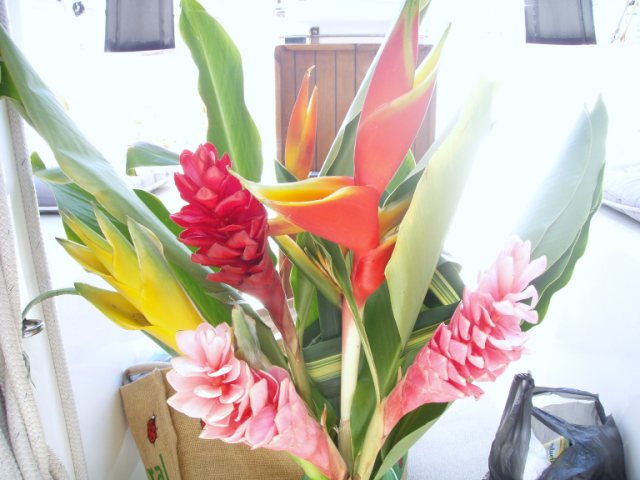 Last stop was at the enormous Carrefour to stock up on heavy items and a new bouquet for me at the princely sum of 4.77.
ALL IN ALL we feel we have had a good crack at Guadeloupe and all it has to offer. Minus going out to eat at night which would make your eyes bleed on seeing the bill. On the marina we worked out a small lobster and trimmings £100.
---