Cristal

Beez Neez now Chy Whella
Big Bear and Pepe Millard
Sat 7 Feb 2009 23:13
Cristal Champagne Celebration
We decided to have our Cristal Champagne celebration when we reached the "Caribbean proper". Barbados was an awesome experience but we were so hyped up we felt we couldn't do justice to such a beautiful drink. It would have felt rushed somehow, getting in, immigration, chores etc. So Saturday the 7th February 2009 was THE day in Rodney Bay Marina, St Lucia.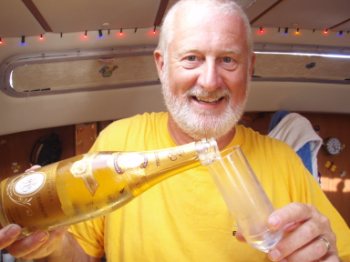 The moment of truth, waited for since we were given this wonderful present at our leaving do on the 3rd of May 2008 by:
Pete and Sue, holding our now much looked through scrapbook at the "do" , a special Thank You, you made our celebration complete. Also, a very special mention to Brent and Carole Strickland, without whom Beez Neez would not exist.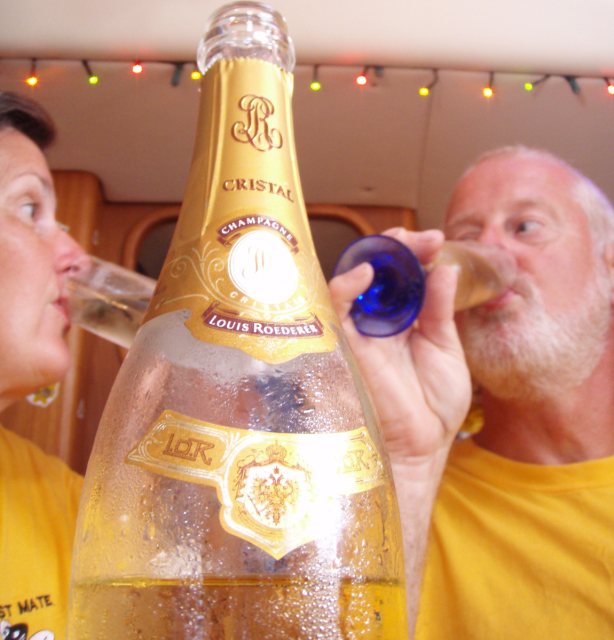 A serious moment of sheer pleasure.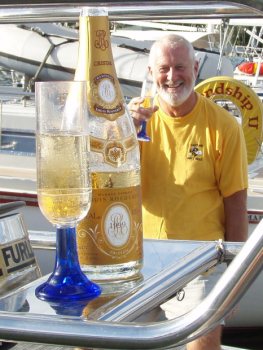 Louis Roederer Cristal Champagne
This is champagne at its finest, as inspired today as it has always been, the embodiment of elegance and purity. Cristal is made according to the strictest criteria, based on a drastic process of selection applying to the vintage, the cru, the village, the grapes and finally the wines. Only Pinot Noir and Chardonnay grapes from the House's 10 most celebrated crus are used in the production of this legendary cuvée. C
ristal is the brand name of a well-known champagne
produced by Louis Roederer
. Cristal is easily recognized by its flat-bottomed clear, "crystal" bottle, anti-UV cellophane
wrapper, and gold label.

History

Cristal was first created in 1876 for Alexander II of Russia
. As the political situation in Russia at the time of his rule was unstable, the tsar
feared assassination. He ordered that the bottles, containing the drink, were made clear to avoid having a bomb hidden in a typical green bottle. Louis Roederer commissioned a Flemish glassmaker to create a Champagne bottle with a flat bottom. Bottles made from common glass have a bell shaped bottom which makes them strong enough to cope with the pressure created by the champagne. In order to create a flat bottomed bottle they had to be made from stronger, clear lead cristal
. The Champagne has since become known as "Cristal". It is viewed by many as the first prestige cuvee
. Cristal did not become commercially available until 1945.

Production

The 1974 vintage was the first release of a rose
Cristal. The grape
composition is an approximately equal blend of Chardonnay
and Pinot Noir
, while the rosé contains more Pinot Noir, and is coloured with red wine rather than Pinot Noir grape skins, the saignee
method. The 2000 vintage is 55 per cent Pinot Noir and 45 per cent Chardonnay, with a dosage
of 10gm/ltr. The annual production of Cristal is between 300,000 to 400,000 bottles in years it is made, depending of the quality of the vintage.

In popular culture
In the 1995 film Four Rooms, Quentin Tarantino
, playing a rich Hollywood actor, discusses Cristal during a lengthy monologue, stating that compared to Cristal, "Everything else is piss".
In the 1995 film Showgirls, the character played by Gina Gershon is named Cristal Connors. In a conversation with another character, she reveals that she named herself Cristal after the champagne (which she refers to as "Holy water").
In the documentary "Tupac Resurrection", Tupac Shakur talks about his best memory with Mickey Rourke. Mickey is arguing with his wife, Carr. Tupac advises him to buy her some Cristal, stating that it would "make someone forgive you."
Travel Ted (keeper of the badges of travel) and Betsy come out to help Beds celebrate with Beez Neez
Rodney Bay Marina, Skippers cheesy says it all. OOPS.
Beds got stuck in too, he hasn't let his hair down since THAT episode in Morocco.
That evening we went for a lovely "taster of the Caribbean" meal at the renowned Edge restaurant.
The Edge is built right on the waters edge in the lagoon of Rodney Bay. Very elegant tables. Chef Bobo Bergstrom's road to culinary success is anything but ordinary. Swedish-born, he began his education in his native country, but his true education would carry him across the globe.

From the Navy to the Kitchen
He gained extensive culinary experience as a young man, initially in the Swedish Navy in the military officers' restaurants (he served as a Sub-Lieutenant for the Swedish Armoured Forces), the Royal Viking Hotel in Stockholm, North Norway Hotels as well as mid parts, and worked extensively both in Europe and the Caribbean. He gained recognition in various food competitions and is recipient of several diplomas in his related field, and even worked for the Chef of the Swedish Royal Family as Chef de Cuisine at Michelin Star-awarded restaurant Operakallaren in Stockholm. He is now renowned for his Eurobbean-style fusion of cuisine.

One of our courses was duck on a crouton beautifully presented on an upturned glass that contained a small salad with a mango sauce. One of the sweets was Pina Colada tira massau. Bear thought it incredibly amusing when two chaps lit cigarettes behind my head.
Bears face says it all.
Mount Everest: The historic ascent of the 29th of May 1953. My favourite story of success and achievement.
Tenzing Norgay said "We done the bugger"
Edmund Hillary said "Well, we knocked the bastard off !" (Bear just punched the air and I had a cheesy grin when we pulled in to Six Men's Bay, Barbados).

On the 28th the ridge camp was established at 27,900 feet (8,500 metres) by Hillary, Tenzing, Lowe, Gregory, and Ang Nyima, and Hillary and Tenzing passed the night there. The two set out early on the morning of May 29, reaching the South Summit by 9:00 AM. The first challenge on the final approach to the summit of Everest was a fairly level ridge of rock some 400 feet (120 metres) long flanked by an ice "cornice"; to the right was the East (Kangshung) Face, and to the left was the Southwest Face, both sheer drop-offs. The final obstacle, about halfway between the South Summit and the summit of Everest, was a steep spur of rock and ice—now called the Hillary Step. Though it is only about 55 feet (17 metres) high, the formation is difficult to climb because of its extreme pitch and because a mistake would be deadly. Climbers now use fixed ropes to ascend this section, but Hillary and Tenzing had only ice-climbing equipment. First Hillary and then Tenzing tackled the barrier much as one would climb a rock chimney—i.e., they inched up a little at a time with their backs against the rock wall and their feet wedged in a crack between the rock and ice. "Nobody climbs mountains for scientific reasons. Science is used to raise money for the expeditions, but you really climb for the hell of it" (EH).
They reached the summit of Everest at 11:30 AM. Hillary turned to Tenzing, and the men shook hands; Tenzing then embraced Hillary in a hug. Hillary took photos, and the two searched for but did not find signs that Mallory and Irvine had been to the summit. " As far as I knew, he had never taken a photograph before, and the summit of Everest was hardly the place to show him how"
(EH) Tenzing, a Buddhist, made an offering of food for the mountain; Hillary left a crucifix Hunt had given him. The two men ate some sweets and then headed down. They had spent about 15 minutes on the top of the world, not long as they were running short of oxygen.
"It is not the mountain we conquer but ourselves." (EH) News of the conquest of Mount Everest did not reach the outside world until 2 June, the eve of the Queen's coronation. Colonel Hunt and Edmund Hillary were knighted on their return. Sir Edmund took part in several expeditions after that including a trip across Antarctica to the South Pole in 1958. He set up a medical and educational trust for the Sherpa people in 1961 and was New Zealand High Commissioner to India in Delhi from 1984 to 1989. He died aged 88 in January 2008. "People do not decide to become extraordinary. They decide to accomplish extraordinary things" (EH). Tenzing Norgay was awarded the George Medal for his achievement and later became director of the Himalayan Mountaineering Institute, Darjeeling. He died in 1986. The body of George Mallory who had attempted the ascent in 1924 was found on Mount Everest in 1999. By the 50th anniversary of the ascent in May 2003 over 1,300 people had reached the summit of the roof of the world.
Sagamatha is Sanskrit for Sagar, sky (not to be confused with sea/ocean) and Matha, forehead or head and is the modern Nepali name for Mount Everest. In Tibet it is called Chomolungma: mother goddess of the universe. I have been fortunate to fly around the summit of this stunning mountain in a small plane AND to have crossed the Atlantic Ocean in a small boat. What can I say: I am truly blessed.
"You don't have to be a fantastic hero to do certain things - to compete. You can be just an ordinary chap, sufficiently motivated." (Sir Edmund Hillary).
All in all we were sufficiently motivated - and supported by so many friends and family, Thank you.
---