Musket Snorkel

Beez Neez now Chy Whella
Big Bear and Pepe Millard
Tue 4 Aug 2015 22:57
Our Wonderful Snorkel Behind the Anchorage
Just before our final right turn into the anchorage we saw quite an unusual scene, people walking on a sandbar, well just to the left is the reef that the resort boats take snorkelers to feed the fish and enjoy the shallows. It was on our list but the weather has been so overcast and cold the need has been somewhat squashed thus far. Well today, although still overcast, the radio chirped and the Scott-Frees asked if we fancied a snorkel before lunch. Absolutely, but I have no doubt I'll be whinging about cold water and........... I'll be brave as it will be nice to get off Beez and enjoy our first snorkel in ages.
We parked the dinghies by the sandbar and swam the short distance to the reef in chest high water, of course I whinged as I got myself wet but as soon as I neared the reef I was coloured happy. The water was clear, the fish were in crowds and the black and white chaps did not skitter away, seemed unconcerned and posed nicely.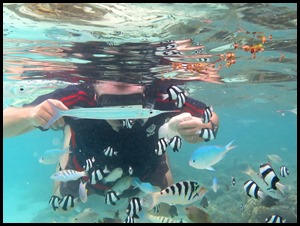 Steve got some bread ready and the fish seemed patient, until......talk about frenzy of activity.
The same thing happened when Bear fed them, they also loved the crumbs that got stuck in Bear's fur. I didn't, it felt so weird being preened by so many hungry mouths. Things settled after all the bread had been demolished.
I went in search of singles. I have to remember the brown ones as well as the unusual.
Handsome, stripy and small.
A nice pair. Peaceful grazing.
Pretty in pink.
Defending his patch and great pyjamas.
Beautiful blue.
Jumping in the picture, posing badly and swirling at the last second.
Photo bombed just as I'd lined up the rainbow coloured parrot.
Weird, this wafting set of hands were at the end of a three foot long 'creature'.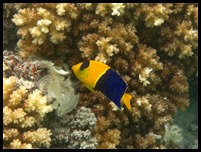 It was a treat to see such healthy looking coral.
We will always remember the nutty feeling of being swarmed.
ALL IN ALL JUST SO MANY FISH
THE MOST STUNNING ARRAY OF FISH EVER
---