For C & A

Beez Neez
Skipper and First Mate Millard (Big Bear and Pepe)
Fri 2 Mar 2012 16:07
For Colin and Ann
By way of a reminder, Colin challenged me when we left in June 2008 to take a picture of Flipper mid air. Well after eighteen months of trying and many, many pictures of splashing water to many, many of nothing at all and the dolphin fifty yards away laughing at me; I finally managed the above photograph as we approached Bequia. In our defense, this was before I got big and used an SLR.
Back to today – I spoke to the dolphins in the show and told them the story and all about the challenge, asking if they could oblige with something a little more grand, maybe even a little more impressive. However, please remember boys that I'm using Bear's mark three (I wore one out, he lost one - misplaced really. By the by I need you to slow it down for me as using Bear's means I don't have to lug mine around all day.
So in the deepest south Floridian accent - "Sure thaaang Pep."
We heard this smiling Bottlenose shout mid turn "YeeeHa, this is for Colin – anything for Pep's mate of twenty two years."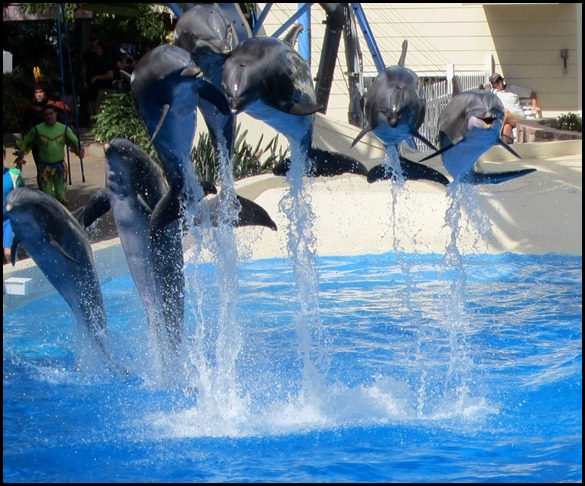 For Ann – and not to be outdone in any way, the whole gang got together. This is for your bravery and grace. xx xx
It may take another eighteen months but we do think we can best these pics when we come into contact with the Spinner dolphin. This lot have sent emails to forewarn them, but for now no breath holding.
ALL IN ALL WE WILL KEEP TRYING
---