TT and Packing

Beez Neez now Chy Whella
Big Bear and Pepe Millard
Tue 19 Sep 2017 22:57
The Mammoth Task of Packing and Football in the Garden with Team Tinson
No sooner than Team Tinson had gone off to school and work than we took over the lounge and put ourselves to the gargantuan task of sorting our stuff in to piles. Oh the piles. Bear's clothes, mine, Beez bits, techno, I need a cup of tea.
The first of Beez own two cases. Rigging tensioning kit, gaffer tape (the really good stuff) yes dear, fog horn, thread, anode, solar lights, replacement Perspex, d-rings to name but a few. I had a break from listing everything to pack a case of clothes with a carefully stuffed backgammon set. Our beautiful new set from the family was lined with a pillowcase and stuffed with books to prevent the risk of squashing. (It worked, it got back to Beez in pristine condition).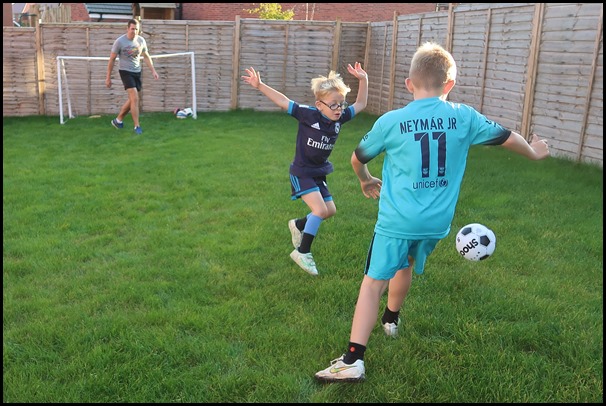 By the time Mark and the boys came home we had finished four cases and gave in. Bear went out to buy a fifth and I went out in the garden. I told you we needed another one this morning. The thing is we have the weight but not the shape and it was worth trying the eight hour game of Tetris.............. growl. A very enjoyable game of football, in warm sunshine for a real change. Loved this shot of a mid-air Seth.
Fun to watch the game and some great moves from the boys.
Jack managed to wrong-foot Mark but the ball just slithered over the bar.
Mid-air from Jack this time and no mistake, the ball went in a second after this picture.
Bear makes final touches to his red carry-on. The new black case filled with just enough space for smellies on the morrow. The two mustard cases we bought with Harley in Debenhams, Tottenham Court Road at half the half price – we so love a bargain and we are going to use them for our land touring, beginning in October to Japan..................
ALL IN ALL LOVED THE FOOTBALL MMMM TO THE PACKING
MAJOR MANIPULATIONS
---