Hellville Three

Beez Neez now Chy Whella
Big Bear and Pepe Millard
Sun 25 Aug 2019 23:57
Hellville – Our Third Visit

Monday the 19th of August. We left Crater Bay at twenty past ten and anchored in a similar spot to our last visit at a quarter to twelve. The anchorage is filling with boats that we know, next to us is Dreamaway (our next door neighbours in Rebak Marina), Ostrika, a Swiss boat we were anchored near in Trincomalee and a few American boats we met along the way (mostly Pangkor, Malaysia). Ashore after lunch, Bear dropped our gas bottle off to be refilled and I bimbled up to the DHL office to collect our card reader (very kindly sent by our bank). We met in the supermarket and picked up some bits and bobs. On our way back I took this picture of three dolls houses made from corrugated cardboard with little extras.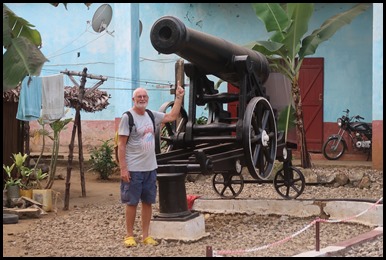 I saw a cannon in the grounds in front of the prison. Bear was none too happy about stepping up to it.....but.....an itchy trigger finger must be fulfilled. He was very pleased to be back on the pavement.
Bimbling back toward the port we took a breather and looked down the alley behind the main road.
Back at the jetty the ads were offloading very heavy metal rods. As we set off in Baby Beez we watched rice sacks being lobbed up to the truck.
Tuesday the 20th. Ashore, a boat was in full of bottled water.
Bear wanted to go to a posh solar panel shop to buy wire. Our panels are putting in so little juice he wants to change the wire (probably killed off in the rough seas on the way here from Chagos). As the shop was near Leader Price we could nip in for some bits. Taxi hailed and off we went in a fairly rickety job. We stopped on the way to pick up our gas bottle and then the driver stopped for some petrol. By the top of town as we went around the water fountain-roundabout I noticed a 1969 building.
Next door is the Hellville Municipal Theatre, built in 1954. The street market on the right.
Many of the ladies here wear home-made sunscreen. Loved the crochet outfit outside this shop, don't really want to picture on someone – quite scary methinks...... Also love the green shoes on the chap.
Sad to see a brand new betting shop starting up in such a poor community but the painting is quite stunning.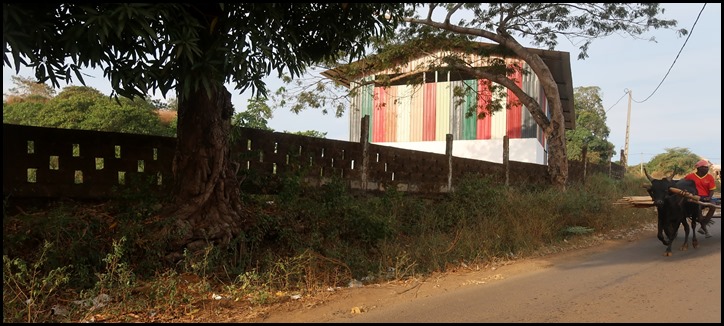 A quick bimble around the supermarket followed by complete failure at the solar panel shop. No wire available and they will only sell connectors with their panels. Nice to see happily painted corrugated iron.
On our way back to town we passed a colourful market stall selling local hooch. A Hellville hotel and a fancy looking shop.
A very hard-working wheelbarrow and a shop selling just about everything. Back aboard we had a video chat call from Melian and Ian (Indian Summer) from the Greek Islands and later a call from Allen and Patricia aboard Nauti Nauti who are up in Mayotte. Fancy that, lovely to catch up with them.
Wednesday the 21st. Bear went ashore to buy his wire from a local stall, I wrote blogs and made Bear a stew. I watched a chap paddle by with a tree across his canoe......mmmm.
Thursday the 22nd. Bear began the job of stripping the old wires from our poorly performing solar panels. We finally got an email from CMap who asked us to send our faulty chip back (so we can have a fully detailed map on the chartplotter instead of looking at what looks like a neat effort from a seven year old). Ashore we saw another boat full of steel wire.
We bimbled straight to the DHL office to post off the tiniest of microchips. So very pleased we were sitting down when the chap asked for fifty-two pounds..........ouch. We wandered back via the market passing chickens in baskets. A couple of bits from the supermarket, I passed up the half pigs heads........
Finally, we passed the Catholic Church finding it open. A plain but homely feel, so pleased to have been able to pop in.
On our way back to Beez Neez we were delighted to see Don Leon and Sunkist anchored. We briefly chatted to them on the radio as they entered Gan in the Maldives, as we left. Don Leon sent us this picture. Bear steering as I wave.
Friday the 23rd. Today began badly with the alternator bolt Bear had made in Gan, broke. For now the old one will have to go back on, so Bear set about finding the bits. This evening there was a pink cloud over Komba Island but two minutes later it was grey.
Saturday the 24th. The day begins early with a knock from the fruit and veg man, a quarter to eight this morning. Usually we don't need anything but the bananas in town have been yellow and spotty. Bear took his knife out as he didn't want a massive amount but the chap washed this bundle and charged a pound.
There has been many an email going back and forth between Bear, Mark (our engineer in Malaysia) and William (at Raymarine also in Malaysia) – the ongoing saga as to why the autopilot was happy for three thousand miles, taking on the rough conditions of our journey to Madagascar but after a few days rest in Ambaru it simply failed and on the on the journeys since. The last suggestion was a factory reset. Following instructions – no. Finding a forum with instructions – no. Bear even found a YouTube video – no. I have a contact in the UK so we await a response from them. Another frustrating day but Bear set to the serious task of diving in the back lazerette in his quest to rewire the solar panels, chaos in and on Chez Beez.
We are beginning to see some very pretty sunsets.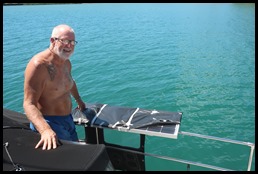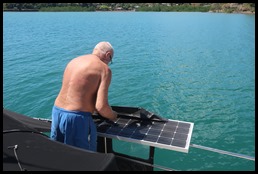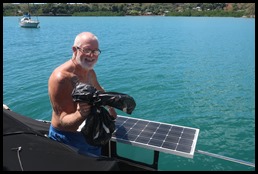 Sunday the 25th. This afternoon came the grand unveiling. The solar panels have had to be 'bandaged up' over the last few days to prevent them burning out. Off came the left side.
Off came the right side, the skipper rushed downstairs for his 'ta-dah' moment and ........nothing, nadda, nunca. I did the laundry, some blogs, made Bear a stew and generally kept out of the way........Much language as he cantered about on his multi-meter. One of the new connectors was shorting out, luckily he had bought a couple of spares and thank goodness the smile was back. He then moved the autopilot compass to a new location about two feet from where it was for testing on our next journey. Late in the afternoon a catamaran came in with a terrible thrap, in fact the noise was more like a clonk. Great, that will be added to the dog, birds and cockerel. I would definitely like to go back to Sakatia Island on the morrow.
Looking around the bay at sunset I thought we were gearing up for a corker............
..........it was indeed a spectacular sunset.
ALL IN ALL SOME FORWARD STEPS BUT SEVERAL SIDEWAYS
A BIT TEDIOUS BUT A LOT GOT DONE
---