Cornfields 12:2

Beez Neez now Chy Whella
Big Bear and Pepe Millard
Thu 16 Aug 2018 22:57
Family Fishing at Cornfields
By the time we had made a picnic, tea flasks, boys ready and packed the car, we received a message to say Joe, Vicks and Harley were setting off. Following the Wicked Witch, we headed toward Burnley and at some point turned from the main road and followed a farm track with a great view.
We arrived to see Harley was not only set up but had just caught a 'monster'.
We left Vicky and Harley to it to set ourselves up.
First, a quick look at Kaiser who had already cast. Not many minutes later he appeared with his first fish of a tally that would reach twenty one.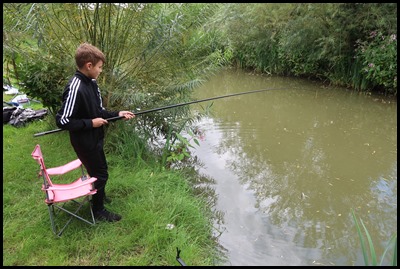 Harry, beside me, rose to the occasion and soon snagged a tiddler.
Vicks was next to catch. Joe had been so busy sorting the boys he still wasn't yet set up.
Harley took a turn next to me as I lost quite a reasonable sized carp, grrrr, he pulled in a monster who saw the water and took aim for it.
I broke my duck and Kaiser wanted to pose with him.
Harley none too pleased when he found visitors in his maggot box.
Bear finally caught a fairly handsome chap.
Harley and Kaiser wanted to pose with him but Harry not happy to.
Harry snagged a good sized carp, Vicky worked him beautifully, Harry netted him and Kaiser did the pose (Harry still not able to touch).
Another one of mine......
I took one of mine to Joe to show him "how it's done". This was met with some choice words to his mum.....
I caught a truly handsome chap and a minute later a sneaky chap Bear insisted I pose with.
Bear's second chap gave him a good soaking as he flapped and complained, but very happy to pose.
My final two, bringing my total to twelve (growling quite, quite loudly), were true fighters, taking ages to coax in to the landing net. I'm sure the eleventh thought himself to be a heavyweight and nibbled, teased and played. I'm sure it was him who raced into the reeds and snapped the elastic on my feeder.....never seen an lower lip like it. None of our fish today were big chaps but they certainly gave us a day of entertainment
Time to go, our car framed very nicely.
All packed up, time to admire some truly huge beasts .
A pretty sky as we left.
Sunset en rote to Tesco for more 'boys food'.
ALL IN ALL MESSY, BUSY AND INTERESTING
DEPRESSING LOSS, AGAIN, BUT A GOOD FUN DAY
---