Yichang Market

Beez Neez
Skipper and First Mate Millard (Big Bear and Pepe)
Mon 21 May 2018 23:47
Yichang Market
Yichang is a city of four million, tiny on Chinese reckoning, a place you need a car as most 'attractions' are out of town. Fed up with walking along the river, not wanting a massage or to look in shops and still needing to kill time before heading the the airport for our flight to Shanghai, we saw a market down a side street and went for it.
The butcher did not disappoint, next to the stall was an alley to the indoor market. In we went.
Multi-coloured corn and all things spice.
Another busy, colourful stall. Then we took a turn, deeper in the market.
Big, fat toads, in a bag to stop them hopping off proves once again that the Chinese will eat just about anything, although, we didn't see dodgy fried stuff on cocktail sticks.
Although we did see fried pig's noses and other dodgy stuff on this stall.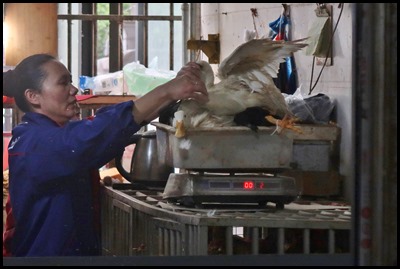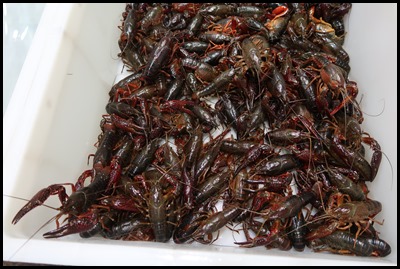 In the scaled were two chickens and two ducks on top of them. Then came the fishy area starting with crayfish.
Fish that would have been frisky this morning, now barely gasping.
Clams, squid and snails.
Luckier crayfish in tanks. Dried black mushrooms.
Afternoon Zzzz's after an early morning start.
Even the cat was exhausted. So many different types of rice.
Chillies and tobacco.
It was with dull relief that we made it through a full three-sixty and ended by the pulses.
Hooch shop, at this point we gave up and went to the airport.
ALL IN ALL AT LEAST THERE WAS 'STUFF' WE WOULD EAT
TYPICAL, SMALL ASIAN MARKET
---