Crossing the Straits 1

Beez Neez now Chy Whella
Big Bear and Pepe Millard
Mon 31 Oct 2016 22:57
Crossing the Straits toward Singapore 1
At five we were preparing to leave being as silent as mice – that was until the security guard said "Morning" at the top of his voice, Bear had to head him off at the pass......... We slid out half an hour later leaving Manatee and Nongsa Marina behind.
We passed through the markers and could see a line of chums near Singapore – just five and a bit miles away. Our original plan was to hug the coast of Indonesia and crossover through the second of the official crossing lanes. Bear looked up and asked if I wanted to have fun. He knew the answer. So we headed straight toward Changi on the eastern side of Singapore.
Our route taken with the clutter of detail and without. Out of the marina and straight across the Straits to the third waypoint. Along to number six and a squiggle around Raffles Lighthouse before heading to the corner to head up the river to Puteri Marina, a total of fifty two nautical miles.
Our AIS tops out at two hundred and fifty chums, there were many more than that – how many we are not sure but up to five hundred, many of them at anchor.
The Dover Strait is the world's busiest shipping lane. 500-600 ships a day pass through the narrow strait between the UK and France. Cargoes include oil from the Middle-East to European ports, and various commodities from North and South America to European customers.
In 2010, Shanghai port overtook the Port of Singapore to become the world's busiest container port.
Chums everywhere. We found a space between two and crossed, making sure we stayed out of SIngapore Port Limit.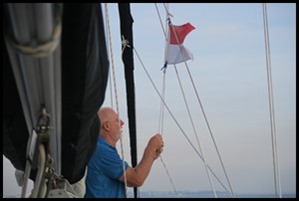 Bear took our now tatty Indonesian flag down and chose to put up the Quarantine flag on its own – just in case for some reason we had to stray into Singaporean waters. A very happy skipper.
Looking across toward Indonesia we were pleased to have clearer weather on our side.
Our first chum coming the other way was a lady called Guayaquil Bridge.
This lady cruised up and down, up and down beside us for seven long minutes before they trusted that we would not cross into Singaporean waters.....
Our biggest chum of the day was way off to our left going in the opposite direction. Hanjin Asia is a massive 366 metres long, 48 metres wide and has a draught of 13.1 metres. She is on her way to Yangshan, due in in eleven days time at four in the afternoon. She is spuddling along at 11.3 knots.
Lots of girls were taking on fuel as we passed by the anchorage on the Singapore side. The working girls doing the bunkering looked so small compared to the girls they served.
A busy few minutes as chums set off and went in to anchor. We met Jolly Reena, one of the busy little working girls who supply the big girls, move crew about and are generally very helpful.
Just before we cleared the city anchorage we saw the Singapore Flyer (like the London Eye), The massive Marina Sands Hotel (looks like a ship up on three great towers – the most expensive hotel in the world to build with a swimming pool on the fifty fifth floor......rooms start at two hundred and fifty pounds a night. We must go there just to visit.....) and beyond the CBD.
Continued........
---