To Fuji

Beez Neez
Skipper and First Mate Millard (Big Bear and Pepe)
Thu 9 Nov 2017 23:57
To Fuji
A final look at the petty decor as we walk in for breakfast. Bear in munching position.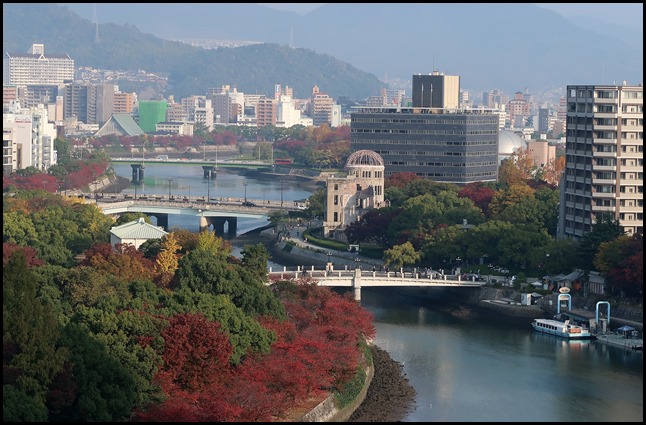 From breakfast on the 15th floor, we took our last look down the river to the A-Bomb Dome.
At ten Bear was standing in the JR Ticket Office trying to get us reserved seats (we had tried last week but the lady we asked said "no") So for the first of todays bullet trains we had to wait by the non-reserved gate for our Nozomi.
According to the picture we were waiting for a train, fourteen cars at eighty-two feet long, plus a front and or back nest for the driver, depending on the direction of this beast. In he rolled, all white and sexy.
Settled for our journey of an hour. Off at Shin-Kobe and to our next platform.
Bear waiting for our next, white sexy beast to Mishima, sadly our last bullet train.
Some pretty scenery.
A little marina and a huge stretch of water.
A field of solar panels.
A town and now a backdrop of mountains.
Our first look at Mt. Fuji..............., there she is.
Stunning even through the slightly tinted train window.
Japan's Mount Fuji is an active volcano about a hundred kilometres southwest of Tokyo. Commonly called "Fuji-san," it's the country's tallest peak, at 3,776 meters and erupted last on the 16th of December 1707. A pilgrimage site for centuries, it's considered one of Japan's three sacred mountains, and summit hikes remain a popular activity. Its iconic profile is the subject of numerous works of art, notably Edo Period prints by Hokusai and Hiroshige.
People can only climb Mount Fuji in July and August. There is an old Japanese proverb that says
"He who climbs Mount Fuji is a wise man, he who climbs twice is a fool".
Katsushika Hokusai (1760-1849) – famous for "Red Mt Fuji, at Dawn" actually titled, "South Wind, Clear Dawn" and a Fuji painting by Utagawa Hiroshige (1797-1858).
Our train pulled in and Bear went to find the bus station to buy tickets. We spent the next hour and a quarter on a bus arriving at Fujikawaguchiko train station, en route to our hotel pick up we saw this old lady in the car park.
Behind us, the local commuter train.
Above the car park a lovely autumnal scene.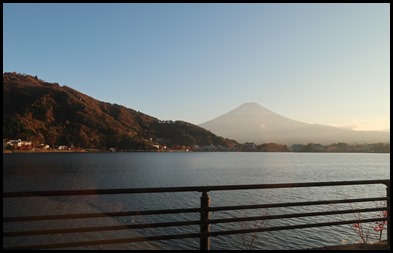 Our fifteen minute transfer took us around Lake Kawaguchi on the northern side of Mt. Fuji (also known as Fujisan). In 2013 the lake was added to the World Heritage List as part of the Fujisan Cultural Site. The lake has no natural outlet, and flooding of settlements on its shores was a problem until the construction of a canal, completed in 1914, to connect it to a tributary of the Sagami River.
Our journey today was four hundred and forty seven miles.
Formalities done, Beds settled, hot toilet seat given the thumbs up but the controller was on the wall. Mmmm. The view of Mount Fuji was to Beds' right. In a jiffy we had moved the bed (and put the 'DO Not Disturb' sign up as not to have a lady-who-does come in a faint at the furniture chess we had done) Now on the right hand wall so we could both sit and enjoy the changing colours of the most beautiful mountain in Japan.
ALL IN ALL WONDERFUL TO BE HERE
SHAME IT WAS OUR LAST BULLET TRAIN BUT A STUNNING VISTA
---