Pangkor Haulout

Beez Neez
Skipper and First Mate Millard (Big Bear and Pepe)
Sat 25 Feb 2017 23:57
Beez Neez is Hauled Out at Pangkor Marina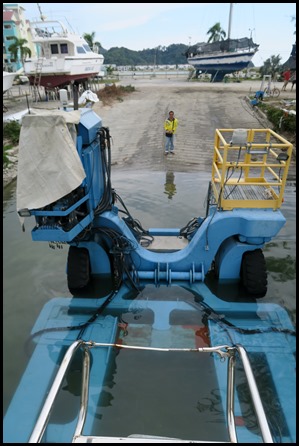 We waited on our berth until the radio chirped that James was ready for us. At five to five Beez was caught in the mover and we began to lift. We thought James looked very good in his Beez Neez shirt.........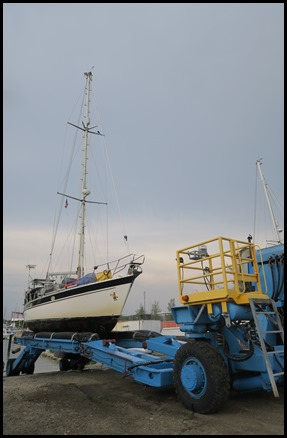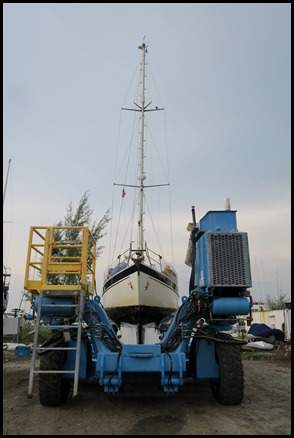 The skipper was quite calm – even smiled. Within minutes we were being offered a ladder. Beez from the ground.
Opposite a lady needing quite a bit of TLC.
Meanwhile, James was giving Beez a jolly good power hosing. How she needs a new coat and wellies. All washed it was time for James to get back to his magic box and slowly get the girl off the slope and levelled out.
Bear looked quite content but James began to worry as the Sea Lift began to make some groaning noises. (one of her wheel bearing seals had popped).
Progress was painfully slow and it wasn't until half past six that she began to back into her home for the next twenty-one months. 2018 will be all about four weeks working on Beez and four weeks land travel.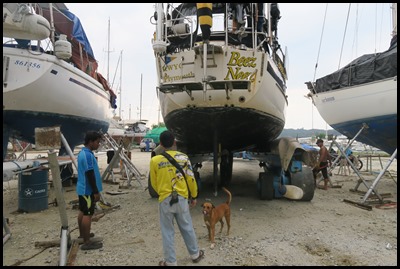 Beez passed Jimmy, busy working on a lady – he will be in charge of Beez new jacket. Nearly there.
Very funny when one of the yard dogs wanted to help James. He left the lift in place until tomorrow morning.
Soon Beez was resting on the ground and sturdy props were going to be nailed into place.
We went to shower and saw a lady needing rather a lot of work.
All quiet come sunset.
ALL IN ALL SO EASY UNTIL THE MACHINE HICCOUGHED
A WELL-EARNED REST AND DRY-OUT FOR THE GIRL
---