Interislander Ferry

Beez Neez
Skipper and First Mate Millard (Big Bear and Pepe)
Tue 8 Jul 2014 22:57
From Wellington to Picton Aboard Kaitaki
The alarm went off at six thirty and I have to say it was a little harsh having to tip myself out of Mabel to tend to ablutions – leather flying hat made things a little warmer about the ears. That done, Bear said I was justified to shiver, the thermometer was at a lowly three degrees Centigrade. On our way, we joined the morning commuters until the road split away to 'Picton Ferry' and the lane marked Interislander Ferry. E-ticket shown, boarding card in hand, directed to Lane 5 behind four other camper vans, the morning light showed prettily over the harbour. We sat and ate breakfast in the front seats of Mabel, the Kaitaki waiting quietly.
Very soon, we followed on, parked on D3 and upstairs sipping tea.
Bear went for his perambulate, reported back and went off again. He checked out flat calm conditions, the life rafts, the bumpers and the little man standing in his nest giving it welly on the bowthruster. We are off. Thank you, kind Sir.
Kaitaki, meaning challenger was built in Holland in 1995, she flies the British flag and has a crew of sixty. Her passenger capacity is 1650 and she can carry 600 cars on three decks. Her trailer capacity is 1780 metres and her gross tonnage is 22,365. Length 181.6 metres, breadth 23.4 metres. Speed 20.5 knots. Main engines 4 x Sulzer Type:8 ZAL 40S, 5760kw each at 510 rpm. Bow thrusters: 2 x electric driven KaMeWa CPP thrusts developing 1500 kw each.
We leave Wellington.
Onward.
Captain John Peak in the 1960's.
Fifty two years ago the Cook Strait's first 'roll on, roll off' shipping service began. Over the years several ships including the Aramoana, Aranui, Aratika and Arahunga, have carried people, cars, trucks, train carriages and an endless variety of cargo back and forth on the fifty nautical mile journey between North Island and South.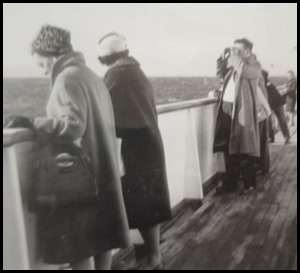 The wife of the Prime Minister leaving Aranui's launch ceremony in June 1965. A Japanese cookery demonstrator and passengers inspecting the waves on the Aramoana in 1963.
Customers on the Aranui maiden voyage in June 1966. Vauxhall car and family being loaded. Transport Superintendent MV Stephenson, loads a dog in 1962.
Kapuni gas tower crosses the Strait in 1975. Tractor towing parcel trolleys across Aramoana link-span in 1962. Seaman's Union President, Dave Morgan in 1988.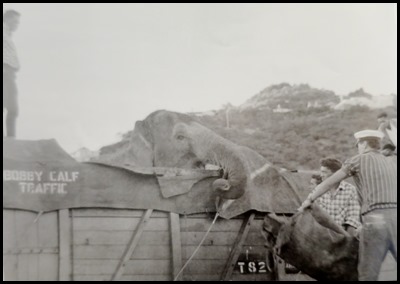 Had to feature Baby Nellie being loaded on the Aramoana in the 1960's.
The route door to door of fifty nautical miles.
We turned into the Troy Channel and the scenery changed dramatically.
Wow.
Seabirds not in a rush to get out of the way.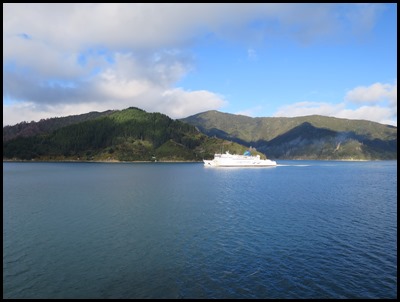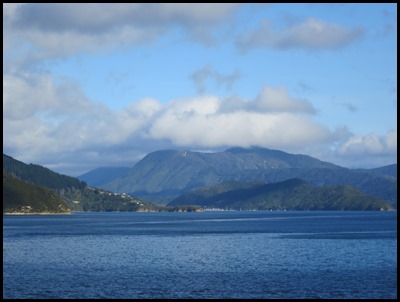 The channel widened and we past the outbound ferry. Picton come into view.
Picton ferry terminal.
We bade 'farewell' to Kaitaki, left the port area, followed the main road for five minutes, a winding gravel road and twenty minutes after docking we were eating our cheese and pickle rolls taking in the afternoon sun, chippy, but very pleasant.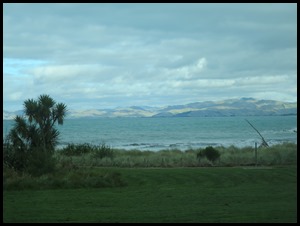 We left Picton and its Berger coloured Church. Followed the main road for a short time and then headed up a steep gravel road for five miles or so. The sea looked very cold from up here. We found the entrance to the Department of Conservation camp site, went over several judders, drove past the Cable Station and parked all on our own. Bear downloaded a list of sites and has them to hand on his IPad. All the sites are graded from free or scenic, standard with cold showers and serviced meaning hot water showers.
Mabel parked, it was time for a short walk, too windy to do too much. We have got used to the information boards on Niue that the New Zealand Government bought for the islander and tourists. Here we found something similar. Walks from half an hour to five hours one way. Walkers here are called Trampers and everything is set up, paths, markers, even cabins on the really long hikes can be pre-booked.
Whites Bay Cable Station: From this Bay on the 26th of August 1866 the first telegraph link was established between North and South Islands when a cable was landed from Lyall Bay near Wellington. Between 1867 and 1873 station staff operated from this building, supporting a small settlement. The station retained an operator – linesman until 1895. The building was restored by the NZHPT in 1977. Sadly, at this time of year it is locked but we did look through the very grubby windows.
My need to be on White's Beach was not for a long spell, just enough to look left and right.
The only other van. The view from Mabel. Mischief rummaging in the 'boot'.
ALL IN ALL EASY, SMOOTH AND PICTURESQUE PASSAGE
AWESOME JOURNEY
---