H & K Bowling

Beez Neez now Chy Whella
Big Bear and Pepe Millard
Wed 15 Aug 2018 22:57
Tenpin Bowling with Harry and Kaiser in Bolton
We left a rainy Clitheroe and headed for Bolton, on a whim we decided we would give bowling a go, neither of us could remember the last time we had been. Kaiser began, and his first ball was aimed liked a goalie rolling the ball on a football pitch. Harry had quite a good technique but his speed was a little too slow. After the first two rounds it was clear we had to have the side gullies covered for the boys. Gullies side-ramped with the flick of the ladies tool, the boys began to score many more hits – with a certain amount of snooker side-bouncing......Bear and I managed to keep our balls on the lane, mine a very poor show going off to the left but Bear led the charge with a spare. Going in to the last round things were quite close.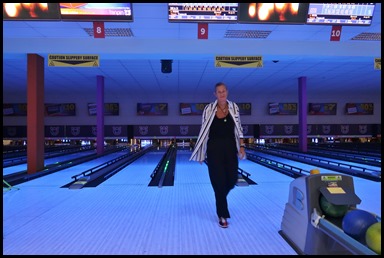 Bear caught me in action and I came away from my last ball with shoulders squeaking........
Could Bear pull off a win ??? Six to get from two balls – normally I would have said "easy", first ball began life mid-air.....
Bear's second ball was a dud but he pulled off the win..................
ALL IN ALL VERY RUSTY FUN
MADE A BREAK FROM THE RAIN
---