The Red Fort, Agra

Beez Neez now Chy Whella
Big Bear and Pepe Millard
Sun 14 Apr 2019 23:57
The Red Fort, Agra
The double battlemented wall of the Red Fort runs for two kilometres, so we saw it from a fair way off.
Imposing, red and we were ready to explore.
The Information Board Reads: Agra Fort is the only fort in India, where all early Mughal emperors lived. The fort stands on an ancient site and was traditionally known as Badalgarh. It was captured by Ghaznavi for some time but in the 15th century A.D. the Chahman Rajputs occupied it. Soon after, Agra assumed the status of capital when Sikandar Lodi (A.D. 1487 – 1517) shifted his capital from Dehli and constructed few buildings in the pre existing Fort at Agra. After the first battle of Panipat (A.D. 1526) Mughals captured the fort and ruled from here. In A.D. 1530 Humayun was coronated here. The fort got its present look during the reign of Akbar (A.D. 1556 – 1605). According to Abul Fazal, when Akbar arrived here in A.D. 1558, the brick fort was in ruinous condition and was popular as Badalgarh. Akbar ordered to rebuild it with red sand stone and was completed in 8 years (A.D. 1565 – 73).
The Fort is built on an irregular semi-circular plan with its chord lying along the course of river Yamuna. Its double ramparts are about 21 metres high and have been provided with massive circular bastions at regular intervals. A broad deep moat runs round the semi circle of the fort. Four gates were provided in four sides in which the southern gate is known as Amar Singh Gate. Now it is the main entrance for the tourists. Another important gate is the Dehli gate which is located in northern side. Both the gates have draw bridges over moat. The other two gates are known as Elephant Gate and Khizra Gate of which last one opens on the river side.
Abul Fazal recorded that about 500 beautiful buildings were constructed inside the fort. SOme of them were demolished by Shahjahan to make room for his new white marble palaces. But most of the Akbar's buildings were destroyed by British rulers between A.D. 1803 – 1862 for raising barracks. Now, hardly 30 Mughal buildings survive primarily on river side.
Agra Fort has been inscribed in the list of World Heritage monuments by the UNESCO in 1983.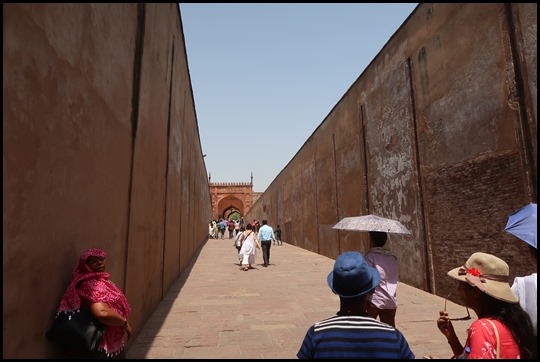 Inside we bimbled.
Mughal palace architecture reached its peak with the construction of the Red Fort.
Originally intended as a fortress, the site was partially converted into a palace during the reign of Shah Jahan, who lived in the fortress and died here as a prisoner of his own son.
The interior of the fortress is largely empty but for a row of residential dwellings facing the river. Built during Shah Jahan's time and after, these luxurious structures drew the resources of an entire empire and were worked on by craftsman of many different nationalities. The earliest of these dwellings, the Jahangiri Mahal, was built by Akbar as a women's quarters. It is predominantly Hindu in character and was probably inspired by the Gwalior Man Mandir, a palace built earlier in the century.
The Jehangir palace was also built by Akbar, for his favourite son.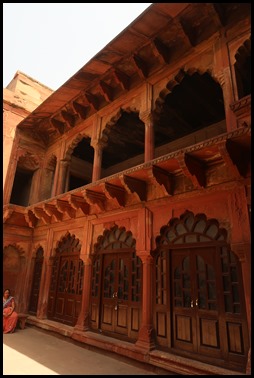 After bimbling about taking in the features we headed inside.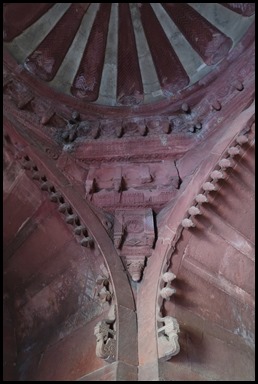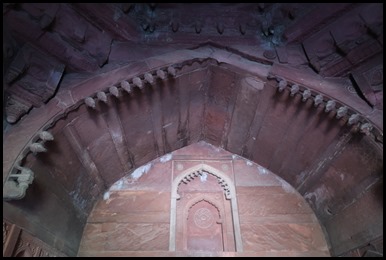 Wonderful craftsmanship and stunning detail.
Some bits in need of restoration.
Heading back out, we went up a level to the Roshanara.
From here we could see the Taj Mahal.
The inner courtyard and formal gardens.
The water feature and on to explore the palace.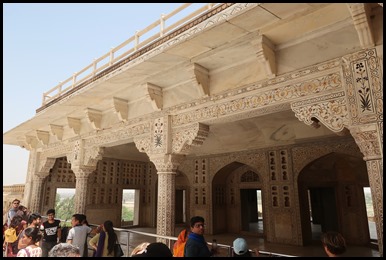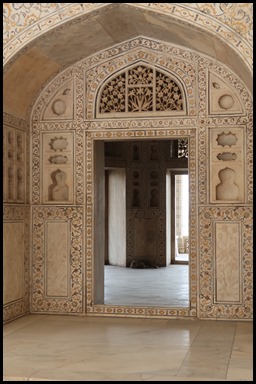 The Muthamman Burj (Shah-Burj) and Jharokha (1632 – 1640 A.D.) This beautiful palace surmounts the largest bastilion of Agra Fort on the river side, facing the East. It was originally built of red stone by Akbar who used it for jharokha darshan (daily practice of addressing the public audience) as well as for sun worship, every day at sun rise. Jehangir also used it as jharokha, as is faithfully shown in his painting made in 1620. He also instituted his 'Adi-i-janjir' (the chain of justice) on its South side. Owing to its octagonal plan, it was called 'Muthamman-burj.It has also been mentioned as Shah burj (the imperial king's tower by Persian historians and foreign travellers. Its name jasmine tower or 'Samman burj' as recorded by the contemporary historian Lahauri is a misnomer. It was rebuilt with white marble by Shah Jehan around 1632 – 1640 A.D.. He also used it for jharokha darshan which was indispensable a Mughal institution as was 'Durbar'.
It is an octagonal building, five external sides of which make a dalan overlooking the river. Each side has pillar and bracketed openings, the eastern most side of this palace is a spacious dalan with Shah-Nashin (alcoves). A shallow water-basin (kunda) is sunk in its pavement. It is profusely inlaid. This dalan opens on a court which has a chabutara projected by a jali screen, on its northern side; series of rooms leading to Shish Mahal on its western side; and a colonnade (dalan) with a room attached to it on the southern side. It is, thus, a large complex entirely built of white marble, it has deep niches on the walls, to break the monotony. Dados have repetitive stylized creepers inlaid on borders and carved plants in the centre pillars, brackets and lintels also bear exquisitely inlaid designs and it is one of the most ornamented buildings of Shah Jehan. This palace is directly connected to the Diwan-i-Khas, Shish Mahal, Khas-Mahal and other palaces and it was from here that the Mughal emperor governed the whole country. This burj offers full and majestic view of Taj Mahal and Shah Jehan spent eight years (1658 –1666 A.D.) of his imprisonment in this complex, and he died here, his body was taken by boat to the Taj Mahal and buried.
The Meena Masjid (1631 – 1640 A.D.) This small mosque was built entirely of white marble, by the Mughal King Shah Jahan for his personal use. It has a small open court in front of the three-arched prayer-chamber. There is no ornamentation and it is simple. It is enclosed and secured on all sides by high walls and, it appears that, Shah Jahan used this mosque during his imprisonment in the adjoining apartment of the Muthamman-Burj, also called Shah-Burj from 1658 – 1666 A.D.
On the public side of the palace we bimbled through the many colonnades, this large area was used by the gathered masses providing shelter from the sun. The Mughal king of the time would leave his private chambers and step out into this covered balcony, sit on his throne and pass judgement and sentences.
No sooner than Bear had seen a British cannon than out came the trigger finger.
Test drive...... Time to leave.
............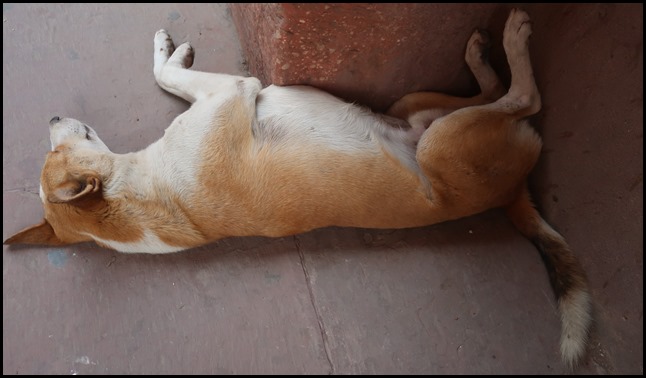 ALL IN ALL A VAST COMPLEX
ENORMOUS AND IN SUCH GOOD CONDITION
---