Passe Taihaaru

Beez Neez
Skipper and First Mate Millard (Big Bear and Pepe)
Sun 6 Oct 2013 22:37
Passe Taihaaru
The guide books say this is the hairiest of all passes and sorts 'the men out from the boys'. It's skinny and has a current between two and nine knots (always outflowing). Once started there is no going back. We asked Beez and she said "bring it on." Our first look from a distance. Sails down and ready for action, Beez shouts YeeeeeeeeeeHaaaaaaaaaaa and off we go.
OK this is more interesting, the small white posts each side of the pass come into view. I go and stand at the front, to aid Bear, hand signals at the ready.
What's incredibly funny is the accurately laid waypoints put your course over dry land. A1 eyeball then.
The pass opens up.
Immediately to our right the last wave breaks over the reef. In we go.
I feel I could lean out and touch the steep sided reef.
Marker post coming up.
View to the left.
First set of buoys ahead. Keep them to the left, bit of a rinse cycle going on. Bear felt an outward current of about three knots so Beez was in gear and compensating.
Last little bit.
We are through. Second set of buoys, keep well to the right. Now the water is crystal clear and the coral heads are easy to see. I ask Bear to hold on the spot so I can take pictures of Windarra coming through (own blog).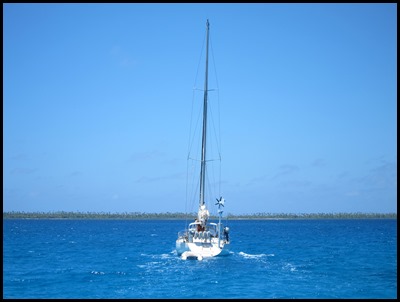 Windarra safely through, we then follow her across the wide open lagoon.
Crossing the lagoon.
View to the left (with our very own coral garden – seen as a dark patch).
Beez at our anchorage on the chart plotter. The island is known as Mopelia, Maupelia, Mopihaa, Maupihoa and Mapetia.
Our view to the right.
How did we celebrate ??? – a full blown egg event and a game of backgammon of course.
ALL IN ALL A GREAT SENSE OF ACHIEVEMENT
EXCITING AND FUN
---