Festival 3

Beez Neez
Skipper and First Mate Millard (Big Bear and Pepe)
Thu 25 Jul 2013 22:57
Highlights of Day Three of the Raivavae Festival
We so looked forward to this evening, the final night of the festival and what has been promised to be the best music and dance. We got it just right last night with the treble layered clothing and again put our picnic blanket on the ground and sat in our cockpit chairs, the children laughed in welcome, still amazed that our comfy chairs have no legs....We brought an umbrella tonight that we feel sure will stave off the rain, fingers crossed. Once again the four teams paraded in and stood through the long prayer (plenty of words that sound like tattoo, that once again had Bear giggling). We joined in the only word we could – Amen.
The teams performed one dance.
I do believe the skirt of Edmund did indeed have a few less strands. We got a close up of one of the ladies tops, sewn prettily with shells.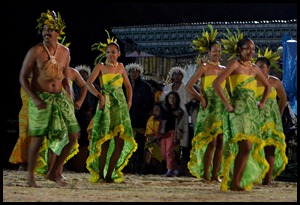 We then saw the formal dance.
Very elegant.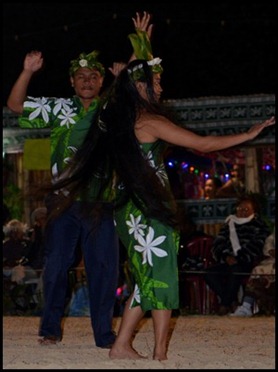 Bear thought the green team lost some points with their dance.
The yellow team were superb.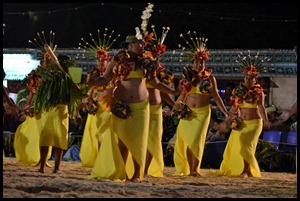 Their timing was perfect.
The men were not difficult to watch.
The musicians of each team then showed their drumming prowess, one team had a conch shell, another a digereedoo.
The mens singles.
Yellow was captivating.
Each of the teams presented their lady entrant for the singles. The red team huddled tightly around their lady as to hide her until she entered the marked square..
Edmund gave the signal to the drummers for the red team
The green team – we loved this outfit.
The blue entrant, very sweet but less wiggle.
Once again the yellow team were best. Bear loved her smile, I loved her ink.
After the final dance it was home time, we were desperate to know which team had won, no, we were told the winners will not be announced until Saturday. As we are leaving tomorrow we hope to find out from Tubuai.
ALL IN ALL WE HOPE THE YELLOW TEAM WIN
WONDERFUL CLIMAX TO A GREAT EVENT
---