To Belitung

Beez Neez
Skipper and First Mate Millard (Big Bear and Pepe)
Thu 13 Oct 2016 22:57
To Belitung
We get up this morning to see a kingfisher surveying his lot and a monkey still sleeping.
Then the incredible noise of fishermen returning after a night out.
As we get ready for the hundred and fifty mile journey to Belitung a youngster passes washing his nets.
We leave at seven thirty and pass a friend having to be towed in. Below us one point seven metres.
We follow our track in. Plenty of day fishermen wave enthusiastically.
The marker buoy and seawater beyond. a whopping four metres below.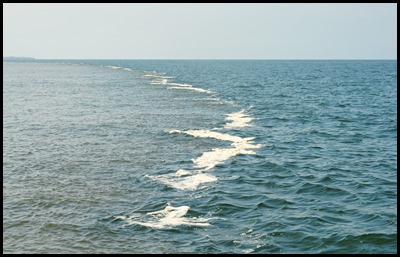 River water becomes the sea and we drop into seven metres deep.
A lady being tended as we got into seawater.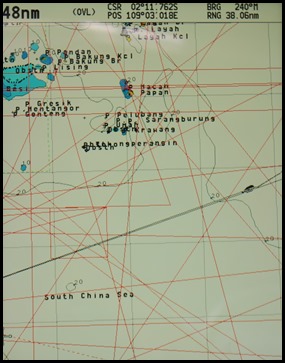 The first time Beez Neez is on the South China Sea (on the chartplotter).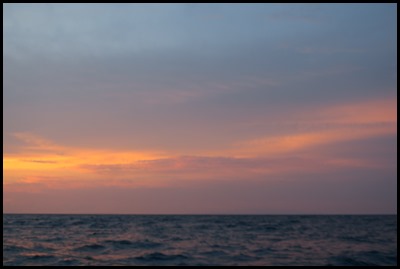 A peaceful afternoon – gusts to three and a half knots and a tug and tow, this time not a coal tow but a small chum, depth now a massive fifteen metres below......... One all at backgammon and a successful seven on the trot at Tri-ominoes sees me pull slightly ahead overall. Huh. I've been losing ever since that gibbon took four of the pieces. I've ordered a new one and Alex will bring it out in January. Huh and thrice Huh I say. Time to watch a gentle sunset.
I get up to begin my 02:00 to 06:00 shift to have Bear point to a light behind us. That's Dockwise Vanguard – colour me semi-happy, a favourite chum and goliath of the sea. Nothing for it but to look her up to put her glorious self on the blog.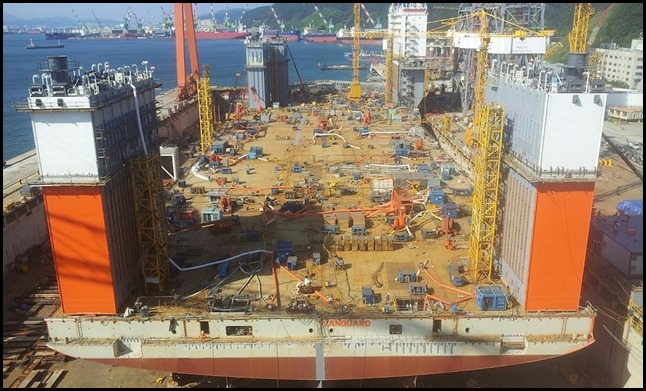 Dockwise Vanguard during her build.
Dockwise Vanguard carrying an oil rig platform, the cruise ship Costa Concordia and another rig (carrying as she passed Beez). WOW, how I would love to see her.
A fair way off I could see a ship on the AIS. At a quarter past four the radio chirped. The captain of Erik Spirit (tiny dots four miles off) called to ask if I would pass to stern, I promised faithfully to do so and wished Erik Spirit a safe onward journey. A voice like Omar Sharif wished me the same. A full colour me happy and a quick look at her stats.
All night I had storm clouds and lightning to my left, I listened to a good Harlan Coben, a dark daybreak and bed at six.
I got up at ten to a very troubled sky and after breakfast a harrowing five nil loss at backgammon........ Growl. Tough. Steady.

14:30 we are heading along the north coast of Belitung.
We pass a local lady.
The lighthouse on Lengkuas Island a must visit..............
..........as are the big boulders that look like we are approaching the Baths of Virgin Gorda, BVI's.
We settle far behind all the other rally boats in the anchorage 'C'. It is not on our itinerary but we so wanted to visit Belitung.
A bit rolly so Bear went off with the stern anchor. A big moon to our left.
We could then settle to enjoy the sunset and I got my backgammon revenge. Huh, time for bed said Zebedee.
ALL IN ALL LOOKING FORWARD TO EXPLORING BELITUNG
A BIT OF A SLOG AGAINST THE CURRENT NOW THE SEASON HAS CHANGED EARLY
---