Traditional Day

Beez Neez
Skipper and First Mate Millard (Big Bear and Pepe)
Fri 25 Dec 2015 23:57
Christmas Day – Very Traditional on Beez Neez
Late breakfast was all about colour, texture and taste. Bear had Tasmanian salmon, prawns, a cherry, half a baby tomato, two grapes, a strawberry, two crispy slices of bacon and two scrambled eggs [I had the same minus the scramble – but I did try a bit, seems silly to have made it all these years without trying, not bad, not bad at all]. Delicious and eaten whilst watching Miracle on 34th Street, the perfect Christmas film.
All ready at one thirty and a present each.
Turkey, ham, sausage wrapped in streaky bacon, roast potato and sweet potato, peas, cauliflower, sprouts, parsnip, stuffing with onion and mushroom gravy. Did he manage it ??? Yes, I did, it was fabulous but no room for Christmas pudding.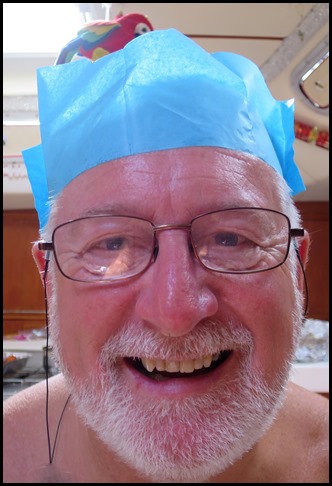 The replete man let me win at backgammon but squeaked a win at Mexican train dominos. We watched Love Actually and the Holiday, then it was time to strip the turkey off the bone, load the fridge and cook the Green Peril [bubble and squeak] for the morrow. Time to fall into bed.
ALL IN ALL A SMASHING DAY
WONDERFUL
---