Very Traditional

Beez Neez now Chy Whella
Big Bear and Pepe Millard
Thu 26 Dec 2013 23:57
A Very Traditional Christmas Aboard Beez Neez
Beez Neez festively decorated.
The little boat Dolores bought us hung in the conservatory.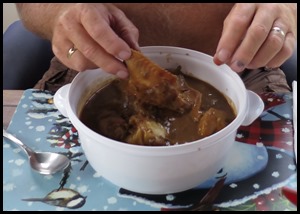 Christmas Eve is always a serious business when it comes to the skipper settling to the business of giblets and bits. Not for the faint heart to sit anywhere near, as there is a certain amount of noise involved in the consumption...... But the result is as always a happy boy. Yeah.
Christmas morning on Beez
We woke on Christmas morning to cards from each other, the Moths (and lovely pressies), Lord and Lady Mac (and a hummingbird calendar), Adam, Jenny and Faye. Huge thank you xx xx. Now I know many of you know Bear has much to put up with in me, but, let me put a scenario forward as an example that it is indeed a two way street. I bought Bear a new series of New Tricks (new to us) and as it was still early, why not watch a couple of episodes. The start of each episode gives a few minutes flavour of the story, then the opening titles. Up comes the images of Amanda Redman and as the second one flicks by, my dearly beloved pipes in, Oh wasn't she married to Bruce Forsyth. Ummmm no I think you'll find that particular lady was called Anthea Redfern............Oh.
Very traditional lunch.
We have to say, the second chef and I, to produce the above on a two burner stove, tiny oven and weaker burning butane, we did good. Bear always has his covered in bread sauce, but under it is roast turkey, sliced sirloin and ham, a sausage, stuffing, roast potatoes, parsnips, carrots, peas, cauliflower, marrow, broad beans and mushrooms in gravy.
We toasted friends and family and I wore my new shirt – thank you Moth and AMoth, I love it. Later mince pie and squirt, squirt cream. I won at backgammon but lost on Boxing Day.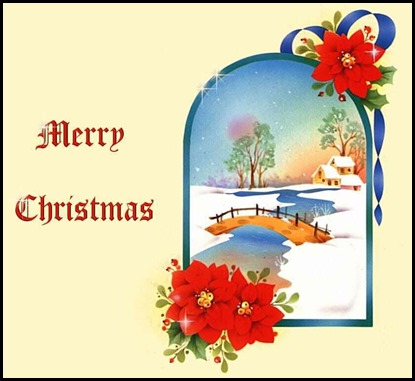 .
ALL IN ALL LOVELY
WONDERFULLY QUIET, CHILLED BUSINESS
---