Santa Cruz

Beez Neez now Chy Whella
Big Bear and Pepe Millard
Thu 18 Apr 2013 22:45
During the night a small cruiser anchored beside us, just after we got up it swung round to lie in front of us with about ten feet to spare. These skippers are so quick and efficient at anchoring – quite something.
Off we went in the dollar taxi to explore. In fact during the day the ride costs just sixty cents. On the way in we passed this 'semi-One Careful Owner' but the potential is there.
Not certain why these yellow buoys are here as we approached the jetty.
Ashore we found a very happy mural.
A very smart High Street.
As we bimbled around town there is a feeling of being in a trendy, modern and bustling seaside resort. This is where most cruises (only small ones) begin and end. Tourists of all nationalities converge here but it is in no way crowded. Plenty of bars, restaurants and a few hotels and B+B's.
Quite a smart looking hospital and well stocked pharmacies.
A wonderfully decorated art gallery and opposite a man sweeping the roof......
Transport comes in all shapes and sizes. The hardware cum chandlers - I was very impressed with the glass bowl sink ensemble. A 'One Careful Owner' dinghy in a front garden.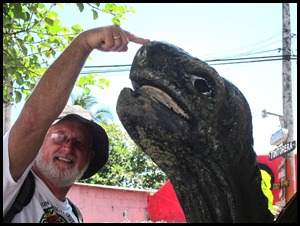 Wait until I tell Bear there are cannons on Isla Isabela. He tries this chap out for now. A water feature feature / map using cacti.
We ate in a little bar with great murals with volcanic chippings crunching underfoot.
We went for a reccy in the well stocked supermarket, the prices not too scary considering.
We enjoyed an ice lolly and posed with our first albatross.
We sat in front of the albatross with a view of the harbour. Beez is ahead and to the right. We're still not sure why there are only a few sea lions here, but at least the 'aroma' is much nicer. To our right the busy goings on of a port too small for big freighters, so everything has to be brought in on anything that will squeeze in.
We watched a game, the first in ages.
At six we met up with Steve, Chris, Rod and Mary for fish and chips – opposite the fish market which simply had to have its own blog. Scott-Free and Sheer Tenacity leave for Isabela in the morning, so once again Beez is falling behind.
Santa Cruz is the second largest island after Isabela. Its capital is Puerto Ayora, the most populated urban centre in the islands. Cattle raising and agriculture are prevalent here. The island is a large dormant volcano. It is estimated that the last eruptions occurred around a million and a half years ago. Santa Cruz has an area of three hundred and eighty one square miles and a maximum altitude of two thousand, eight hundred and thirty five feet. Named after the Holy Cross, its English name Indefatigable was given after HMS Indefatigable. Santa Cruz hosts the largest human population in the archipelago at the town of Puerto Ayora, with a total of twelve thousand residents on the island.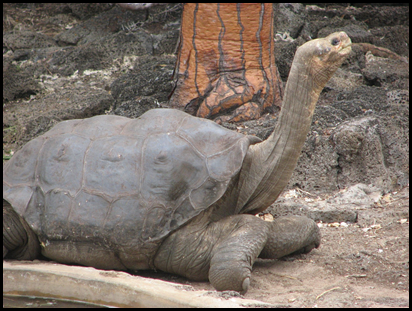 Lonesome George (Chelonoidis nigra abingdoni) was perhaps the islands most famous resident at the Charles Darwin Research Station. Scientists estimated he was about a hundred years old. On the 24th of June 2012, at 8:00 am local time, Edwin Naula, Director of the Galápagos National Park, announced that Lonesome George had been found dead by his caretaker of forty years, Fausto Llerena. There has not yet been a full report issued on his death, but it is widely accepted that his heart simply stopped - and there were we thinking we had about sixty or seventy years left to make his acquaintance.
ALL IN ALL LOOKING FORWARD TO SPENDING TIME HERE
---