To Sydney

Beez Neez
Skipper and First Mate Millard (Big Bear and Pepe)
Sat 1 Nov 2014 23:57
To Sydney and a Momentous Moment..............
Awake before the alarm went off, Beds bade his 'farewells' to Bernie, Bobby and Claude, cases in Mrs Puki and up the hill – Thank You Rod. Usual inspection of the bus stop inhabitants and soon we were on the bus.
A very pleasant bus journey with gentle scenery to Auckland.
Still odd to see a sign to Devonport, the expected picture of Auckland.
Bags checked in, we sat outside at the airport and ate our packed lunch – I know, how very British........ Security was very easy and we made our way to Gate 4. On board a couple of cups of tea taken in the lovely company of Ruby, the three and a half hour flight passed very quickly. As we came down through the clouds we fell a few hundred feet in a second and of course Bear made everyone of a nervous flying disposition feel so much better as he called out he just missed it............
Getting near.
Our first look at Sydney.
Of course we had hoped to fly over the Opera House but never mind that, we were so close it was almost touching. On the ground, off and walking in a trice. We scanned our Passports and poked the given ticket into a machine a short walk later. Bear was declined, I was in when the tiny green lights read, 'Welcome to Australia', Bear went to see a nice man and with Passport stamped on we went. Bags collected in minutes, time to do the very thing we came to do.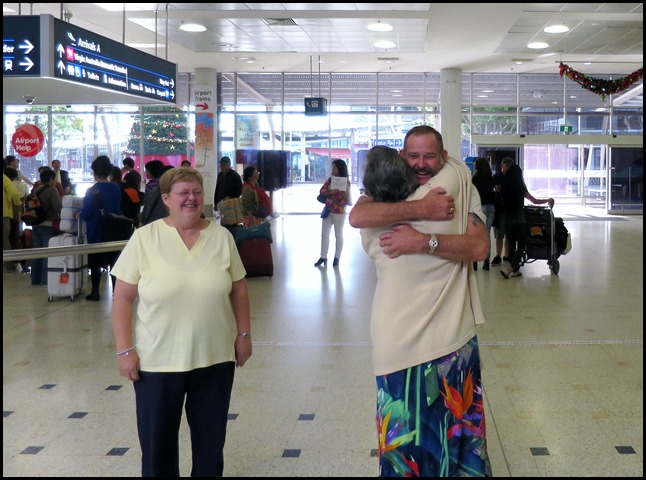 After thirty two years, seven months and seven days, twenty one thousand, two hundred and seventy one point zero one nautical miles on Beez Neez. Two hundred and thirty two stops in thirty eight nations on ninety islands – not forgetting the six nations and nineteen islands visited other than on Beez, as Sue watched and Bear took the keepsake photograph 'The Moment' - the first words out of my brothers mouth were................
"You're eighteen minutes late."
Bear felt the need to take the phallic things just outside the airport doors. A taxi ride later Beds was soon settled in his pit at the Addison Hotel in Kensington. Opposite I could see a horse watching the proceedings.........not what I expected to see so close to the city.....
After settling in, we were soon outside looking at what used to be, in years gone by, the old stables and hands quarters, apparently we are pretty close to Royal Randwick – one of Sydney's two racecourses. A pint was required, just along the road in the Doncaster.
A smashing meal with Rocco.
Back to room 112 for some catch up yarn, Bear of course adopted his usual position. Time for bed so up one to room 216. In the lift I read with interest – 3. Don't use a microwave to make toast...........something neither of us has ever tried..........
ALL IN ALL A TREMENDOUS OCCASION
THE FAMILIAL TRAITS ARE AMAZING
---