Week 5 Villa

Beez Neez now Chy Whella
Big Bear and Pepe Millard
Sat 25 Apr 2020 23:57
Our Fifth Week at Sleeping Indian, Jolly Harbour
Sunday the 19th of April. Woke early as always, but we slacked out with a cup of tea and a couple of episodes of Jack Ryan. Time for the perfect breakfast to begin the working week - boiled eggs. I put a coat on the kitchen ceiling, finished the walls and late afternoon got Bear to move the stepladder every time I loaded the roller with paint, row by row across the ceiling - work time halved. We had a snack break and I snuck a backgammon win, this is getting to be ridiculous. Good though. Huh. I painted the wall behind the fridge / freezer as Bear cut two wall fixing supports for the television (to bring it further from the lounge wall) to enable him to hide the cable television box. We stopped for a drink and a Mex Train, let me guess, you beat me hollow. Well, I thought I played well, no, you were just jammy. I was too tired to add up numbers against me is all. Huh.
I set my beautiful assistant the task of chopping an onion and adding mince to cook for cottage pie while I painted the wall behind the settees. Nearly had enough paint in the tray to finish the first coat on the lounge ceiling – Bear once again moving the stepladder for me.
Just after six we had both had enough, cheese melted on cottage pie with baked beans and gravy. We took it upstairs and ate with another Jack before showers. Not a bad output of work for a Sunday.
Monday the 20th. Breakfast and a morning of planning after changing the bed and shoving the washing on. We discussed what to do with the scruffy-looking stairs, the plan is to go trendy and fresh with stainless steel and wires but as we don't know how long we will be in lockdown (Covid 19) and delays in shipping, may not allow for the project to be done this year. So a back-up idea pro-tempore - a test rub on brown bannister, OK, strip and varnish and maybe take some of Beez old rigging for a Heath Robinson wire look. I have to admit my lump hammer began to itch at the thought of whacking out the ballisters, oh dear, I knew buying you that was a bad idea. Nay Sir, nay I say. Ooo time for a loaded and I managed a backgammon win, of course you did and Huh, thrice Huh.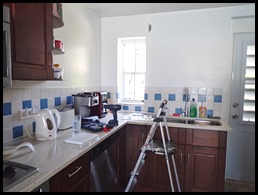 The kitchen looked really smart for all of ten minutes until we set about altering the seven foot long kitchen blind to four foot five, it not only looked too bulky for such a tiny window it was too far left. The storm shutter winder (seen above right of the window in the kitchen picture) dictated where the right fitting went, no argument about that but, whoever hung the left didn't match the distance and it went too far left – guess who couldn't live with that......I did a quick once over with emulsion to freshen it, Bear re-hung the fittings, up it went and we left it to dangle until tomorrow.
After lunch we played twelves to eights on Mex Train doms then our favourite dove, who sits on the upstairs balcony every morning and coos 'good morning' settled to look cute with "feed me eyes". Not wanting to feed the hordes on the back deck anymore as they poop over the loungers, I yielded and broke up a butter biscuit – just for her. She was soon happily tucking in. Well, not one but two kingbirds sat on the fence and watched, they have only come as far as Beez rigging when she was outside and we haven't seen them since. I'll try.....snapped a little biscuit and threw it toward a lounger, split second swoop and off it went in the chaps beak mid-air. Same thing with his wife, amazing. I broke a couple more pieces in case they came back, no, but something extraordinary happened and I would not have believed it had I not seen it for myself......
Our resident gecko jumped down from his normal "I'll sit here in the sun, nod and take in the goings-on" and promptly set about a piece of biscuit. What happened to eating nuisance flies and ants ???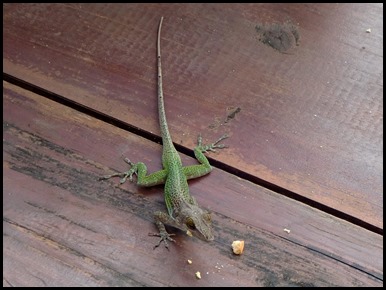 Not content with yomping the big piece on the lounger he leapt to the deck and tucked in to Mrs Doves left over piece. Next time he sits on the downpipe inches from where I'm painting I'll daub his head for being so cheeky. The little bulbuls came and finished all the tiny crumbs but I must not make this a habit – I would in a flash if no one left their calling cards.
Bear pottered about as I put the second coat on the wall behind the settees. Back to the game and I lost, about time I got a look in on a game success. It rained quite hard for a short while, we withdrew to watch a film. Energy levels pretty low today so an early night after showers, a snack and a cup of tea.
Tuesday the 21st. Six this morning's view. Bear read the news headlines as I looked at fun paint jobs on stair risers. I would love to put a stick-on scene up the whole staircase but people will drag their cases and the risers would soon be scuffed or ruined. Time for breakfast, a quick win at backgammon, really getting fed up with your winning streak now. Ooops, sorry, no you're not. Growling.
Feeling stronger this morning so we are now ready and looking forward to a full and productive day. Too early to be noisy, we set about putting the coffee table, dining chairs and my worktop-old-ironing-board on the back deck. I set up eight cans to support the two toilet cupboard doors ready for their top coat.
At eight thirty Bear went out the front to saw the bookcase off at the knees and I did a contortionist move or two to put the top coat inside the toilet cupboard, that done, it was outside to do the doors. I put a top coat on the pelmet, each side of the curtain rails and plaster over the patio door frame. Really beginning to get rid of the yellow now. I pinned two pretty stickers above the sink to see but no, we have decided on a silver-grey wall clock.
Plenty of site meetings about the bookcase as it went down a few inches, then a few more. We stopped for butter chicken and rice for lunch and as we were cracking on, we played the full Mex Train (had thought to do the first four), I lost which gave me the impetus to attack the lounge ceiling. Bear did the moving the step ladder thing as I nipped up and down, roller in hand, to the paint bath – good way to get my stomps in. Lounge ceiling finished, we sat down for a cold juice and took the lounge painting from its frame. A couple of little, dead flies, dirty glass and a scruffy edge, so it was simpler to take the tacks out, remove the backing and picture and do a quick top coat on the frame edge. That done, Bear swept while I cleaned the floor of the odd spatter.
Dust sheets folded, furniture back in place and other than a quick lick on the skirting boards, job done. After very long showers we made it through an episode of Lucifer – bit different but some comical retorts, then soundo.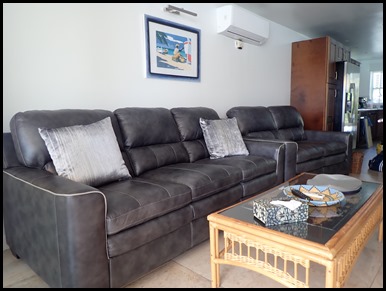 Wednesday the 22nd. Plan – put lounge picture back together, line toilet cupboard with the cut off piece of kitchen roller blind, re-hang cupboard doors, top coat the inners, load cupboard with spare light bulbs, mosquito repellant stuff and sweep the floor. That done, maybe a few prep jobs but nothing overhead as shoulders feel a little raw this morning. Ask Bear to sand the bookcase after he arranges to visit Beez.
What really happened: all my jobs except painting the inside of the toilet cupboard doors but did half of our bathroom, a test grey on one of the stairs and researched stair carpet stick-on half moon carpet pieces. Bear put all the light fittings back on the lounge ceiling, cleaned the fan base, helped me put the painting back together and hang it. We stopped for coffee and I beat Bear five nil at backgammon. This is seriously becoming a ball-ache. Oh err, Sir but you got your revenge later at Mex Train. Not the same, I'm still smarting in fact. Uh-huh. As usual our clocks without looking at our watches had us stop at six. Time for a glass of wine and an episode of Lucifer. Overnight I 'gained' eight mossie bites.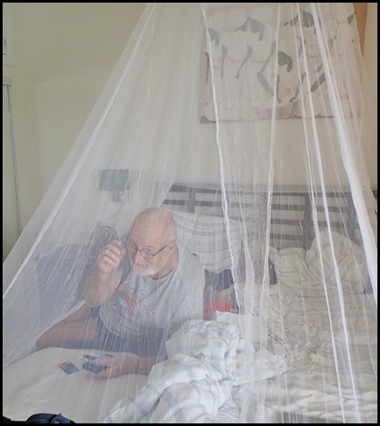 Thursday the 23rd. Bear went to Beez, taking a trolley-full of 'stuff' back like the sewing repairs, the block and tackles we had used to raise the sun blind and odd bits. Whilst he was gone I did the upstairs balcony first coat. Nearly to the end of the first of three big boy paint pots. Bear came back exhausted after removing the poorly alternator, a few things I needed like the crowbar (oh dear) and our big mosquito net. He had the cheek to beat me at backgammon after lunch.
My work plank on the bed, up Bear went on the step ladder and said mossy net hung in place. The rest of the day was pottering and I started our bathroom. Looking down I had an idea, should I groan, no just come with me and bring the crowbar. Oh hell. I eased one of the ugly pieces of wood from the patio. Too late to be making noise now as some were well and truly nailed fast, others screwed in. I'll help tomorrow. No, it's you job now. Thank you. That will teach you for beating me. Huh.
Friday the 24th. Major tidy, then as I was outside doing a sole planning over our tiny front garden, meeting a chap (recognised by our neighbours to the right – lucky for me were on their drive) came to cut off our electricity – guess who hit the roof, but the nice man gave me two hours grace to sort it out. No answer from the property manager, no answer from the 'in case of emergencies' number but luckily I had the number of Ron (property manager's dad). Bear went to the office to find Ron trying to deal with a stranded BA stewardess (and his own electricity) that had already been cut off, Bear simply joined the mix. Ron had found a gardener who somehow managed to get the owed amounts from the providers......... Cheques written and slithered under the office door, all watched by a now bemused and astonished Bear who came back, head shaking, to report to me on the 'events'.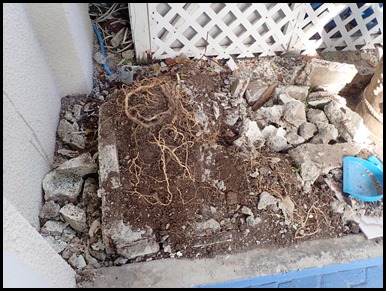 I have (and neither has Bear) EVER been cut off, even paid on a red bill, so the fact that we pay someone to do this for us.......email wording in head, but must be cleaned up....a whole lot.... So that was it, club hammer in hand I went for the ugly planter, something had to take the edge off my wrath. I'll just make you a strongly loaded cappo, I think. No thinking required on that sore. Next door the other way had, by random chance, a couple of chaps round to assess a job. As they were about to leave, I nabbed them and sorted new air cons for the bedrooms to be fitted on Monday and the lovely chaps not only knew a skip man but it was delivered within the hour.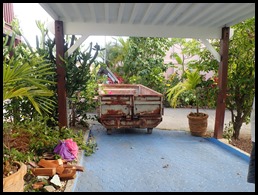 Once Bear had moved the parked planter from the back out of the way, Daryl expertly zoomed our skip into place, ably watched by Himself – who promptly tried it for size......No comments, I have already thought them......
Happy now to be taking my spleen out on something physical, I kept going, wonderful to hoy everything over my shoulder into the skip and I have it for a week. Bear went to finish taking the excess wood from the balcony and patio, helped me clear up my frenzy. I know the railings on balconies will be ripped out but for now, I think they look a little smarter.
Rather pleased with the result post-ugly planter. So, before I was so rudely interrupted by the cut-off threat, the plan for the front is......Bear will help me, will I, yes of course, dig and level enough to pave (to match the drive) in front of the air-con / gas bottle area. I will level the garden bit to match and cement in two layers of wiggly bricks as a border, weed screen on mud, chippings layer and edging and drive painted slate grey.
In bed Bear reported on important news items of the day. His favourite: that clothing sales have dropped 34% but alcohol sales have risen by 31.4%........no small wonder, mine went up by 40% today alone....
Saturday the 25th. Bear leapt up and set about taking down the ugly and saggy trellis that was supposed to 'pretty up' around the air con and gas cylinders, he found the small one empty and the big one with little in it. IPad out, he messaged the management company about getting refills. Least they can do after yesterday's debacle.
Bear's plan is to box in all the untidy wiring beside the air con (with lid access just in case), tile it to match where the ugly planter stood and think about adding an outside tap for people to wash sandy feet before going indoors. I like it.
After breakfast Bear went to the supermarket (last visited on the 3rd of April) and queued for an hour, entering on the fifth group of five allowed in. While he was away I messaged a rival property manager who was not only on-line, she answered me and we type-chatted – coming to see us on Monday at 10:00. Just as I had finished with Jane, Iain the wonderful builder came to give me some much needed advice. Next door had told me I had been naughty painting the upper balcony white as all the block is supposed to be the same colour but as their lower of each of our properties is white thought all would be OK. Iain advised me to leave the beige bit beyond the drain pipe (beyond my reach anyway) as is, so that anyone official that happens to pass by in a boat see that bit and looks no further. He came up with a great plan for the staircase "bull nose travertine tiles on the steps and flat ones on the risers in a pale-ish multi-colour." Love the idea, looked it up on line, great. He also thinks all our works should be done and dusted by about October. Perfect.
After lunch, I had a nice win at Mex Train and Bear popped to the fruit stall outside the supermarket for bananas and a pawpaw, he took his own change in the form of a carrot that looked liked crossed fingers – how appropriate with what has gone on over the last couple of days. He impressed the stallholder too, by not taking the biggest carrot. Too early to pack in for the day we went upstairs where Bear cleaned the front of the hurricane roller housing and I put a second coat on balcony – white of course. Animal programs with tuna salad and a happy dollop of mash. Bear nodded off so I did a little Ancestry for a change......
ALL IN ALL A VERY MIXED BAG OF EVENTS
PROGRESS FRONT IS BROADENING RAPIDLY
---