The Coconut Tree

Beez Neez
Skipper and First Mate Millard (Big Bear and Pepe)
Wed 18 Mar 2009 23:38
The Coconut Palm
We went over to Cubrits National Park at the northern end of the bay, it was too late to walk the trails so we wandered along the beach there, completely alone, just the two of us. As the sun was setting we took the dinghy over to The Purple Turtle for a beer before going for water down the road. All through the day I found I had never been out of sight of a coconut tree. I got to thinking about the humble Coconut Tree, we have grown used to it as a familiar sight here in the Caribbean. The tree to everyone immediately conjures up hundreds of images of sun, sea, balmy evenings, tropical punch, steel bands and in general happy thoughts, including the rogue Hawaiian shirt with the palm print lurking in the back of the wardrobe. So here is a little about the tree itself and its uses other than in photography.
Where they grow
(Cocos nucifera) is a member of the Family Arecaceae (palm family). It is the only species in the genus Cocos, and is a large palm, growing to 30 metres tall, with pinnate leaves four to six metres in length, pinnae sixty to ninety centimetres long; old leaves break away cleanly leaving the trunk smooth. The term coconut refers to the seed of the coconut palm. An alternate spelling is cocoanut. The coconut palm is grown throughout the tropical world, for decoration as well as for its many culinary and non-culinary uses; virtually every part of the coconut palm has some human uses.The coconut has spread across much of the tropics, probably aided in many cases by seafaring people. The fruit is light and buoyant and presumably spread significant distances by marine currents. Fruits collected from the sea as far north as Norway have been found to be viable (and subsequently germinated under the right conditions). In the Hawaiian Islands, the coconut is regarded as a Polynesian introduction, first brought to the islands by early Polynesian voyagers from their homelands in the South Pacific. They are now almost ubiquitous between 26 degrees North and 26 degrees South. The flowers of the coconut palm are polygamomonoecious, with both male and female flowers in the same inflorescence. Flowering occurs continuously, with female flowers producing seeds. Coconut palms are believed to be largely cross-pollinated, although some dwarf varieties are self-pollinating. Coconuts also come with a liquid that is clear like water but sweet. The "Nut" of the coconut is edible and is in the shape of a ball or is on the inside sides of the coconut.

Uses
Nearly all parts of the coconut palm are useful, and the palms have a comparatively high yield, up to 75 fruits per year; it therefore has significant economic value. The name for the coconut palm in Sanskrit is kalpa vriksha, which translates as "the tree which provides all the necessities of life". In Malay, the coconut is known as pokok seribu guna, "the tree of a thousand uses". In the Philippines, the coconut is commonly given the title "Tree of Life".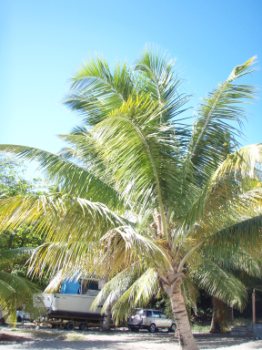 Culinary
Culinary uses of the various parts of the palm include:
Sport fruits are also harvested, primarily in the Philippines, where they are known as macapuno. They are sold in jars as "gelatinous mutant coconut" cut into balls or strands.
The cavity is filled with coconut water

which contains sugar

, fibre

, proteins

, antioxidants

, vitamins

and minerals

. Coconut water

provides an isotonic electrolyte

balance, and is a highly nutritious food source. It is used as a refreshing drink throughout the humid tropics and is also used in isotonic sports drinks. It can also be used to make the gelatinous dessert nata de coco

. Mature fruits have significantly less liquid than young immature coconuts; barring spoilage, coconut water

is sterile until opened.

Coconut milk

is made by processing grated coconut with hot water or milk, which extracts the oil and aromatic compounds. It should not be confused with the coconut water

discussed above, and has a fat content of approximately 17%. When refrigerated and left to set, coconut cream

will rise to the top and separate out the milk. The milk is used to produce virgin coconut oil by controlled heating and removing the oil fraction. Virgin coconut oil is found superior to the oil extracted from copra for cosmetic purposes.
The leftover fibre from coconut milk production is used as livestock feed.
The smell of coconuts comes from the 6-pentyloxan-2-one
molecule, known as delta-decalactone in the food and fragrance industry.
The sap

derived from incising the flower clusters of the coconut is drunk as neera

, or fermented to produce palm wine

, also known as "toddy" or, in the Philippines, tuba. The sap can also be reduced by boiling to create a sweet syrup or candy.

Apical buds

of adult plants are edible and are known as "palm-cabbage" or heart-of-palm

. It is considered a rare delicacy, as the act of harvesting the bud kills the palm. Hearts of palm are eaten in salads, sometimes called "millionaire's salad".

Ruku Raa

is an extract from the young bud, a very rare type of nectar collected and used as morning break drink in the islands of Maldives

reputed for its energetic power keeping the "raamen" (nectar collector) healthy and fit even over eighty and ninety years old. And by-products, a sweet honey-like syrup called dhiyaa hakuru is used as a creamy sugar for desserts.
Newly germinated coconuts contain an edible fluff of marshmallow

-like consistency called coconut sprout

, produced as the endosperm nourishes the developing embryo.
In the Philippines, rice is wrapped in coco leaves for cooking and subsequent storage - these packets are called puso
.
In Vietnam

, coconut is grown in Ben Tre Province -

the "Land of coconut" and people use it to make coconut candy

, coconut caramel

and mut dua

. Coconut water and coconut milk is also put in many dishes such as kho

, che

, etc. especially in the Vietnam's Southern style of cooking.
Non-culinary
Coconut water

can be used as an intravenous fluid.

Coir

(the fibre from the husk of the coconut) is used in ropes, mats, brushes, caulking boats and as stuffing fibre; it is also used extensively in horticulture

for making potting compost.

Coconut oil

can be rapidly processed and extracted as a fully organic product from fresh coconut flesh, and used in many ways including as a medicine

and in cosmetics

, or as a direct replacement for diesel

fue

l.

Copra

is the dried meat of the seed and, after further processing, is a source of low grade coconut oil

.
The leaves provide materials for baskets and roofing thatch.
Palm Wood

comes from the trunk and is increasingly being used as an ecologically-sound substitute for endangered hardwoods. It has several applications, particularly in furniture

and specialized construction (notably in Manila'

s Coconut Palace

).
Hawaiians hollowed the trunk to form drums, containers, or even small canoes.
The husk and shells can be used for fuel and are a good source of charcoal
.
Dried half coconut shells with husks are used to buff floors. In the Philippines, it is known as "bunot", and in Jamaica it is simply called "coconut brush"
During the 1992 Barcelona Olympics, a large amount of coconut shells were imported by Spain from Kerala, India, to serve ice-creams and snacks.
Activated carbon manufactured from coconut shell is considered superior to those obtained from other sources mainly because of small macropores structure which renders it more effective for the adsorption of gas/vapor and for the removal of colour, oxidants, impurities and odour of compounds.

A coconut (Sanskrit

: narikela) is an essential element of several rituals

in Hindu

tradition and is often decorated with bright metal foils and other symbols of auspiciousness. It is offered during worship to a Hindu god or goddess. Irrespective of their religious affiliation, fishermen of India often offer it to the rivers and seas in the hopes of having bountiful catches. In Hindu wedding ceremonies, a coconut is placed over the opening of a pot, representing a womb

. Hindus often initiate the beginning of any new activity by breaking a coconut to ensure the blessings of the gods and successful completion of the activity. In tantric

practices, coconuts are sometimes used as substitutes for human skulls. The Hindu goddess of well-being and wealth, Lakshmi

, is often shown holding a coconut

The Zulu Social Aid and Pleasure Club

of New Orleans

traditionally throws hand decorated coconuts—the most valuable of all Mardi Gras souvenirs—to parade revelers. The "Tramps" began the tradition ca. 1901. In 1987 a "coconut law" was signed by Governor Edwards

exempting from insurance liability any decorated coconut handed from a Zulu float.
In the Philippines, dried half shells are used as a music instrument in a folk dance called maglalatik, a traditional dance about the conflicts for coconut meat within the Spanish era
Shirt buttons can be carved out of dried coconut shell. Coconut buttons are often used for Hawaiian Aloha shirts
.
The stiff leaflet midribs can be used to make cooking skewers, kindling arrows, or are bound into bundles, brooms and brushes.
The roots

are used as a dye

, a mouthwash, and a medicine for dysentery

. A frayed-out piece of root can also be used as a toothbrush

.
Half coconut shells are used in theatre Foley sound effects

work, banged together to create the sound effect of a horse

's hoof beats. They were used in this way in the Monty Python

film Monty Python and the Holy Grail

.

The coconut tree was in every newspaper on the planet when Keith Richards - The Rolling Stone - fell out of one.
The leaves can be woven to create effective roofing materials, or reed mats
.
Half coconut shells may be deployed as an improvised bra, especially for comedic effect or theatrical purposes. They were used in this way in the 1970's UK sitcom It Ain't Half Hot Mum
for example.
Drained coconuts can be filled with gunpowder

and used as improvised explosive devices.

In fairgrounds

, a "coconut shy

" is a popular target practice game, and coconuts are commonly given as prizes.
A coconut can be hollowed out and used as a home for a rodent or small bird. Halved, drained coconuts can also be hung up as bird feeders, and after the flesh has gone, can be filled with fat in winter to attract tits
.
Fresh inner coconut husk can be rubbed on the lens of snorkeling goggles to prevent fogging during use.
Dried coconut leaves can be burned to ash, which can be harvested for lime
.
Coconuts can be used as ammunition for homemade catapults
.
Dried half coconut shells are used as the bodies of musical instruments, including the Chinese yehu

and banhu

, and the Vietnamese dan gao

.

Coconut is also commonly used as a traditional remedy in Pakistan to treat bites from rats.
The "branches" (leaf petioles) are strong and flexible enough to make a switch

. The use of coconut branches in corporal punishment was revived in the Gilbertese community on Choiseul in the Soloman Islands

in 2005.

In World War II

, coast watcher

scout Biuki Gasa

was the first of two from the Soloman Islands

to reach the shipwrecked, wounded, and exhausted crew of Motot Torpedo Boat PT-109

commanded by future U.S. president John F. Kennedy

. Gasa suggested, for lack of paper, delivering by dugout canoe a message inscribed on a husked coconut shell. This coconut was later kept on the president's desk, and is now in the John F. Kennedy Library

.
Coconut trunks are used for building small bridges, preferred for their straightness, strength and salt resistance
Coconut shells are used to make coconut jewellery
.
In Dominica there is still a small factory making suntan lotion, skin lotion, candles and oil for cooking. The locals use the brown fibres to make the hair for traditional dolls sold to tourists, the stick that holds the fruit makes a good broom handle, they are proud to use every bit of the coconut tree.
Beez Neez just to the right of the column
ALL IN ALL

a really useful tree that I will continue to use as a backdrop to good photographs whilst in the Caribbean
---