Beaufort

Beez Neez
Skipper and First Mate Millard (Big Bear and Pepe)
Wed 15 Jun 2011 22:43
Our Time in Beaufort, North Carolina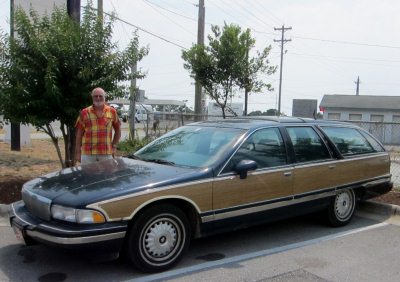 After a couple of days of rest Bear's knee had only got worse, he was running short of Allopurinol, so we borrowed the marina car; a Buick station wagon the size of Beez Neez to go in search of the nearby walk-in centre.
We arrived on Saturday. Sunday found Bear on bed rest with his knee, me doing blogs when I heard "Beez Neez" called. Sticking my head out I saw Anthony 'Wild Fox' (we met in Trinidad) sailing past. I nipped out to take lines, fourth in queue with the dock master and others. He had pulled in after seven days at sea up from the BVI's; having had to hand steer as a "thingy" had broken. Lovely to see him and of course we caught up over a tin at 'Beer O'clock".
Monday we left at midday, me driving us over the bridge we had motored under on Saturday. We headed toward Morehead City soon finding our destination. Bear filled in the forms to be seen, sat quietly in the waiting room, the receptionist called Bear back as she couldn't work out why he was born on the fifth day of the fifteenth month............ Yes, we still forget to do things the Merican Way. Soon settled, fifth in line to be seen, guess who forgot laptop or book; I swear if I saw the same cheesy weatherman (every five minutes who insisted it wouldn't rain today) or the boring address Obama made about unemployment locally, I was going to launch myself at the TV or run round the car park a few times making a scene. I eventually found a couple of magazines while Bear dozed. Time passed. $155 to be seen, we went off to find the pharmacy for two months supply (all Bear could get) for $8. Back to the marina at five. Sorry boys, we know you are only allowed the car for an hour at a time.
A couple of local notables
Tuesday saw no improvement in Bear's knee. I went off and did laundry and bought him a pair of proper dress shorts with red crabs embroidered on them, couldn't resist them, promise not to be worn in the UK. During the night every time Bear moved he squealed out in his sleep. RIGHT. Up at the crack of sparrows Wednesday morning, a bit of research on the internet and present Bear with syringe, needle and stuff to inject. "You do it or I will". He had argued that it was not the norm, well squealing doesn't suit me / him either. Injection done, now a definite bed rest day for him. I went off to book a hair cut booked for two o'clock.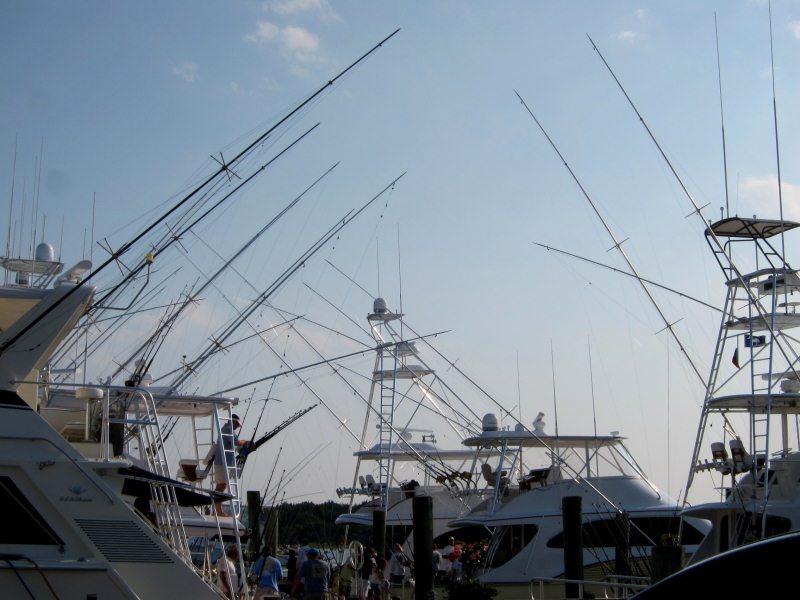 This week has seen the 53rd Annual Big Rock Fishing Tournament. $250,000 for the first marlin five hundred pounds or over, winning purse 1.4 million dollars. Each afternoon the marina fills with some serious sport fishing boats. You should see the size of their reels and not to mention their tackle..............
This little town certainly has it's own form of charm and friendly people
Beaufort is a town in Carteret County, North Carolina, established in 1709, it is the third-oldest town in North Carolina - the county seat of Carteret County. The population was 4,189 at the 2008 census. It is sometimes confused with Beaufort in South Carolina; the two are distinguished by different pronunciations, this one is bow-fort, the other bew-foot.
Beaufort is located in North Carolina's Inner Banks region. The town is home to the North Carolina Maritime Museum. It is also home to the Duke University Marine Laboratory (Nicholas School of the Environment and Earth Sciences), where scientists study the marine environment and develop solutions to conservation problems in coastal and oceanic ecosystems. More important to me is it is home to Jack Best Hair Studio. Bear on bed rest, fed and left with his favourite DVD's; I thought I would treat myself to a hair cut and the odd blue tint. I was welcomed by Jack (the owner), Heather (just finishing her nail studies - by the time we return on our way south she will be all set up - Good Luck with that Heather) and Ron - the man that would put the Pep back into Pepe. Had a fab time and you'll just have to wait for the next blog to see the results........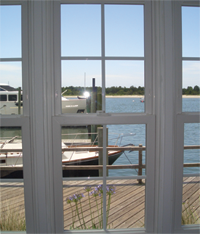 We hope to leave in the morning (Thursday)
ALL IN ALL NICE TO HAVE CATCH UP TIME - SHAME ABOUT MY DANCIN' PARTNER
.
---