Resting Buddha

Beez Neez
Skipper and First Mate Millard (Big Bear and Pepe)
Wed 11 Jan 2017 23:27
Wat Suwannakuha
We were picked up at ten thirty (red arrow) and joined three other couples in a comfortable minibus. Today we were going to be standard tourists on a day out. Soon on the main road we headed over the road bridge into Thailand and an hour later hopped out at
Wat Suwannakuha (spelt many different ways).
The tourists are encouraged to buy bananas and corn for the numerous residents. I liked this mum and baby.
This cheeky so-and-so ran at a newbie at full height, grabbed the bag held by the now very nervous man and helped himself.
We walk through many stalls selling similar tourist tat that we have seen in the supermarkets and head for the cave. The boys pose at the entrance.
Information at the entrance.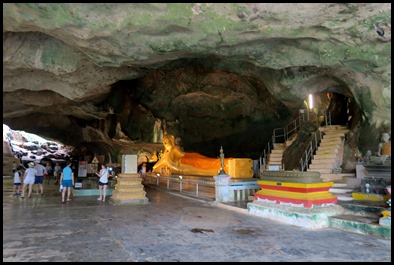 This large Chedi contains bones of the Na Takuathung family who were local governors over 160 years ago, they arranged the construction of the shrine in the cave
.
Further in on the left, plastic religious 'stuff' and prophesies for money – funny how the entire population only have a dozen outcomes.......
Alex and Bear in front of the resting Buddha.
A side altar and then we went up and out at the back of this cave.
We found ourselves under a huge overhang – nearly missed the Hermit.
We enter the 'dark cave', clamber to the top and look down.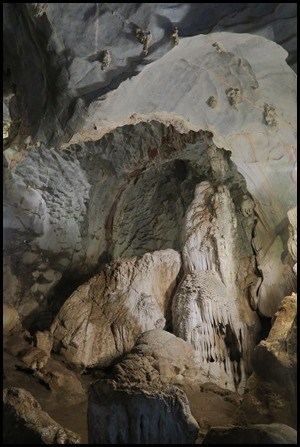 We look at the formations on the way down and I get the boys to pose by a Saracens Head.
Out into the sunshine, we see the Royal Seals on the entrance wall and their explanations.
I went off to take a closer look at the Hermit while Bear engaged in conversation with a sad little chap. Eventually he showed Bear his injured arm. A nasty, deep gash.
One final look in the cave and off we went to the awaiting minibus.
ALL IN ALL AN UNUSUAL PLACE TO FIND BUDDHA RESTING
AN AMAZING WOW
---