Lumbini Peace Pagoda

Beez Neez now Chy Whella
Big Bear and Pepe Millard
Wed 11 Apr 2018 22:57
Lumbini Peace Pagoda
Standing at the Eternal Flame looking toward the Peace Pagoda. Sun getting hotter all the time, we decided to take a tuk tuk, which, in itself was an adventure.
The Peace Pagoda as we got nearer.
The beautiful lily pond was a lovely surprise.
The information stone reads (mistakes and all): Lumbini Peace Pagoda. This Peace Pagoda has been built by Nipponzan Myohoji. Buddhist order founder by the Most Ven' Nichidatsu Fuji of Japan through contribution of devotees in Nepal and Japan. The construction of the peace pagoda all over the world was initiated by the Most Ven' Fujii Guriji after feeling the tragic scene of atomic bome in Hiroshima and Nagasaki of Japan at the end of World War II.
The Peace Pagoda is erected according to the teaching of the Lotus Sutra to disseminate love and peace and to create the pure land on the eart.
Lord Budda's relics have been enshrined on the foundation stone and at top of the Peace pagoda
Technical date
Designed by Dr. M. Ohoka Japan
Structural plan by Manohar Rajbhandar and associates, Kathmandu
Overall height: 41 m
Base Diameter: 59 m
Dome Diameter: 20 m
Building Materials
Over all concrete Structure with brick and moter decoration. Buddha Statue and Kota: Made of bronze plated with gold. Heian Bijutsu, Japan.
Cement: 900 m/ton
T/S Reinforcement: 411 m/ton
Marble Stone: 27000 s/ft (from Rajasthan, India)
Construction period: 7 years
Nipponzan Myohoji Lumbini Dojo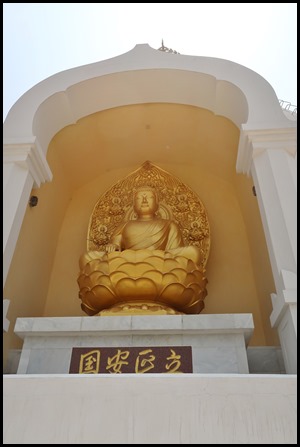 The shrines on the first tier.
Looking from the back of the pagoda, an area protected for wildlife.
Looking from the front, we see our tuk tuk man waiting for us despite not asking him to. Just visible at the far end of the path is the entrance to Buddha's birthplace.
Looking to the right, there are plans to build five luxury hotels somewhere just beyond the 'to be finished' lookout tower and a refuge capable of bedding down a thousand pilgrims........
Bear under the main Buddha shrine.
So pleased we visited the Peace Pagoda.
ALL IN ALL PEACEFUL TO SEE ON OUR OWN
SIMILAR TO POKHARA WITH A LOVELY VIEW TOWARD THE TEMPLE
---