Three Hour Cruise

Beez Neez
Skipper and First Mate Millard (Big Bear and Pepe)
Mon 18 Jul 2011 16:37
Three Hour Cruise Around Long Island
We had the opportunity to use our NY pass to take a three hour cruise on a full circuit of Long Island; off we went from Pier 83
Long Island is an island located in the southeast of New York, just east of Manhattan. Stretching northeast into the Atlantic Ocean, Long Island contains four counties, two of which are boroughs (Queens and Brooklyn) of New York City, and two of which (Nassau and Suffolk) are mainly suburban or rural. The term "Long Island" sometimes refers only to Nassau and Suffolk counties in order to differentiate them from New York City, though all four counties on the island are part of the New York metropolitan area.
In 1790 the population was 37,108. As of the 2010 census, Long Island had a population of 7,568,304, making it the most populated island in any U.S. state or territory. It is also the 17th most populous island in the world, ahead of Ireland, Jamaica and the Japanese island of Hokkaidō. Its population density is 5,402 inhabitants per square mile. If it were a state, Long Island would rank 13th in population (after Virginia) and first in population density.
Both the longest and the largest island in the contiguous United States, Long Island extends 118 miles eastward from New York Harbor to Montauk Point, and has a maximum north-to-south expanse of 23 miles between the northern Long Island Sound coast and the southern Atlantic coast. With a land area of 1,401 square miles, Long Island is the 11th largest island in the United States, the 148th largest island in the world. It has a larger area than the state of Rhode Island (1,214 square miles). Nine bridges and thirteen tunnels (including railway tunnels) connect Brooklyn and Queens (and thus Long Island) to the three other boroughs of New York City. Ferries connect Suffolk County northward across Long Island Sound to the state of Connecticut. Two of New York City's major airports, LaGuardia Airport and JFK International Airport, are located on Long Island, in Queens.

Our departure was delayed for a few minutes while this lady pulled out
That didn't bother this chap, or the fellow sitting next to Bear
We left the dock and pulled out into the channel, tour guide chatting away merrily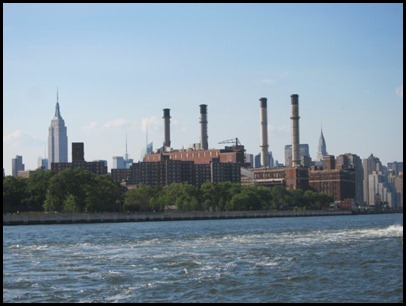 We went from skyscrapers to industrial areas, trees, hospitals, bridges, the Cloisters and of course Beez Neez in the marina, a real variety
ALL IN ALL A TERRIFIC WAY TO SEE LONG ISLAND
.
---