Port Louis

Beez Neez
Skipper and First Mate Millard (Big Bear and Pepe)
Sun 19 Jul 2009 18:00
Port Louis
Smashing to have a pool two minutes walk from Beez. Bear looking at the new marina pontoon being built. Turning my back to the pool Beez can be seen through the bushes.
An original in the car park is this sugar mill. The Victory Bar - makes quite a mean mud slide located next to the pool. The car park also has this boat feature.
The prison atop the hill behind the original natural basin which is the intended spot for 150 slips from 10 - 15 metres. Our size would cost 108,000 US$ for a thirty year lease plus maintenance charges. Jules the flag man, makes incredible flags, all sewn for £25, sadly he couldn't manage to make us some featuring our bee logo. There are two resident Amazon Parrots in an aviary behind the pool, this one is not too bad, the other one would have your face off if it were not for the cage.
Plan for the new marina. We are above the letter C, parked in the big boy bays. The area to the bottom of the letter M is under dispute from the local fishermen.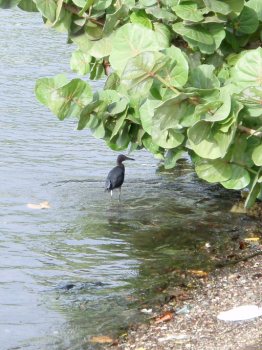 The view from below the letter M. The compromise is the marina will only build an anchoring platform, rather than fill-in and fence what has for generations been the fisherman's landing area. A black heron on the prowl for supper
The marina seen from Fort George - we are above and to the right of the yacht entering the pool, Chum in being unloaded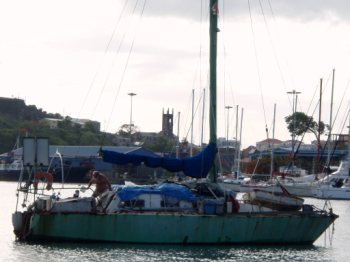 We spuddled off on Baby Beez one afternoon to pop over to the chandler. We thought this specimen was one for the "careful owner" slot until the skipper appeared on deck to have a wash.
Right opposite us we have had the pleasure of watching Chums being loaded or unloaded.
This one had a nifty full sized crane.

A pair of smaller friends parked together
All too soon our final night came around we asked Richard and Lucy (Marie Galante), Bear, Becca and Dudley (Altair) over to share it with us, we had a great night of fun and laughter. The gang with Becca taking a bow for the fantastic "Thank You" card she painted for us.
Time to say farewell to this faithful fender sock.
Time to follow this Chum into the sunset, leaving at 18:00 for the overnight passage to Trinidad
ALL IN ALL SAD TO BE MOVING ON. VERY FRIENDLY PLACE IN LOVELY SURROUNDINGS.
---