Aitutaki by Car

Beez Neez
Skipper and First Mate Millard (Big Bear and Pepe)
Tue 15 Oct 2013 22:07
Exploring Aitutaki by Car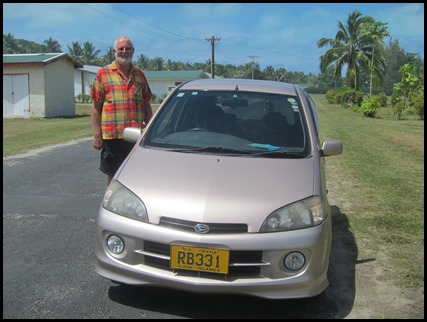 Bear came back to Beez and said I would be thrilled with the cute little metallic pink hire car at thirty pounds for the day. The lady in the hire shop had said "to bring it back some time in the morning, no rush, we are not busy until next week when the golf is on." Must look out for a sleek golf course then.... that ended up getting a blog. Off we went at a cracking pace, one careful owners so thick and fast, they had to be split into two, machines and houses.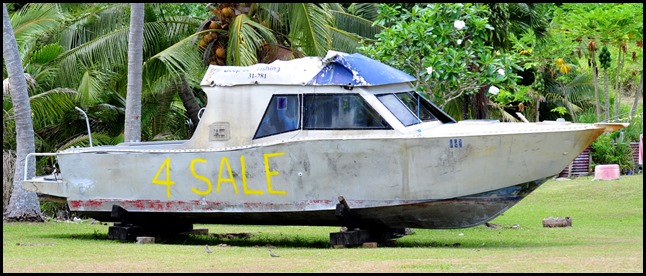 Literally, then.
A short way along the road we stopped to admire this goliath of a metal boat and the little one dwarfed beside her.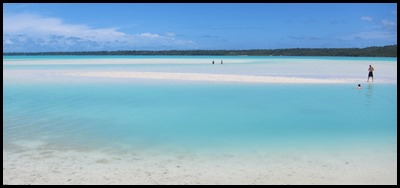 The lagoon was quite beautiful.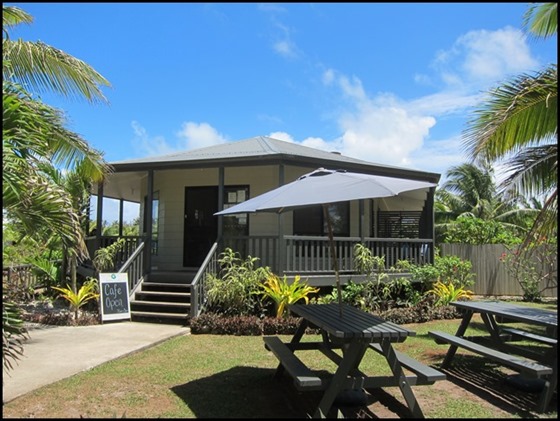 We stopped at a café for lunch.
I realised I hadn't had a toasted cheese and tomato sandwich for so long - it leapt out from the menu at me. Bear had the special. The card given to Bear with his beer read, "Matutu Brewery was born in the Cook Islands by two local mates who knew a guy in New Zealand famous for his award winning beers. In 2006, they scabbed his old vats for cheap and got him to design and teach them how to brew two awesome beers. Named Mai Lager and Kiva Pale Ale, these brews are all natural and delicious tasting. Take the time to learn how to say these names the island way – you'll taste the awesomness more.
The boys Eric and James, hand craft these beers. Seriously! With each brew they take ten heavy sacks of grain up a ladder and feed them into the chute, hand stirring below in the vat. At the end of the mix, they dig out all the grain into wheelie bins and give it to the local farmers. Bottles, some recycled, are hand labeled using a homemade foot pedal-pulley contraption, bit of island ingenuity. When the beer is ready, every bottle is hand filled and capped. This is done in the chiller, it's nought degrees and they usually bottle one hundred dozen per brew. That's the hard part for the locals, the cold!
Then with much enthusiasm the beers are loaded into their old truck and hand delivered around the island. Fresh!
Matutu beer is made with pure Cook Islands water, no additives and no preservatives. Beer recipes created by the Brewer of New Zealand Champion Brewery 2008, Tuatara Brewing." What a great little story and Bear enjoyed the suds too.
Up into the hills for the view.
From our vantage point called Two Tanks (there were), we could walk a hundred yards and see both sides of the surrounding reef.
We could just make out our route in – in front of the catamaran.
On our way down we stopped to admire this colourful hillside garden.
A frangipani tree festooned with Spanish moss.
A Berger house.
A very humble grave on the side of the road and the fanciest one we have ever seen in a front garden.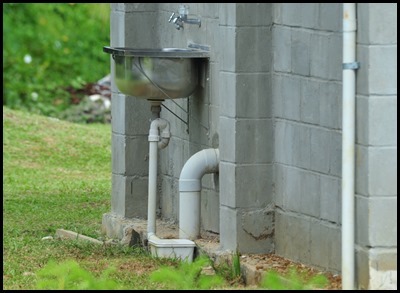 We loved this tiny house with its wash facilities on the outside wall.
A lovely, fresh church that replaced St John's, destroyed by Cyclone Pat.
Not too keen on the sausage shaped graves at the front. Inside was simple, yet very welcoming.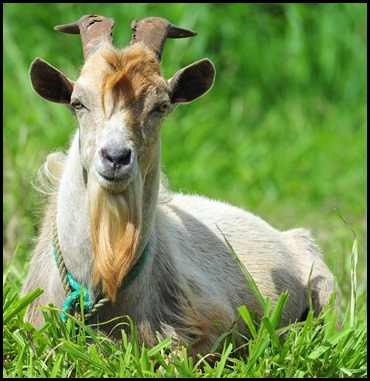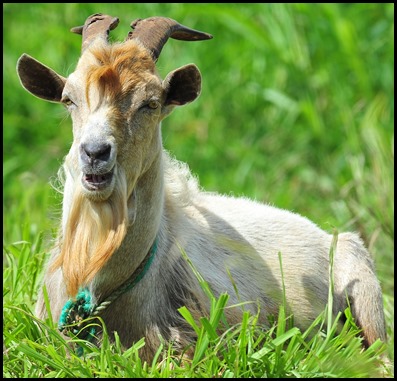 This chap stopped chewing to say hello, what a fine beard.
Date night. Bear had Fisherman's Soup, I had deep fried prawn. Our smashing waiter insisted he take our picture. We said how concerned we were about the number of houses in ruins. He explained that Cyclone Pat took sixty per cent of the houses but the New Zealand Government helped to resettle folk and it is hoped they will come back and rebuild in the future.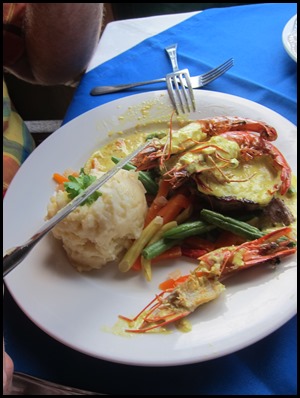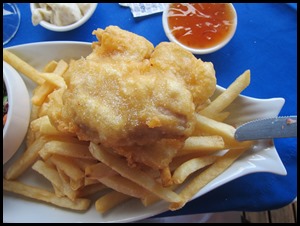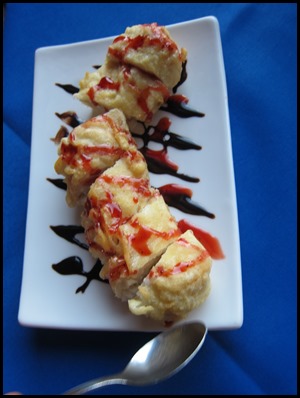 Bear had surf and turf, I had fish and chips. Will that be cod, madam. No, that will be blue marlin, a new one on me. Very fishy for a big game hunter, but rather nice dipped in sweet chili sauce, saved from my starter. Bear rounded his meal off with deep fried ice cream, I had an Irish coffee, not had one of those for a very long time. Fits of giggles from the captain as I got four mosquito bites. What was so funny was I was sat looking at my spray repellent on the table next to me, dah.......... Time to wend our way home after a really good day.
ALL IN ALL A MIXTURE OF EVERYTHING WITH SUCH WELCOMING PEOPLE
---