Jet Boat Ride

Beez Neez
Skipper and First Mate Millard (Big Bear and Pepe)
Tue 19 Aug 2014 22:57
Our Ride in a Jet Boat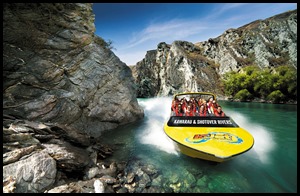 We saw the adverts for riding in a jetboat, if we did at at one o'clock it was a bargain price. There we are then.
Tim our driver went through our safety briefing, took us to the end of the jetty for our picture and off we went.
Amazing scenery cannot account for how bitter the wind once we got going.
We sped across Lake Wakatipu and turned at the giants knee and up the Shotover River.
We whizzed close to trees, bushes and shallows. Every so often Tim would make a circling motion with his index finger, this meant a high speed three hundred and sixty degree turn. The maneuverability of these craft is breathtaking. Talking about breath..........
It took several attempts to get our picture to show how blue our faces got. Now numb with cold. Tim stopped every so often to give us facts and figures about the jetboat. We of course chose this company because they run boats the colours of Beez Neez. He pointed and told us the names of various parts of the river. Drove us at high speed under bridges very close to the supports. Did a three sixty in a gap between trees on the edge and showed what a good pilot he indeed was. He asked us not to be alarmed if in the shallows we heard the bottom touch, the jetboat was designed to have no moving parts sticking out. We were told that the force of the water being shot out of the engines was sufficient to throw a man several feet in the air. Of course I wanted to more, but later. Thank you to KJet for the pictures they gave us.
Safely back at base we were invited to go downstairs to the underwater viewing room. Sadly we only saw the tail end of an enormous eel as it disappeared.
A dollar in the machine on the wall shot a dose of feed into the lake. We enjoyed watching the antics of the scaups.
Whilst admiring the thickness of the glass, the real lake giants came to nose around.
Quinnat salmon are generally silver in colour with black spots along the back. After entering freshwater and approaching spawning their colour turns to brown or red. Colour change is more distinct in males than females. Males develop a large hooked jaw near spawning. Most Quinnat salmon in New Zealand weigh ten to fifteen kilograms and are up to a metre in length. Some individuals can be substantially larger than this, in their native region are known to reach half as long again and the recorded monster weighed in at fifty nine kilograms caught off the coast of Alaska.
Later, back on Mabel I wanted to know what was 'under the hood' at the back of the jetboat.
.
Sir Charles William "Bill" Feilden Hamilton OBE was born on the 26th of July 1899 at Ashwick Station near Fairlie, New Zealand. He became known as the man who developed the modern jetboat, and founder of what is now the world's leading water jet manufacturing company - CWF Hamilton Ltd. Hamilton never claimed to have invented the jet boat. He once said "I do not claim to have invented marine jet propulsion. The honour belongs to a gentleman named Archimedess, who lived some years ago." What he did was refine the design enough to produce the first useful modern jet boat.
He survived an aeroplane accident returning to Rongotai Airport, Wellington in poor conditions on the 19th of February 1936. The collision with the anemometer took the starboard wing off the Miles Falcon Six he was travelling in, and killed pilot Malcolm "Mac" McGregor. At the age of 21 he bought the 'Irishman Creek' sheep station in South Canterbury. After a trip to England became fascinated with motor cars and raced a Bentley. He decided to develop his own heavy machinery. He built a workshop, developed an excavator with an earth scoop and built a dam to supply water for a hydroelectric plant to supply power for domestic use and for his engineering projects, and started a manufacturing business.
In the 1950's Hamilton set out to try to build a boat that could navigate the shallow fast flowing rivers where he lived. The rivers were too shallow for propeller driven boats to navigate as the propeller would hit the river bottom. He investigated the American Hanley Hydro-Jet, a model which drew in water and fired it out through a steerable nozzle underneath the boat. Even when further adapted it did not work well. An employee suggested to have the nozzle just above the waterline.
When he took one of his early demonstration jet boats to the United States, the media scoffed when he said he planned to take it up the Colorado River, but in 1960 a Hamilton jet became the first boat to travel up through the Grand Canyon. The critics were silenced further when the boat also went down river through the canyon. He died on the 30th of March 1978.
Jetboats are highly manoeuvrable, and many can, from full speed, be reversed and brought to a stop within little more than their own length, in a maneuver known as a "crash stop". The well known Hamilton turn or "jet spin" is a high-speed maneuver where the boat's engine throttle is cut, the steering is turned sharply and the throttle opened again, causing the boat to spin quickly around with a large spray of water.
There is no engineering limit to the size of jetboats, though the validity of their use depends a lot on the type of application. Classic prop-drives are generally more efficient and economical at low speeds, up to about 20 knots (23 mph), but as boat speed increases beyond this, the extra hulll resistance generated by struts, rudders, shafts (etc.) means waterjets are more efficient in the 20-50 knot range (up to 60 mph). Also, in situations with very large propellers turning at slow speeds (such as tug boats), the equivalent size waterjet would be too big to be practical. For these reasons, the vast majority of waterjet units are installed in high-speed vessels and in particular situations where shallow draught, maneuverability, and load flexibility are main concerns.
The biggest jet-driven vessels are found in military use or the high-speed passenger/car ferry industry. South Africa's Valour-class frigates (approximately 390 feet long) are the biggest jet-propelled vessels so far. Even these German-built vessels are capable of performing "crash stops".
Applications: Applications for jetboats include most activities where conventional propellers are also used, but in particular passenger ferry services, coastguard and police patrol, navy and military, adventure tourism (which is becoming increasingly popular around the globe), pilot boat operations, surf rescue, farming, fishing,exploration, pleasure boating, and other water activities where motor boats are used. Jetboats can also be raced for sport, both on rivers and on specially designed racecourses. Recently there has been increasing use of jetboats in the form of rigid-hulled inflatable boats and as luxury yacht tenders. Many jetboats are small enough to be carried on a trailer and towed by car.
One very important feature of the jetboat is the fact that it has no external rotating parts; it is thus safer for swimmers and marine life, though these can still be struck by the hull. The safety benefit itself can sometimes be reason enough to use this type of propulsion.
In 1977, Sir Edmund Hillary led a jetboat expedition, titled "Ocean to Sky", from the mouth of the Ganges River to its source. One of the jetboats was sunk by a friend of Hillary.
Drawbacks: The fuel efficiency and performance of a jetboat can be affected by anything that disrupts the smooth flow of water through the jet unit. For example, a plastic bag sucked onto the jetunit's intake grill can have quite an adverse effect. Another disadvantage of jetboats appears to be that they are more sensitive to engine/jetunit mismatch, compared with the problem of engine/propeller mismatch in propeller-driven craft. If the jet-propulsion unit is not well-matched to the engine performance, inefficient fuel consumption and poor performance can result.
ALL IN ALL GREAT FUN BUT COLD ON THE CHEEKS
VERY EXCITING
---