Laugh Day

Beez Neez now Chy Whella
Big Bear and Pepe Millard
Wed 16 Jul 2014 22:57
A Day to Have a Laugh, Be Non-Tourists, Eat Happy Food and Finish Breaking Bad
We heard sleet falling during the night. At seven this morning, we looked out through the curtains on a very grey day. So cold, even Bear was whinging. We know Mark will say we should put a jumper on and get down and do ten press ups. We know Joe will tell us to man up. Several will call us 'wuss', and the couple in the tent will go up in everyone's estimation as legends.
Kettle on for a welcome cup of tea. To have our gas heater on, we find it uses a whole cylinder in twenty four hours, thus, we had gone to bed with it off. Bear suggested it would be cheaper to have a little fan heater and use the electricity when we are on an official campsite. He was straight on the case, IPad in hand and found there was a Hammer Hardware a couple of miles away. Off we went straight after breakfast. Just inside the door was a pile of electric blankets, fluffy ones. I asked the fan-heater-searcher if he wanted a double or should I just get the large single in my hands. The nice lady pointed out that there was only a few dollars difference in my size and the queen size. No brainer. Purchases stowed we did drive a little further to see the mountains behind Hammer.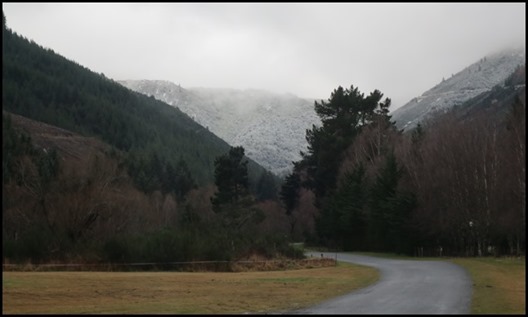 Very cold looking.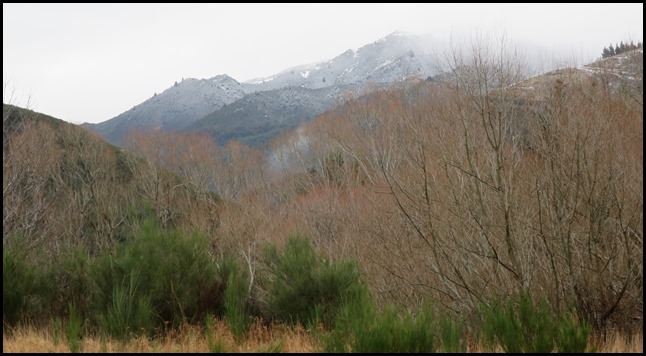 Misty.
At the end of the road was a camp site, u-turn and on our way back.
The road was empty. What about your need to go to the Spa Bath today. I have a need to test out the electric blanket. Oh, that's rich from the one who wasn't fussed. I may have changed my mind and I want to settle to watching more Breaking Bad. Oh.
Mable parked once more on her pitch, electric connected and bed made. Luxury. Luxury indeed. Supper was happy food – sausages, baked potato and baked beans, I had pickled onion too. Bear did indeed settle to his Breaking Bad, left with cliff hanger after cliff hanger, we finished the last one at two minutes past two – in the morning.
Plan, jump up tomorrow, go to the Spa Bath and on to Christchurch in the afternoon. Sounds like a plan.
ALL IN ALL HAMMER AT HAMNER, ROCKS
WARM TOES, LUXURY
---