To 404

Beez Neez
Skipper and First Mate Millard (Big Bear and Pepe)
Mon 22 Jan 2018 23:57
Moving in to 404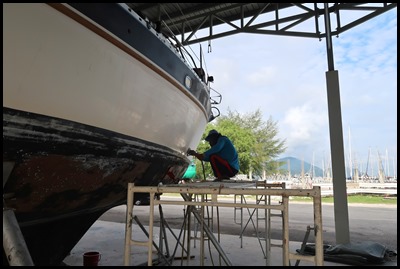 We were awoken this morning by a thrumming noise. Outside a chap was busy preparing Beez for Jimmy's spraying skills. No idea what this beavering chap looks like because all we could see was the whites of his eyes. Must chat to him properly when he is standing on the ground. His eyes smiled but there was no delaying him. At ten o'clock we bimbled to the hotel behind Beez to meet Ms Ling's associate.
Marina Island Resort and Hotel has many apartments for hire. Lots of yachties have moved in whilst major work has been done to their boats. Something we discussed at length and decided (with the help of our lovely insurers to do). We get out at the fourth floor and our pint-sized guide lets us in. We sign some paperwork and head back down to reception to find the electric and water metres.
Pint-size had rung ahead as she had no idea where to find the meters, reception handed us to a maintenance man, who took us through a series of doors to his back passage. 404 electric was thoughtfully placed next to 503 two walls away from all the other fours, it only took us ten minutes to search through the banks of meters. That done, there was more discussion about finding the water meter – right outside the front door, pictures taken we bade farewell to our guide, must find out her name....... Keys in hand we explore our new digs.
We had arrived with a couple of cases full of important stuff and we began in the bedroom, bedding was soon swapped for ours.
Bernie, Claude and Bobby only met Minh in the early hours of the morning and were now in need to be allowed to wear off their party excesses. Beds assures me "the boys will all be well in a few hours or so........promise, it was Minh introducing us to rice wine with snake venom had us all on the wobble, even Killick got giggly". We would have liked to have seen that, that's for sure.
The bathroom comes next, an odd layout really. In the bedroom we have a door that either slides over the cupboard or the bathroom door which gets us to the hand basin. A glass door gets us into the main bit and next to the bath is the shower area with a big head half way along the room. The louver windows above the bath are fixed open so I can only hope the mosquitos have better invites elsewhere. The toilet is opposite the door from the hall. I spent some time walking round in circles whilst unpacking.
The kitchen is even stranger. On the right a microwave, on the left a grilly-thingy, a cold tap with a filter-thingy. No hot water. In the utility room an open space, that is, open to the world behind the washing machine (oooo that sounds good) with a bamboo blind covering it. A metal shelf unit with a hot plate on it with silver heat resistant foam behind. So no oven, cooker, odd.
Oh Deep Joy. A fridge freezer, the only thing I have ever missed (other than family and friends) about living aboard Beez Neez. In the top of the freezer are two natty ice cube drawers, when the ice is made you turn a handle and the ice falls in the drawers below. What fun. I may need to have ice just so I can keep filling it.
Bear takes a breather in the lounge (huge TV but nothing in English but our media player works, films and episodes, just like home). I shoved the settees along a bit and moved an odd lounger to be able to split the two dining room tables to make one a sewing table and one for its proper use.
On the balcony no furniture but a massive clothes airer, put straight to use.
View looking straight out.
View looking right. I have made a firm pledge for us to have one day off a week and actually use the pool.
At two o'clock we hired one of the marina cars, which turned out to hysterical. Unbeknownst to us, there was an ant nest in the cool air blower. On it went and we were both covered in frightened ants, they were in Bear's fur wondering what had happened. Opening and closing the doors saw loads more scurrying. All this time aboard we have never (touch wood and whistle) ever had ants indoors, Bear found a red ant nest once in one of the winches in the cockpit and they were none too pleased at being disturbed. Shopping done, we borrowed the trolley to bring it back. I actually sat in front of the fridge to get the full effect of filling it. Freezer full and stuff away it was time for a game of backgammon. Next shock was seeing a cockroach big enough to put a saddle on and call it an Olympian. Took a while but finally bested, note for Bear to bring back a supple of roach and ant hotels from Beez during his lunch break. Missing Beez terribly already but with floors and ceilings coming up and down and the thrumming sander, it is the best decision.
ALL IN ALL FOR THE RIGHT REASONS I KEEP TELLING MYSELF
SUCH LANDLUBBING, VERY ODD
---