Sydney Lego

Beez Neez now Chy Whella
Big Bear and Pepe Millard
Sat 9 Jan 2016 23:57
Sydney Icons in Lego at the Museum of Sydney
This blog is especially for each and every one of our very beloved grandchildren. We were on a visit to the Museum of Sydney and looked in on this very busy scene. That unmistakable sound of Lego bricks being rummaged.
On the back wall was the very famous Sydney Harbour Bridge, complete with train whizzing through.
Around the walls. Some models visitors had made.
Dominating the left side of the room was the Sydney Opera House.
Wow. The outer view.
Cutaway view on the other side.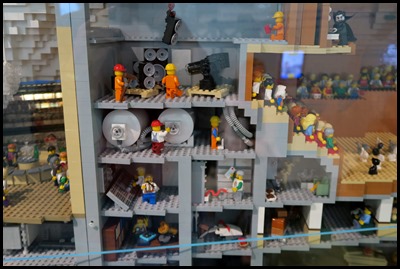 The audience and the backstage workers.
The information board.
In April 1770, Endeavour became the first ship to reach the east coast of Australia, when Cook went ashore at what is now known as Botany Bay. Endeavour then sailed north along the Australian coast. She narrowly avoided disaster after running aground on the Great Barrier Reef, and Cook had to throw her guns overboard to lighten her. He then beached her on the mainland for seven weeks to permit rudimentary repairs to her hull. On the 10th of October 1770, she limped into port in Batavia (now named Jakarta) in the Dutch East Indies for more substantial repairs, her crew sworn to secrecy about the lands they had visited. She resumed her westward journey on the 26th of December, rounded the Cape of Good Hope on the 13th of March 1771, and reached the English port of Dover on the 12th of July, having been at sea for nearly three years.
P+O Pacific Aria from her starboard side.
Pacific Aria was built in 1994, she is a Statedam-class cruise ship, her gross tonnage is 55,819. Her length is 219.4 metres, she is 30.8 metres wide, her draught is 7.71 metres and her depth is 19.13 metres. She can carry 1,258 passengers and 602 crew members. She has ten decks and can travel at 22 knots or 25 miles per hour.
Showing how tiny Beez Neez would look next to her [we would be the green one in the middle].
Her cutaway side.
Another view.
Pacific Aria's build information, her twin diesel-electric engines and her anchor.
Luna Park in Lego and a photograph.
Some information, an old photograph and about 'the face'.
The Big Wheel.
Lego information.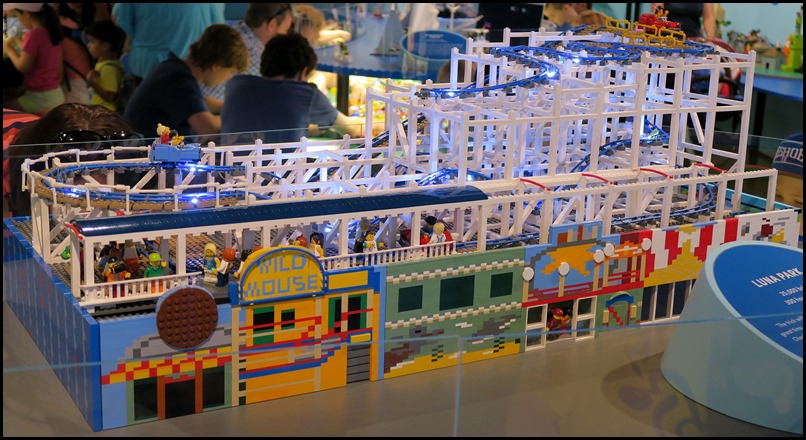 Wild Mouse.
ALL IN ALL FANTASTIC
AWESOME
---