To Fat Frog

Beez Neez now Chy Whella
Big Bear and Pepe Millard
Sun 5 Jun 2016 22:37
To the Fat Frog Cafe for a Celebratory Lunch
The day began with each of us having an egg event.
After a lovely bimble through the marina we joined the boardwalk.
The apartments here have a great view out over Pioneer Bay and a 'lady having a sleep'. Later we would find out that she got stuck in the mud during a cyclone five years ago and her owner cannot afford to rescue her.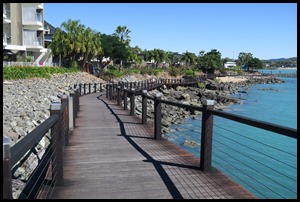 We couldn't believe the walk way had been built in 1988. Of all the thousands of humungous rocks – we only saw one pink one.
Round the corner next, admiring the bougainvillaea as we went.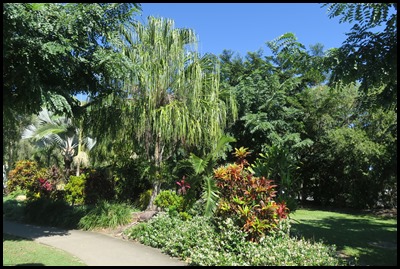 Mmmm, a Bear in Crocs stands by a bear print. At the end of the walk way we popped out onto a green space with a lovely island of plants.
The plants enjoying a summers day, although apparently it's not supposed to be this warm. Oh well, we love it.
By the main road was a stand of incredible paperbark eucalypts.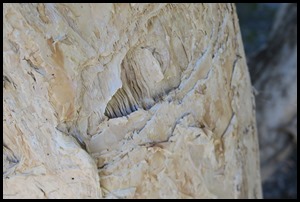 Fascinating, like touching wafers.
Opposite, next to the Police Station, a lovely pair of palms.
By the time we got through the Botanic Garden the tide was out and we had a better look at the poorly one. On to Cannonvale Beach as the sign says and an unusual rope wigwam for the children to have fun on.
We hadn't intended to have lunch out but the aromas coming off the beach BBQ were too much for us. Opposite the beach was the Fat Frog, well we have been on our AT-Venture for eight years, cause for a celebration.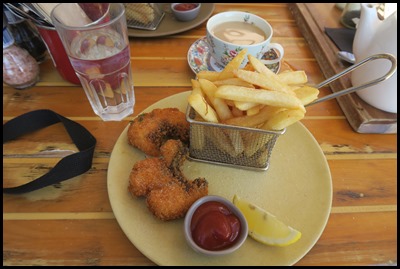 Bear tucked into an event and I had children's fish and chips – but my chip basket was as full as Bear's. I did share some with the sparrows and gave a few to the skipper.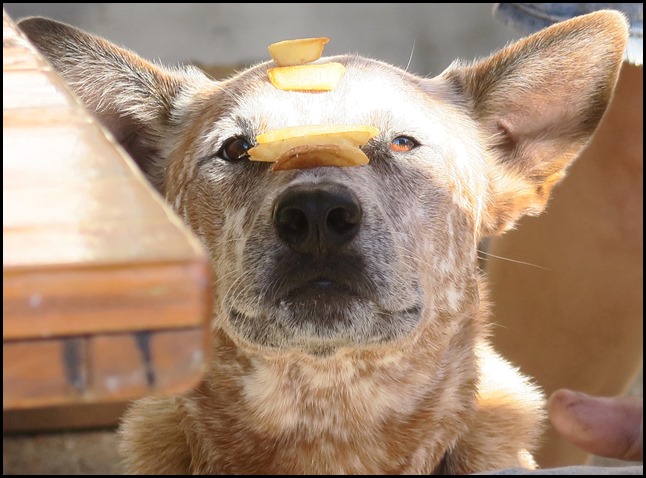 Behind Bear was a lovely couple with a gorgeous cattle dog called Lucky. He had to sit patiently while his dad lined up the chips, then he had to wait for the OK before he could enjoy his treats. His mum got him to 'high five' and 'high ten'. We chatted for ages until the waitress asked us nicely if she could pack away our tables. They had closed three quarters of an hour before. Ooops. Time to head home.
Looking back at the Fat Frog, the building on the left.
We can walk off our lunch, well a bit of it.........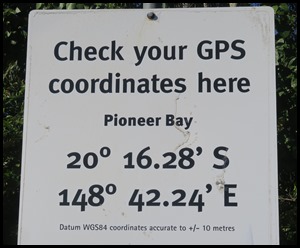 We took a detour to look at the recently finished $3 million boat ramp and breakwater. Read the plaque and a new one on us, you can check your GPS.
Nearer home we couldn't believe just how far the tide had gone out.
Back along the walk way. A great bimble.
.
ALL IN ALL A LOVELY TIME
A SMASHING DAY FOR A CELEBRATION
---