Niagara Scow

Beez Neez
Skipper and First Mate Millard (Big Bear and Pepe)
Sun 15 May 2011 10:28
The Niagara Scow after many years of being stranded
The Niagara Scow (also called "The Old Scow") is the unofficial name of the wreck of a small scow that brought two men perilously close to plunging over the Horseshoe Falls, the largest of the Niagara Falls. The wreck can still be seen, upstream of the falls. Stan, our driver told us the amazing story of this girl, now so weathered that you could apparently push your finger tips through her body. Five years have passed since the last time weather / analysts said she would finally break up and go over the falls. Well there she is.
1918 incident: On the 6th of August 1918, Gustave Luffberg and Frank Harris were aboard the scow dredging up sand banks from the Niagara River upstream of the waterfall. When tugboat captain John Wallace brought the Hassayampa over to bring the scow back to shore however, it broke loose and began floating downriver rapidly towards the falls.
There are conflicting reports whether Luffberg and Harris were able to release the false bottom of the scow to dump their load of sand and silt - but regardless, the boat got caught on a rock shoal 838 yards from the edge of the falls, leaving the two Niagara Falls Power Company employees stranded in the middle of the raging torrents of water. Later reports suggest that Luffberg had tied a rope between himself and the scow as a safety precaution lest he fall overboard while the scow was still beached, while Harris tied one between himself and a free barrel.
Since a rescue boat was out of the question, the Niagara Falls (Ontario) Fire Department tried using a grappling gun to shoot a life line out towards the barge, from atop the roof of the Toronto Power House while awaiting the arrival of the US Coast Guard from Youngstown, New York to bring a heavier grappling gun. When the US Coast Guard did arrive, they managed to send a lifeline over to the barge, and both marooned men made it safely back to shore via breeches buoy, 17 hours after they first found themselves drifting towards the falls. The hero of the day was noted riverman William "Red" Hill Sr., who tirelessly ventured out to free the tangled breeches buoy line several times throughout the night, and eventually assisted the men to safety. Hill was awarded the Carnegie Medal for his efforts. Hill and his sons would be involved in many other river rescues and recoveries in the next several decades, as well as ending up on the "nutters" blog.
At present the scow (seen from our room) still remains in place, highly visible, caught on the shoal just out of reach of the Niagara Falls. There is now a plaque across from it on the Canadian side, explaining the history of the wreck. In the picture above she is nothing more than a black mark below the third dam support from the right. Zooming in on her below it shows her 'hanging in there'.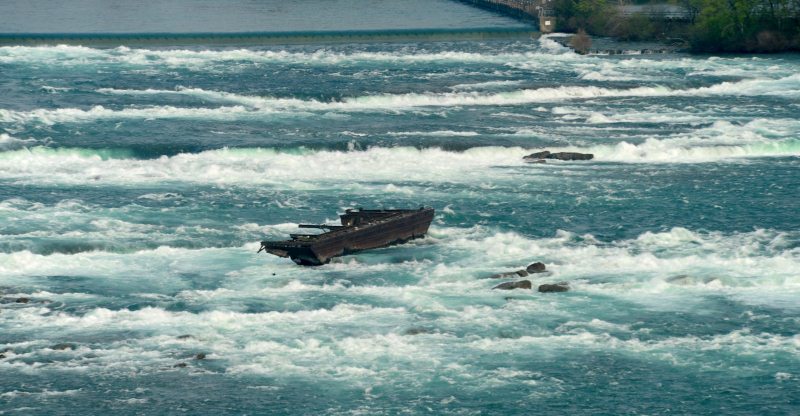 ALL IN ALL WHAT A STORY
AMAZING SHE HAS BEEN THERE SO LONG
---