Exploring Taveuni

Beez Neez
Skipper and First Mate Millard (Big Bear and Pepe)
Mon 6 Jul 2015 22:37
Exploring Taveuni – Mostly in the Rain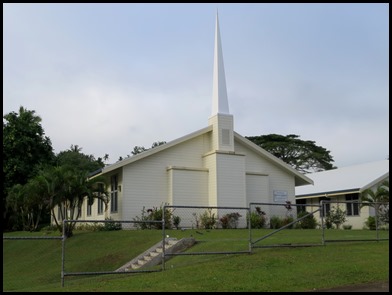 We jumped up bright and early to go ashore, we had arranged to meet the chief of the nearby village, he was to be our knowledgeable guide and take us round his island in his 4x4. No. He did indeed meet us but as he had to take his wife to a hospital appointment, we were to be shown around by a taxi driver of many years experience in a small car. Very disappointed we bundled in and off we went, why the chief didn't send us off in his car ???.
Our first stop was to be a conservation farm - hopefully to see the orange dove. Soon we were on the move but had to stop for petrol, good planning there then, but we did get the chance to see some fruit bats. We passed meeting houses with neat lawns, a tiny chapel built in 1923, a community hall and a modern church.
The island had a population of around 9,000, some 75 per cent of them indigenous Fijians, at the 1996 census. Taveuni has abundant flora and is known as the 'Garden Island of Fiji'. It is a popular tourist destination. Tourists are attracted to the excellent diving opportunities, prolific bird life, bushwalks and waterfalls. Central parts of the island receive very high rainfall rates. Being volcanic in origin Taveuni's soils have supported the island's most historically significant industry, agriculture.
About one hundred and fifty volcanic cones dot the island, including Uluigalau, Fiji's second highest peak at 1,241 meters, and Des Vœux Peak, next in height at 1,195 metres.
The island's agricultural output is a significant contributor to the Fijian economy. Copra has been traditionally the most important crop produced on Taveuni, and has always been the staple of the local economy. In recent times farmers have mainly shifted to growing taro, kava and other speciality crops like vanilla, along with tropical fruit and coffee. During the American Civil War (1861–1865), cotton was raised on Taveuni and exported to Europe. Sugarcane was also grown for a brief period. Livestock such as sheep, cattle and poultry are also raised, but animal husbandry lags behind crop production in economic importance. In recent times, tourism has become a contributor to the local economy, with about a dozen small resorts providing accommodation options for visitors and employment and business opportunities to the local population.
The Taveuni dialect of Fijian reflects Tongan influence. One of its most distinctive features is the replacement of the consonant 'k' by a glottal stop. The Tui Cakau is therefore known locally as the Tui Ca'au.
Both Avengers of the Reef and Return to the Blue Lagoon were partially filmed on the island.
Our driver stopped and pointed across a rugby field to a strange looking structure – I doubt we would have found this on our own – the covered information board marks the meridian which cuts through Taveuni.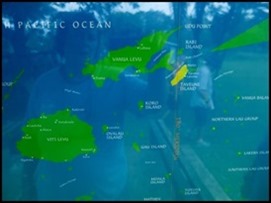 Bear poses in the middle of today and yesterday.
The northern coastline.
A typical Fijian bridge en route to our final stop in the Bouma National Park.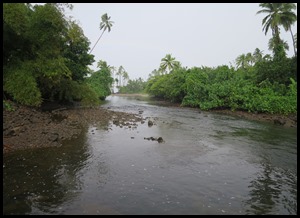 Views along the way.
A ten minute walk along a well maintained track, minding out for falling coconuts as the sign told us to and seeing loads of frogs along the way. Pity the rain was making our progress a bit of a paddle.
The boys manage a quick dip in the Tavoro waterfall.
The boys empty debris from their shoes in the big, dollopy rain. I admire an impressive tree root.
We were dropped off at a small supermarket as we needed a few bits and bobs. As we walked out we came face to face with the chief who asked us if we wanted to go to his village and 'do' sevusevu. I politely declined as dusk was falling and we needed to get home. He asked if we had paid the driver direct...........Mmmm, enough said...........
.
ALL IN ALL SOGGY FUN
A WET BUT GREAT EXPERIENCE
---