The Boatyard

Beez Neez
Skipper and First Mate Millard (Big Bear and Pepe)
Sat 1 Feb 2014 23:57
Ashby's Boatyard and Home For Now
After a day of chores and jobs, time to bimble off with the captain, to find the showers.
En route, a quick check of the fridge system and a waggle of the prop.
Away behind us a very odd looking thing – a sport fishing top on scaffolding.......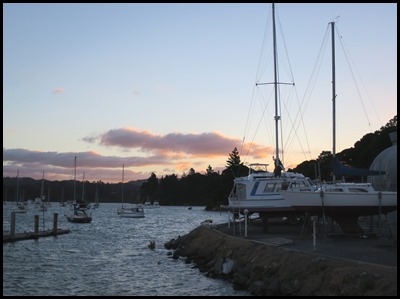 By the time we had test driven the showers, it was dusk. We stood for a few minutes looking left, across the marina and right, to the end of the shallow bit of the anchorage.
On our way home we look back to the boats who are only out for a few days. We have to bimble to the far side where the liveaboards are parked. Time to get the bucket into action for any overnight pennies...........
Our next door neighbour is tucked in a shed and has what looks to be a tear coming from her bird decal, must find out what that means.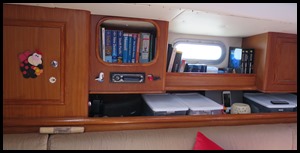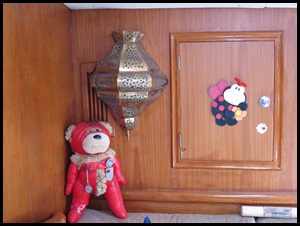 Now, one of the only good things about varnishing is getting everything out of the way. Standing back for a few minutes, I braced myself and gingerly, no tentatively, brought up THE subject (ventured only a couple of times before). Doesn't it look nice in the lounge, the non-stickered, non-crowded, non-busy, non-cluttered look. NO, abso-flippin-not. It's not one single bit homely....... With that the boys and girls were whisked into place at a speed the skipper only achieves – well – rarely these days.........Cheeky.
++
Sleeping on board is to say, odd. We don't move, we are utterly static, just as well.................. There is little or no wind at night. In the trees behind us there is a bird who is silent ALL day but lets out a shrill one note every few minutes ALL night. Note to self, get used to it, he's been here longer than us. Time for bed. Let's hope our resident bird learns to snore quietly, not like the skipper who has once more decided to rejuvenate an old habit – it better stop henceforth............note warning tone. Yes dear.
ALL IN ALL NOT USED TO IT YET
NEXT STEP FORWARD – THE LONG LIST
---