St Lucia

Beez Neez
Skipper and First Mate Millard (Big Bear and Pepe)
Thu 19 Feb 2009 12:35
St Lucia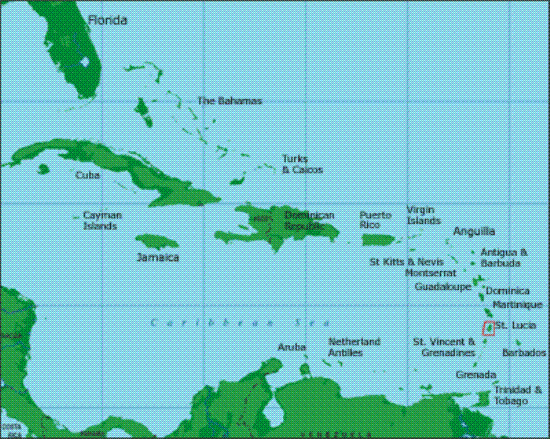 Saint Lucia (pronounced Saint Loo Sha) is an island nation
in the eastern Caribbean Sea
on the boundary with the Atlantic Ocean
. Part of the Lesser Antilles
, it is located north/northeast of the islands of Saint Vincent and the Grenadines
, northwest of Barbados
and south of Martinique
. Its size is 620 km² with an estimated population of 160,000. Its capital is Castries. Saint Lucia is one of the Windward Islands
, named for Saint Lucy of Syracuse
. It was first visited by Europeans in about the year 1500 and first colonized successfully by France
who signed a treaty with the native Carib
peoples in 1660. Great Britain
took control of the island from 1663 to 1667 then went to war with France over it fourteen times, and finally took complete control in 1814. Because it switched so often between British and French control, Lucia was also known as the "Helen of the West Indies" as it was likened to the mythical Helen of Troy
. Representative government came about in 1924 (with universal adult suffrage
from 1953) and from 1958 to 1962 the island was a member of the Federation of the West Indies
. Finally, on February 22
, 1979
, Saint Lucia became an independent state of the Commonwealth of Nations
. The island nation celebrates this every year with a public holiday.
The National Flag of St Lucia and the Coat of Arms.
Politics. As a Commonwealth realm, Saint Lucia recognizes Queen Elizabeth II as the Head of State of Saint Lucia, represented on the island by a Governor-General. Executive power, however, is in the hands of the prime minister and his cabinet. The prime minister is normally the head of the party winning the elections for the House of Assembly, which has 17 seats. The other chamber of Parliament, the Senate has 11 appointed members. Saint Lucia is a full and participating member of the Caribbean Community (CARICOM) and the Organisation of Eastern Caribbean States (OECS).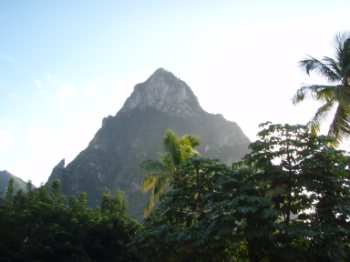 The famous Piton, a bay in the south and a confusing place actually called Cul-de-Sac.
Geography.
The volcanic
island of Saint Lucia is more mountainous than many other Caribbean
islands, with the highest point being Mount Gimie
, at 950 metres (3,120 ft) above sea level. Two other mountains, the Pitons
, form the island's most famous landmark. They are located between Soufriere
and Chioseul
on the western side of the island. Saint Lucia is also one of the few islands in the world that boasts a drive-in volcano. The capital city of Saint Lucia is Castries
, where about one third of the population lives. Major towns include Gros Islet (just above where we are)
, Soufriere (one of the most photographed bays in the world) and Vieux Fort (where the international airport is)
. The local climate is tropical
, moderated by northeast trade winds
, with a dry season from January to April and a rainy season from May to December.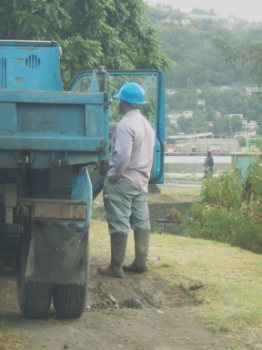 The cruise ship 'Ocean Village'. A chap I liked and a fish stall in Castries we stopped at and bought a Mahi-Mahi, three pound in weight for £7.00.
Demographics. The population of Saint Lucia is of mostly African descent (82.5% of the population). There is also a significant Mixed minority representing 11.9%, with Indo-Caribbean or Indian groups at 2.4% and the small European origin minority (descendants of French, British, and Irish colonists). Other or unspecified ethnicity accounts for 3.1%. There are small numbers of Lebanese, Syrians and Chinese. The official language is English, but a Creole language called Antillean Creole is spoken by 80% of the population and is getting increasing usage and official recognition. It evolved from French patois, African languages, and Carib. Saint Lucia is a member of La Francophonie. St. Lucia boasts the highest ratio in the world for number of Nobel laureates produced with respect to the total population of the nation. Two winners have come from St. Lucia: Sir Arthur Lewis won the Nobel Prize in Economics in 1979, and Derek Walcott received the Nobel Prize in Literature in 1992. Both were born on January 23rd, but in different years.
A very posy visitor in this yacht that is over 300 feet in length (owned by a German gentleman), it has a yacht the same size as Beez Neez, see in the photo, on the other side of this is a power boat of similar size. We drove through Gros Islet on Sunday and there was a Catholic Synod meeting being held, you don't get them with a full steel band in the UK. Rodney Bay is very popular with yachties, free to anchor and welcoming port for the ARC Rally.
Religion. About 70% of the population is Roman Catholic. The rest are Seventh-day Adventists (7%), Pentecostalists (6%), Anglicans (2%), Evangelicals (2%) and Rastafari (2%), we have also seen several large meeting places of the Jehovah Witnesses.
Migration from Saint Lucia is primarily to Anglophone countries, with the UK) having almost 10,000 Saint Lucian born citizens, and over 30,000 of Saint Lucian heritage. The second most popular destination for Saint Lucian expatriates is the US, where combined (foreign and national born Saint Lucians) almost 14,000 reside. Canada is home to a few thousand Saint Lucians, while most other countries in the world have less than 50 citizens of Saint Lucian origin (the exceptions being Spain and France with 124 and 117 Saint Lucian expats respectively).
We had to do the fresh coconut bit. Machetes here are not seen as weapons, they are tools and this chap was very experienced at topping out and serving with a straw, two cost about 40p. Bear thought inside they were the brown ones you hit at a coconut shy - wrong, these are only good for their juice.
Some for the "One careful owner" series that has become so popular, but I was shocked to see one with an advertising hording growing out of it.
Festivals. The culture of Saint Lucia has been influenced by African, French and English heritage. Cultural festivals include La Rose and La Marguerite, the one representing the Rosicrucian order, the other one representing Freemasonry, which can be seen on a mural painted by Dunstan St. Omer, depicting the Holy Trinity of Osiris, Horus and Isis. Traditionally, in common with other Caribbean countries, Saint Lucia held a carnival before Lent but in 1999, it was moved to mid-July in order to not to coincide with the much larger Trinidad and Tobago carnival, so as to attract more overseas visitors.
Castries. Is the capital city, has a shanty, port, small airport and a big shopping mall and some very nice houses.
Music and dance. A popular folk dance is the Quadrille. As well as other Caribbean music genres such as soca, zouk, kompa and reggae, Saint Lucia has a strong indigenous folk music tradition. Each May since 1992, Saint Lucia has hosted an internationally-renowned Jazz Festival on Pigeon Island. Everywhere we go we hear Country and Western playing, so they love that too.
A vast amount of bananas are grown, mostly we saw them down the east coast. A Sainsbury's sign, I first thought was telling us there was a store here, looking closer Bear pointed out it was telling us it was a 'fair trade' grower.
Tourism is vital to St. Lucia's economy and the economic importance of such is expected to continue to increase as the market for bananas becomes more competitive. Tourism tends to be more substantial during the dry season (January to April) and tends to be popular due to its tropical weather and scenery and its large number of beaches and resorts. Other tourist attractions include the world's only drive-in volcano, Sulphur Springs (at Soufriere), the Botanical Gardens, the rain forests and Pigeon Island National Park, which is home to Fort Rodney, an old British military base. The majority of tourists visit St. Lucia as part of a cruise. Most of their time tends to be spent in Castries, although Soufriere, Marigot Bay and Gros Islet are popular locations to visit. We have spoken to quite a few such cruisers, they tend to disembark at 9:30 and have to be on board for a 17:30 departure.
National Symbol is the Calabash Tree (crescentia, huingo, krabasi, or kalebas, not to be confused with the calabash vine) is a genus of six species of flowering plants in the family Bignoniaceae, native to southern Florida, the Caribbean, southern Mexico, Central America and northern South America. The jaunty angle in the second photo proves too many rum punches is bad for your horizon. The species are small trees growing to 10 meters, and producing large spherical fruits up to half a meter in diameter. St Lucia sees the Frigate bird nesting and has its own parrot.
Photo from the top of Pigeon Island, in the north of Rodney Bay. The red roofs on the left belong to one of the St Lucian Sandals Hotels. The fawn and brown buildings above Sandals is the highly acclaimed Landings, we met Pam and Gary Lenden, their daughters Charlotte and Helena, and Pam's parents there. They have a fabulous three bed roomed apartment and treated us to lunch at the sea side restaurant, thank you for a lovely day. Very tempting to chop our Sutton Harbour apartment for one here. We are in the marina, seen top right.
All in all a really lovely, friendly island, and the weather isn't half bad either.
---