To Nongsa Marina

Beez Neez now Chy Whella
Big Bear and Pepe Millard
Sat 29 Oct 2016 22:57
To Nongsa Marina
Ready to leave at six as the sun rose.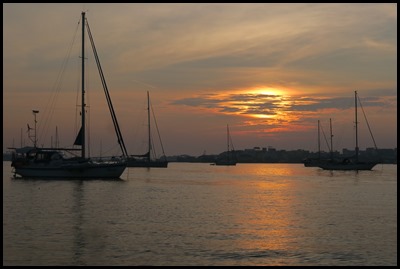 The anchor was so well dug in Bear had me motor forward to see if I could dislodge it. Time for me to enjoy daybreak.........
............and a pair of brahminy kites.
In the soft light of morning we passed a chap laying out his net – rather skilfully and one-handed.

We pass the jetty with the Mosque in the background.
Out past the Customs girl.
We cleared the shallows and as we turned into the next bay – oil rigs, now that does make a change.
At nine two squalls hit with full savagery (ahead and left of us). Visibility next to zero.
Our course took on a real squiggle. I stood with my head out of the pram hood getting soaked from head to toe, Bear took the wheel and I called the turns to miss the onslaught of eight racing yachts and a sport fisherman who happened on the bend at the same time as us, squall, slashing rain and really poor visibility.
The last of the yachts was hurtling along at seven and a half knots, we were slowed to three, slam forward says I, as out of the gloomy grey came that final shape. Gunning left as the shallows were too close to our right, we breathed a sigh of relief when all settled, the rain lessened and we could get back on course. Don't need too many of those half hours.......or the soaking.
Still incredibly overcast we saw a whole host of chums at anchor.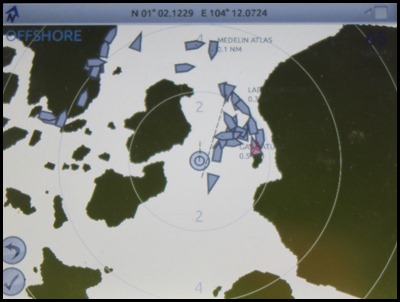 Looking at the AIS we could see this group of chums. Putting the scale out to forty eight miles there were 233 of them – wow. That's what we have to cross through in a couple of days – can't wait. A chum watchers heaven.
The first chum we neared, an Indonesian girl, had quite a mouthful of a name – Serang Jaya Peramina 3011. A tanker weighing in with a gross tonnage of 22,227. Her length is 180 metres, width 30 metres. She was built in 1983 and her home port is Jakarta. She can trot along at 6.7 knots but averages a smooth 5.7 knots.
A sleek, fast ferry shot by but still tooted and waved.
Way over to our left we saw a sign that we wouldn't normally associate with Indonesia - 'Safety First'.
A little further on Navigator Pluto was snoozing with Argent Hibiscus beyond.
A bit of a change when a ferry zoomed by. I waved, the skipper tooted and waved back vigorously, nice people.
A local girl with fishermen was a nice distraction from the chums.
Well colour me really happy, a Dockwise girl, Target, parked and holding six working girls.
Target is a Heavy Lift Vessel. Her gross tonnage is 42,515. Length 216.86 metres, width 45 metres and her draught is 10.7 metres. Her top speed is 13 knots and her average is a high 12.3 knots. She flies the flag of Curacao.
Wiki Says:
History: Built in 1990 as a tanker, MV Jahre Target, MV Target is the second of six single hull tankers to be converted into heavy lift vessels. After completing submerging and sea trials, the former sealift vessel was delivered to the new owners, Dockwise on Christmas Eve 2007.
Design: MV Target was converted at the COSCO shipyard in Nantong, China. A new midsection was fitted to the bow and aft sections of the single-hull tanker. She has a carrying capacity in excess of 35,000 tons and an unobstructed deck area measuring 44.5 m x 130 m.
Service: MV Target is designed to transport complex, high-value cargo, including semi-submersible and jack-up drilling units, as well as offshore structures. She is managed by Anglo-Eastern Ship Management who provide technical and crew management.
In 2009, MV Target transported the Royal Navy ice-strengthened survey ship, HMS Endurance from the Falkland Islands to Portsmouth.
Target on other jobs and today.
What a magnificent front end.
.........and her back end too.
A very attractive tug and tow turned right in front of us.
Chrispianto 1 was the tugs name.
The crew came rushing out to wave.

We rounded the final left turn, headed through the markers and entered Nongsa Marina – our first since we left Cairns at the beginning of July. Since we arrived in Tual we have travelled 2635.5 nautical miles, this is our thirtieth stop, so our average per journey was 87.85 nautical miles. The catamaran ahead was none other than Twenty Twenty Vision, Jimmy sorting his main out. On the next jetty we saw someone waving, getting closer it was Coomera). Helen and Mark came over as soon as we were settled and it was lovely to catch up. T
wo chaps were waiting to take our ropes and we were quickly on shore power. After our catch up with Coomera it was time to test drive the pool.
We stayed in the pool until dusk and after the longest showers we settled to the buffet dinner. Everything is what was on offer – fondue, soups, Indonesian, European, several sweets, coffees. Sumptuous.
We enjoyed the band, had a wonderful evening and then walked through the lobby en route back to Beez.
.
ALL IN ALL A GREAT WAY TO END OUR INDONESIAN TRIP
VARIED AND REALLY INTERESTING WITH SIGNIFICANT CHUMS
---