Koh Phi Phi Ashore

Beez Neez
Skipper and First Mate Millard (Big Bear and Pepe)
Sat 21 Jan 2017 23:57
Koh Phi Phi Ashore
We left Beez with new friends at five to explore the town of Phi Phi.
The main jetty toward the middle of the shore, the town to the right.
Simply hundreds of this type of boat and long tails makes the bay like the M5.
We found a quiet corner on the beach to land Baby Beez, next to the bijou Phi Phi Island Hospital............
.......that was until this behemoth shot behind us and beached.
Baby Beez suddenly gathering 'friends'. We found a bin and went to bimble.
Always good to find a map, admire the king and enjoy a strangler fig or three.
The High Street was Grockle heaven.
A little boy belonging to a stallholder enjoyed his 'nest' with a game.
Along the way things are ready for the Chinese New Year, especially the Chinese Hotel.
A marvellous strangler fig.
On we bimbled, more stalls and a boutique villa.
Well colour me happy – our first one careful owner of 2017 came in the shape of phone boxes.
The boys take a breather as I look at the bamboo style of tattooing, Ooooo, not for me, I'll stick to a machine.
A rather handsome restaurant. Lots to choose from in the wet fish market.
Now, however you put it – this is a lovely cock........
Dusk falls over the bay.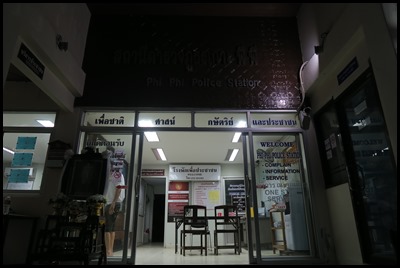 The cute police station and CHIPS outside.
The Chinese decorations even lovelier in the dark and the bonsai trees as we make our way back.
A rather posh side street and another decorated restaurant.
Our favourite, so very happy.
ALL IN ALL A REAL TOURIST ISLAND
VERY TOURISTY BUT NEAT AND TIDY
---